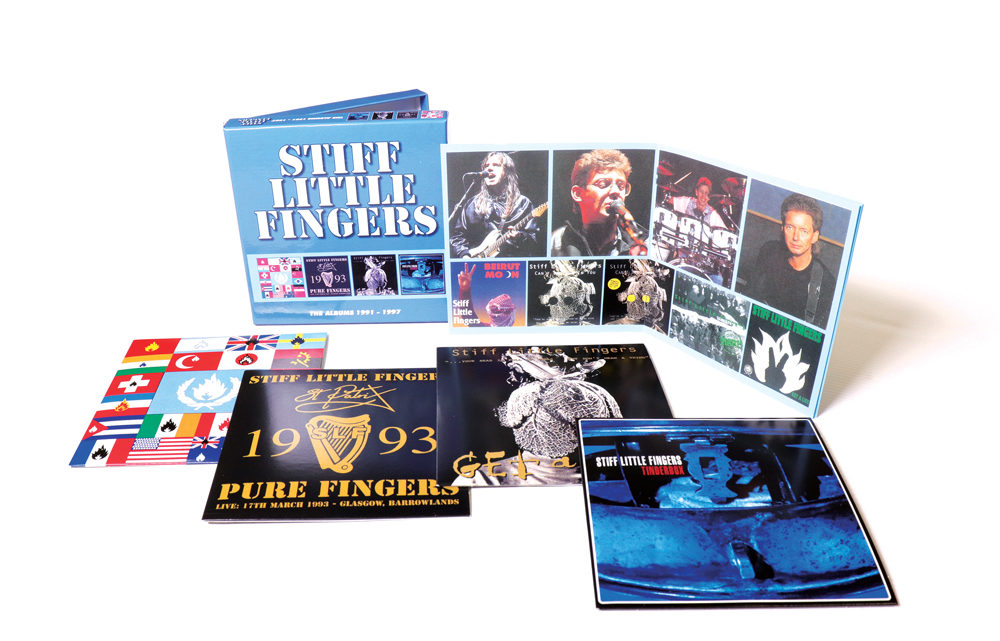 Stiff Little Fingers: The Albums 1991-1997, 4CD Clamshell Boxset
14th February 2019
Punk rock, to a lot of new alternative music fans, is generally summed up by the likes of your GREENDAY's and your CREEPER's and, other modern, raucous rockers. Sure, the spirit of punk lives within many of today's bands, but it's been a long time since punk music itself was truly as intended; anti-establishmentarian, abrasive and in your face. It was all about up-rising, opposing regimes and defiance against societal oppression, from its creation and heyday in the 1970's, leading right up until the eventual synth / goth boom a decade later.
One of the original punk rock pioneers to come out of the British Isles, all the way back in 1977 were Belfast's own STIFF LITTLE FINGERS. Despite a somewhat sporadic, stop/start formation, and with front-man Jake Burns the only sole consistent member in all of this time, the band and their legacy lives on to this day as they prepare to embark  on a full UK tour in March. As well as that tour, the lads are releasing a mini box-set simply entitled "The Albums: 1991 – 1997". It was in 1991 that the band had reformed and restarted their career after a lengthy hiatus, and they use this as a starting point for this four-disk set. Let's take a trip down memory lane and see what that's the craic aye?
We kick things off with disk one and that 1991 come-back album "Flags & Emblems" and truth be told, it's arguably the best of the four albums presented in this little set.  Opening up with "(It's A) Long Way To Paradise" we immediately get a sense of their semi-frenetic traditional punk rock style; the up-tempo percussion, grainy vocals and simplistic rock 'n' roll approach. The solo's however; both guitar AND harmonica of all things, really bring this track to life and it draws you in over time.
Further highlights include "Each Dollar A Bullet", which incorporates a traditional Irish folk vibe as he sings of the death of his countrymen at the hands of American's and Englishmen in conflict, and it's really quite touching. "Die And Burn" is again, energetic with plenty of guitar melody and ample hooks, while lead single "Beirut Moon" drew them all of the criticism as it tackled further political issues and conflict in the middle east during the original gulf war. The single was pulled from sale due to the controversy…now that's fucking punk rock!
If disc one was the best of the bunch, disc two is arguably the worst, and I say that only because it's a live album. There's a time and a place for live albums, and really they are only for die-hard fans of any band. A box set like this is a good opportunity for new fans to get into some old-school punk, and I don't think a live album is at all necessary here. It's set at the Glasgow Barrowlands on St. Patricks Day, which has become somewhat of an annual tradition for the fingers. Recorded in 1993, you can hear that the audio quality isn't the best and it comes across as more of a bootleg really. Though is does give a couple of spoilers for disc three…
Disc three then delivers on those very spoilers as the band, as promised, did return to the studio that same year to record "Get A Life"; their first album as a trio following the departure of original guitarist Henry Cluney. The tracks "When The Stars Fall From The Sky" and "What If I Want More?" sounding better here having been further rehearsed and polished up, compared to their live debuts previously, while they continue their tried and tested formula on tracks like "No Laughing Matter". They do mix things up a little here and there though, with the title track having the addition of pan-pipe effects, while "I Want You" risks becoming a softcore erotica soundtrack with its gentle acoustics and sultry jazz elements. That sax man…one minute you're rocking out, next thing you're naked, surrounded by candlelight and massage oils…moving on.
Disc four then rounds everything up with their 1997 album "Tinderbox" and frankly if you came across this album on Tinder the app, then you may as well swipe left. Pretty run of the mill stuff this really as by now the music industry was evolving and embracing the behemoth that was nu metal…and their brand of punk became a little stale. Sure there are the grittier guitars of the title track, and they'd experimented this time with ska elements on tracks like "You Don't Believe In Me" and "Dust In My Eye", but at this point in time the stiff little fingers had practically ceased up.
Ultimately for long-time fans of the band, this would make a great addition to your collection, as included in the box set are additional liner notes from Jake, covering the period of time the albums were recorded and released, and there's also  rare clippings and memorabilia to take you right down memory lane. If you are new to the band; you're likely better off going back to the very start to get a better idea of the bands identity, and working your way up really. Also again, the live album isn't a necessity…just get tickets to see them play Glasgow yourself this year instead, it's sound better.
Score: 5 / 10
Track List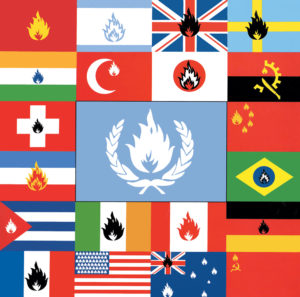 FLAGS & EMBLEMS
1. (IT'S A) LONG WAY TO PARADISE (FROM HERE)
2. STAND UP AND SHOUT
3. EACH DOLLAR A BULLET
4. THE 'COSH'
5. BEIRUT MOON
6. THE GAME OF LIFE
7. HUMAN SHIELD
8. JOHNNY 7
9. DIE AND BURN
10. NO SURRENDER
BONUS TRACKS
11. THE 'COSH' (REMIX)
12. (IT'S A) LONG WAY TO PARADISE (FROM HERE) (DEMO)
13. STAND UP AND SHOUT (DEMO)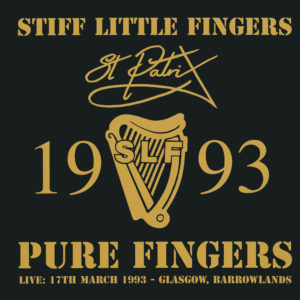 DISC TWO:
PURE FINGERS LIVE: ST PATRIX 1993
1. GO FOR IT
2. NOBODY'S HERO
3. AT THE EDGE
4. NO SURRENDER
5. LOVE OF THE COMMON PEOPLE
6. WHAT IF I WANT MORE
7. FLY THE FLAG
8. PICCADILLY CIRCUS
9. WASTED LIFE
10. WHEN THE STARS FALL FROM THE SKY
11. ROAD TO KINGDOM COME
12. STAND UP AND SHOUT
13.SMITHERS JONES
14. BARBED WIRE LOVE
15. (IT'S A) LONG WAY TO PARADISE
16. GOTTA GETTAWAY
17. SUSPECT DEVICE
18. WALK TALL
19. TIN SOLDIERS
20. ALTERNATIVE ULSTER
BONUS TRACK
21. JOHNNY WAS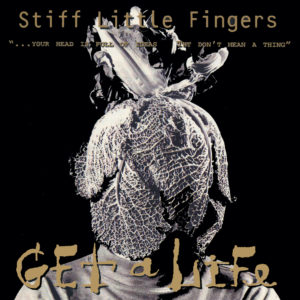 DISC THREE
GET A LIFE
1. GET A LIFE
2. CAN'T BELIEVE IN YOU
3. THE ROAD TO KINGDOM COME
4. WALK AWAY
5. NO LAUGHING MATTER
6. HARP
7. FORENSIC EVIDENCE
8. BABY BLUE (WHAT HAVE THEY BEEN TELLING YOU?)
9. I WANT YOU
10. THE NIGHT THAT THE WALL CAME DOWN
11. COLD
12. WHEN THE STARS FALL FROM THE SKY
13. WHAT IF I WANT MORE?
BONUS TRACKS
14. SILVER LINING (UNPLUGGED)
15. LISTEN (UNPLUGGED)
16. WASTED LIFE (UNPLUGGED)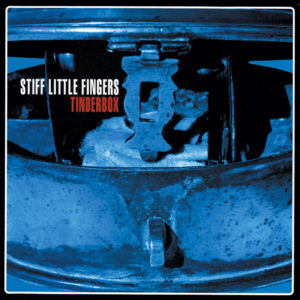 DISC FOUR:
TINDERBOX
1. YOU NEVER HEAR THE ONE THAT HITS YOU
2. (I COULD BE) HAPPY YESTERDAY
3. TINDERBOX
4. DEAD OF NIGHT
5. THE MESSAGE
6. MY EVER CHANGING MORAL STANCE
7. HURRICANE
8. YOU CAN MOVE MOUNTAINS
9. A RIVER FLOWING
10. YOU DON'T BELIEVE IN ME
11. IN YOUR HAND
12. DUST IN MY EYE
13. NO BARRIERS
14. ROARING BOYS (PARTS 1 & 2)
Record Label:
Captain Oi Records
Release Date:
February 22nd
For all things Stiff Little FIngers, click HERE and to purchase the box set, click HERE