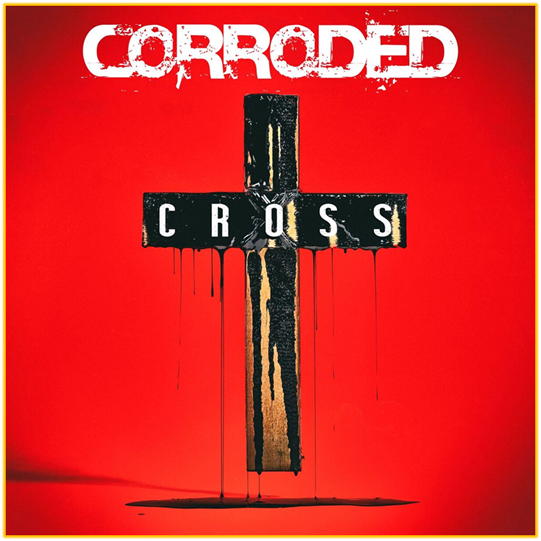 Swedish metal act Corroded release new single 'Cross'!
28th September 2018
"CROSS is the song that we chose to use as our first single from the album BITTER. What the song is about is something that you will have to find out for yourself, but we can tell that it is a no nonsense, face melting hard rock/metal song that totally kicks ass." (Jens, Corroded)
The band's previous release, 'Defcon Zero' was an album borne out of frustration and anger due, in no small part to on-going label politics, and although the album finally saw the light of day last year, it was actually held in limbo for five years. Despite that delay, the band used the time wisely, getting to grips with every aspect of recording; from mic placement and different amps right through to mixing and mastering. Signing a new deal with Despotz Records saw the band effectively restarting their career; ('We had to make up for lost time' lead guitarist Tomas comments now) and with that in mind, the band wasted no time in getting back into the studio to record the follow-up to their Despotz records debut. Following a successful run of dates with Pain and their own headlining run, Corroded were battle ready and soon began work on what would become 'Bitter'. With time conspiring against them, the band found themselves left with one weekend available to begin putting together song ideas. Working in such a pressurised way only brought the very best out of each of the band members, the kind of connection that only comes from years of playing together meant that the songs were soon coming together.
The last album CORRODED recorded was nearly 5 years ago. Due to a shift of labels that album was released just last year. Since that the band had to make up for lost time and that meant an awful lot of touring. As fun as it is to travel the world and play shows for their loyal fans they also knew they had to make another album as quickly as possible not to lose the momentum again. That left the band with an extremely short amount of time. With only a handful of song ideas laying around and only one weekend to write new material the odds were once again not looking too good for the band. 
"We made three songs that weekend and together with the rest of the ideas we had we started to build what would become the finished album" – says Tomas, guitar and backing vocals. 
"The whole process was best compared to Frankenstein's monster. We cut everything up and put it back together a couple of times until we felt that we were on the right track." -Tomas says. 
"When it was finally time to start writing the lyrics it wasn't very hard to find topics to write about. The break with our first record label and the political state of the world had us all irritated and angry. The album title came quite easy and is the perfect sum up word for how we'd felt over the last couple of years. We also felt it was time to move on and there's no better way to do that than to make a hard-hitting metal album." Says Jens, lead singer and guitar. 
"We started all stressed out and weren't even sure we'd make the album done in time but not only did we get it done in time, it came out far greater than we could have hoped for! It's brutal, honest, melodic yet edgy. It's CORRODED and it's BITTER!" -Jens, Per, Bjarne and Tomas
'Bitter' is released via Despotz Records on January 26th 2019