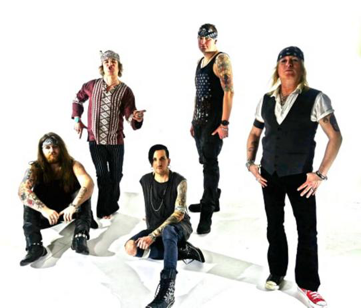 Takeaway Thieves – I wish you were dead – A love song for the elite
22nd March 2019
Takeaway Thieves release they're debut single / video "I Wish You Were Dead" Friday 22nd March 2019. A love song to the Elite and the way secret societies manipulate World events. The title track is taken from the forthcoming EP "This is RocknRoll" out in May 2019.
Formed April 2018, Takeaway Thieves are a high energy Old school Hard Rock with a Glam Swagger band based in Blackpool, Lancashire. They're debut gig in June 2018 was followed the day after with a lunchtime Acoustic set which they recorded live and released as an EP "#WaterlooCoustic."With fast paced Rock songs and an energetic performance having supported The Quireboys, EnuffZnuff, Massive Wagons, Love/Hate and Shark Island, Takeaway Thieves have garnered a fast growing following in such a short time and with scheduled appearances to play Rockwich Festival in August ,HRH Sleaze Festival in September and securing representation from Rock People Management the future looks good for Takeaway Thieves and RocknRoll.
"We exceeded by far the time and effort gone into this e.p and video to bring a true interpretation of Takeaway Thieves and with the first single hopefully get the listener/viewer to check out and educate themselves why the World is the way it is, but primarily dig the groove and good time we provide" – Neil hunter 
Catch Takeaway Thieves here: (More TBA)
March 22nd  –  Big Red Rumble – The Big Red London
May 24th     –   Waterloo  –  Blackpool (The Erotics support)
May 26th     –   Bannermans – Edinburgh (The Erotics support)
Aug 25th     –   Rockwich Festival  – Northwich
Sept 1st      –   HRH Sleaze – Sheffield
March 2020 –   HRH AOR – Great Yarmouth
The Band are: 
Neil Hunter – Rhythm guitar
Peter Mcloughlin – Vocals
Adam Hall – Bass guitar
Max Yates – Drums
Ben Gibson – Lead guitar
Band Website: www.takeawaythieves.com
How useful was this post?
Click on a thumb to rate it!
Average rating / 5. Vote count: