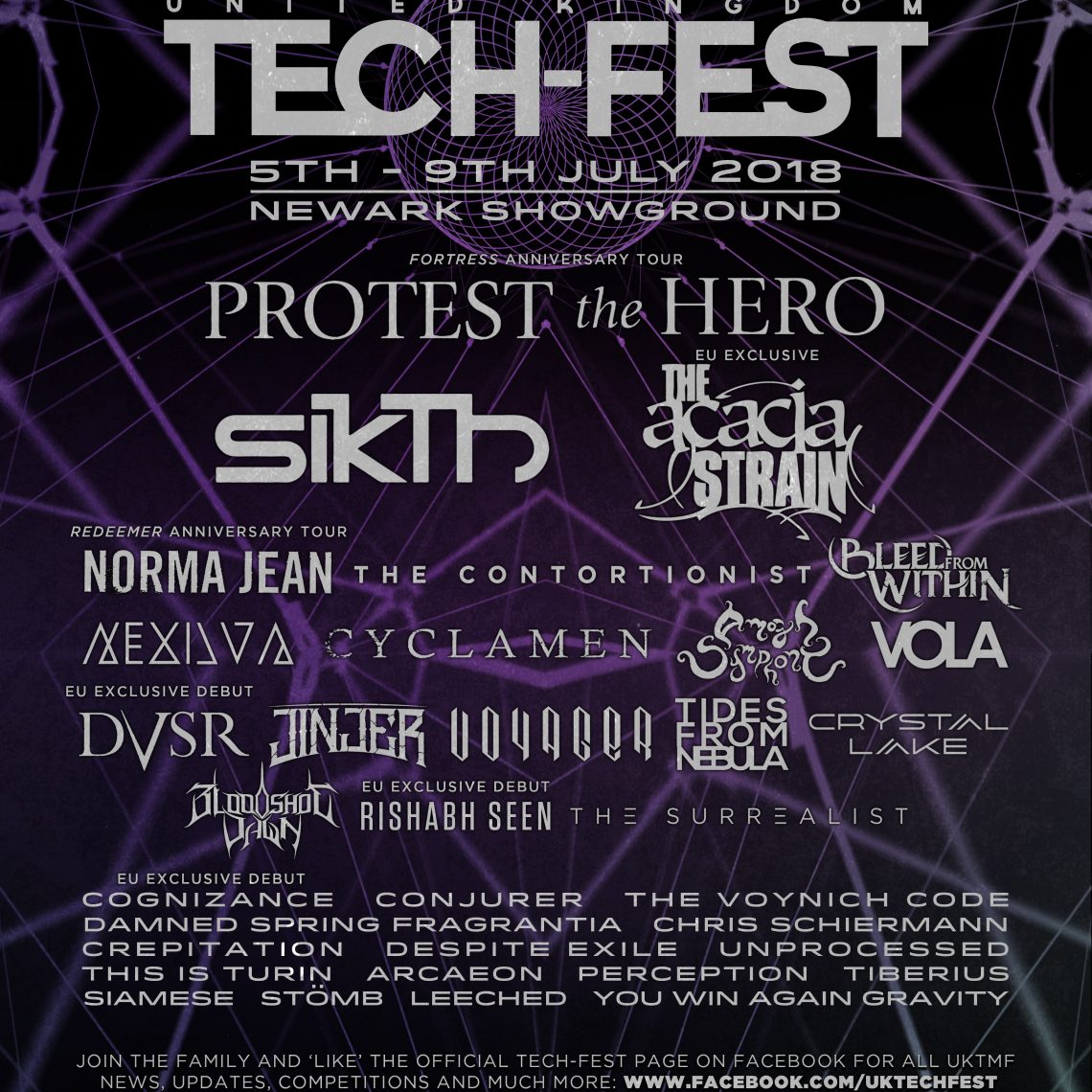 TECH-FEST 2018: Protest The Hero, Sikth Norma Jean + 12 more announced
28th February 2018
0
By
John Deaux
UK TECH-FEST has announced the second wave of bands taking over the Newark Showground from 5 to 9 July 2018.
PROTEST THE HERO return to the festival for a special Fortress album anniversary show, and they are joined by NORMA JEAN who will be celebrating the anniversary of their groundbreaking Redeemer album.
Tech-metal pioneers SIKTH also return to the festival along with the following mind warping acts:
BLEED FROM WITHIN, NEXILVA, COGNIZANCE (EU exclusive debut), CONJURER, THE VOYNICH CODE, CREPITATION, DESPITE EXILE, UNPROCESSED, THIS IS TURIN, ARCAEON, PERCEPTION and TIBERIUS.
Also announced are:
ACACIA STRAIN (EU Exclusive), THE CONTORTIONIST,  CYCLAMEN, AMOGH SYMPHONY, VOLA, DVSR (EU exclusive debut), JINJER, VOYAGER, TIDES FROM NEBULA, CRYSTAL LAKE, BLOODSHOT DAWN, RISHABH SEEN (EU exclusive debut), THE SURREALIST, DAMNED SPRING FRAGRANTIA, SCHIERMANN, SIAMESE, STÖMB, LEECHED and YOU WIN AGAIN GRAVITY.
Dalbello Guitars and Line 6 have also come on board as sponsors. They join: Zilla Cabs, Carillion Guitars, Double Slit Guitars, Strandberg Guitars, Moomin Merchandise, Hands On Printing, Mapex Drums, D'Addario UK, RAWAS, OHMZ Sound Services, Stay Close Clothing, Bandit Banners, Tired Moon, Loki Films, JWA Creative and Waghorn Guitars.
UK TECH-FEST 2018 continues to grow its most diverse line-up to date, and with another 20+ bands to be announced, it promises to be another brutally cerebral edition.
Weekend tickets are £74.99 + £20 Camping.
Purchase tickets here: http://uktechfest.gigantic.com
Venue address:
Newark Showground
Lincoln Rd
Newark-on-Trent 
Winthorpe 
Newark 
Nottinghamshire 
NG24 2NY
Sponsor links:
About Tech-Fest:
Following the huge success of the first Tech-Fest selling out in 2012, UK TECH-FEST went outdoors in 2013 hosting headliners Scar Symmetry, Veil Of Maya and TesseracT. 2014 saw Tech-Fest move to the prestigious Newark Showground hosting Sikth's second show after their reunion, and the following year Tech-Fest 2015 hosted an exclusive UK appearance from Decapitated.
UK TECH-FEST 2016 – The Fifth Anniversary was a milestone in this festival's career, by far their biggest and best edition to date hosting Animals As Leaders and exclusive appearances from Between The Buried And Me and Protest The Hero. 
UK Tech-Fest 2017 had its heaviest line-up to date, and 2018 is set to host its most diverse range of acts yet.
In addition to the music, food, drink, and general festival goodness, there will once again be music demos and workshops on the Double Slit Guitars stage, which is dedicated solely to the After Parties, Q&As and demonstrations with some of the top artists and industry officials. Furthermore, there will be a range of instrument and gear manufacturer stalls from the event sponsors. Tech-Fest has a very large area for onsite camping, only a few minutes' walk from the music, so there is no need to fight anyone over tent space; they also provide free parking for all attendees and access to decent onsite showers! This, along with a range of food, catering for a wide variety of diets and tastes, as well as a bar with a great selection of drinks at reasonable festival prices, all suitably complements the calibre of the music.
How useful was this post?
Click on a thumb to rate it!
Average rating 0 / 5. Vote count: 0
No votes so far! Be the first to rate this post.
Related