Progressive doom band King Goat April album release tour
28th February 2018
Acclaimed progressive doom-merchants KING GOAT have announced an album release tour to coincide with their eagerly anticipated new LP, Debt of Aeons (April 20, Aural Music).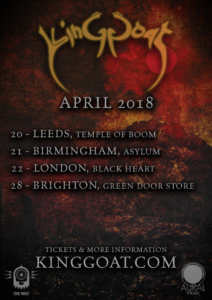 Dates:
Friday 20th April Temple Of BoomLeedsEngland
Saturday 21st April Asylum Birmingham England
Sunday 22nd April The Black Heart London England
Saturday 28th April Green Door Store Brighton England
The news follows the band's recent tour with Gothic Metal legends Paradise Lost. This marks KING GOAT's steady rise as one of the most highly-regarded bands in British doom. Debut LP Conduit was critically acclaimed worldwide, including support from Metal Hammer, Kerrang!, Terrorizer, Angry Metal Guy (Album Of The Year) and many more. 
The band have previously played at Bloodstock Open Air, Mammothfest, Doom Over London, HRH Doom vs Stoner; and alongside Enslaved, Grand Magus, Solstafir and others.
Debt of Aeons will be released on April 20 via Aural Music, with artwork by acclaimed artist Travis Smith (Opeth, Iced Earth, Avenged Sevenfold, Katatonia and many more).
In the band's own words, "the album is, in many ways, a reflection of the world in which it was conceived; the result of personal mental decline and the resultant pessimistic view of our species. This negativity permeates the record at an atomic level, seeping from between the riffs and spilling like bile from the lyrics themselves. Our sound further expands on the journey that Conduit began, exploring a multitude of paths to do justice to our vision. Debt of Aeons is upon us and we're proud to release this record."
Pre-orders will be available from March 02.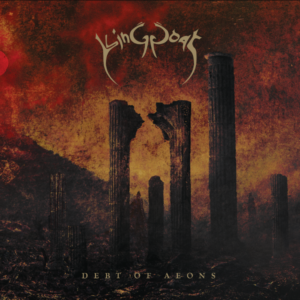 Debt of Aeons tracklisting:
1. Rapture
2. Eremite's Rest
3. Debt Of Aeons
4. Psychasthenia
5. Doldrum Sentinels
6. –
7. On Dusty Avenues