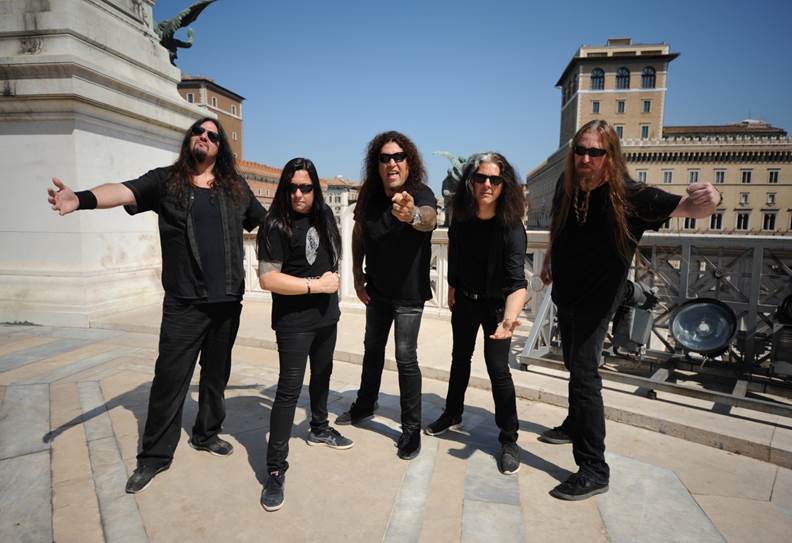 TESTAMENT Announce UK/IRE tour dates for 2018!
31st October 2017
Bay Area thrash giants TESTAMENT are thrilled to announced their return to our UK and Irish shores in March/April 2018!
The band is still touring in support of their critically acclaimed latest record 'Brotherhood Of The Snake' and they will be bringing along with them Canadian thrashers ANNIHILATOR as well as Polish death metal tank and label mates VADER.
Commented guitarist Eric Peterson: 
"I'm super excited about this tour! I can't wait! Really really looking forward to spending some quality time in the UK, Ireland and Europe and it's way too long overdue! Hails!"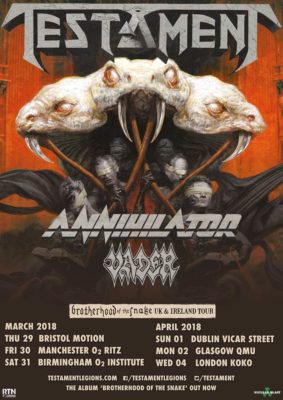 Tickets will go on sale from November 3rd @ 10am UK time.
TESTAMENT
Annihilator
Vader
29.3.2018 UK – Bristol, Motion
30.3.2018 UK – Manchester, O2 Ritz
31.3.2018 UK – Birmingham, O2 Institute
1.4.2018 IE – Dublin, Vicar Street
2.4.2018 UK – Glasgow, QMU
4.4.2018 UK – London, Koko
More on 'Brotherhood Of The Snake'
'The Pale King' music video: https://youtu.be/wkHT86Ei7DY
'Brotherhood Of The Snake' lyric video: https://youtu.be/OeIgFsU0x4I
'Stronghold' 360 Visualiser: https://youtu.be/zvUcLcqwSzw
You can purchase 'Brotherhood Of The Snake' physically HERE.
'Brotherhood Of The Snake' Limited Edition Double Gatefold Silver Vinyl HERE.
And digitally HERE.
'The Brotherhood Of The Snake' was released in October 2016 via Nuclear Blast. The album was recorded under the watchful eyes of producer Juan Urteaga (EXODUS, HEATHEN, MACHINE HEAD), guitarist Eric Peterson and singer Chuck Billy with mixing and mastering handled by infamous metal producer Andy Sneap (ACCEPT, ARCH ENEMY, CRADLE OF FILTH, KREATOR, MACHINE HEAD, MEGADETH).
Testament were one of the first thrash metal band to emerge from the San Francisco Bay Area in the 1980's, originally formed as 'Legacy' in 1983 by founding members Eric Peterson (rhythm guitar), Derrick Ramirez (guitar) and Louie Clemente (drums), the line-up included vocalist Steve Souza and Greg Christian (bass). Ramirez was later replaced by renowned player Alex Skolnick (lead guitar). Souza soon departed to join Exodus and suggested that the imposing Chuck Billy take over as frontman. The band became known as 'Testament' 3 years later while recording their debut album in Ithaca, New York. 'The Legacy' was a brutal introduction in 1987, putting Testament at the forefront of the flourishing thrash metal scene.
Following 'Live At Eindhoven', an EP recorded at Holland's Dynamo Festival, 'The New Order' (1988) was very well received, producing one of the band's most memorable classics 'Disciples Of The Watch'. Next came the highly successful 'Practice What You Preach' (1989), then the release of 'Souls Of Black' (1990) coinciding with the famed European 'Clash Of The Titans' tour with Slayer, Megadeth and Suicidal Tendencies – which helped cement their place in thrash royalty.
Testament signed with Nuclear Blast in 2007 and have since released three critically acclaimed studio albums; 'The Formation of Damnation' (2008), 'Dark Roots Of Earth' (2012) and 'The Brotherhood Of The Snake' (2016).