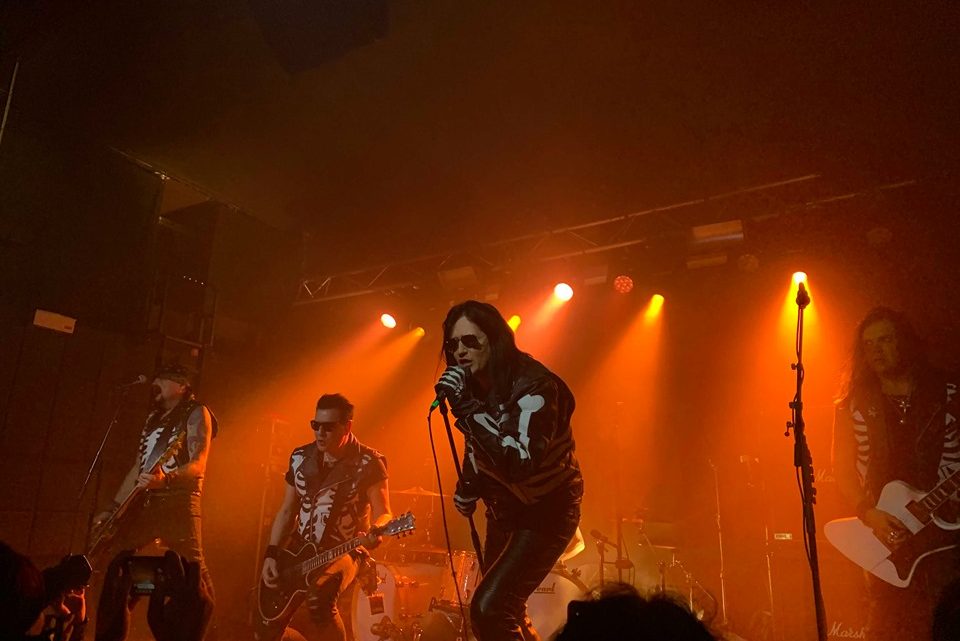 The 69 Eyes – The Garage, London (21/11/19)
2nd December 2019
You wanna rock? While this may be the most rhetorical of questions, it's the question we're faced with tonight, as All About The Rock lands in London to celebrate a milestone in alternative music; 30 years of Goth 'N' Roll. Yes THE 69 EYES (Aka the Helsinki Vampires) have been travelling around mainland Europe since the release of their stunning new album "West End" back in September, celebrating three decades of their distinctively dark blend of Gothic glam rock. Tonight, on November 21st they perform at The Garage in Highbury and as it's their only UK show for 2019, there's absolutely no way AATR was going to miss this. So, Jyrki asks, you wanna rock? Damn right we do! This is how the night went down…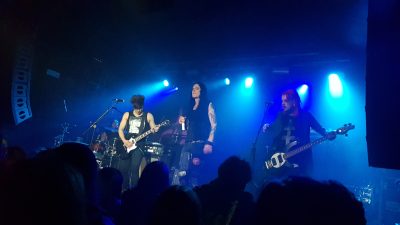 We begin with a set from special guests DIAMOND BLACK [6] who open up as support for the evening and the lads from Camden waste no time at all warming up the early punters.
Consisting of SISTERS OF MERCY guitarist Ben Christo as well as Finnish vocalist J. I. Turunen (And completed by bassist Adam Lightspeed and drummer Jan-Vincent Velazco) we admittedly expect a short, sweet set of post-punk inspired Goth, but to be fair these diamonds are more polished than their name suggests. With tracks such as the recent single "The Scarlet", and their title track of sorts "Ghost In The Glass", they manage to incorporate a distinct glam-rock / almost power metal aesthetic into their sound, coming off as far, far cleaner than expected. The sorrow in Turunen's vocals is carried wonderfully by the bands more rugged instrumentation and despite not being what was expected, it was very enjoyable, and their debut EP is one to watch out for in the coming future.
Next up we have the main support of the tour overall and what an absolute treat LACRIMAS PROFUNDERE [8] are.
The heaviest, more vitriolic of tonight's line-up, the German's completely rip through their set of darkly melodic Goth metal with absolutely zero let-up. Opening with "Dead To Me" and continuing with a choice selection of cuts from their back-catalogue, Julian Larre is a commanding front-man; mixing his frankly sensual baritone croon with some scorching growls and he has the ladies in attendance eating out of the palm of his hand (Especially when he joins the crowd for his shirtless sing-along).
Blending in classic tracks such as "My Velvet Little Darkness" with fresh cuts "Celestite Woman" and closing track "Father Of Fate" off of their new album "Bleeding The Stars", they have The Garage in full swing and the level of energy here is incredible. You'd never think it was Winter the amount of sweat produced during this set! Utterly superb!
Usually such a performance would cap-off a brilliant night of live music, but believe it or not we still haven't peaked yet, as tonight is really all about THE 69 EYES [10] and what a return they make to the UK!
As they hit the stage in their iconic "Devil's" skeleton leathers their tear into new track "Two Horns Up" and it's all systems Goth from here on in. The new tracks such as the infectiously melodic "Black Orchid" and the equally catchy "Cheyenna" feel right at home with classic cuts such as "The Chair" and "Wasting The Dawn".
To finally hear "Crashing High" live is an absolute pleasure, and "Brandon Lee" is flawless as always…you really can't fault this AT ALL.
Then, after some not-so-subtle teasing for a potential appearance at Download 2020 (One can only hope) they treat everyone to an encore of "Framed In Blood" and finally "Lost Boys", and pardon the pun but the place goes vampire bat-shit crazy.
Jyrki is a brilliant front man, Archzie, Timo-Timo and Bazie provide the perfect gothic, glam rock backing instrumentation and Jussi is iconic as ever smashing his skins…The 69 Eyes are a band that hit all of the right notes every time and are quite frankly criminally underrated. Do we want to rock, Jyrki? Yes we fucking do, and long may you continue. "27 & Done" perhaps but 30 and not out…oh, was that a spoiler? 😉
Set List
Two Horns Up
Never Say Die
Black Orchid
Perfect Skin
Betty Blue
Borderline
Hell Has No Mercy
Crashing High
The Chair
Cheyenna
Wasting The Dawn
27 & Done
Feel Berlin
Brandon Lee
Encore:
Framed In Blood
Lost Boys