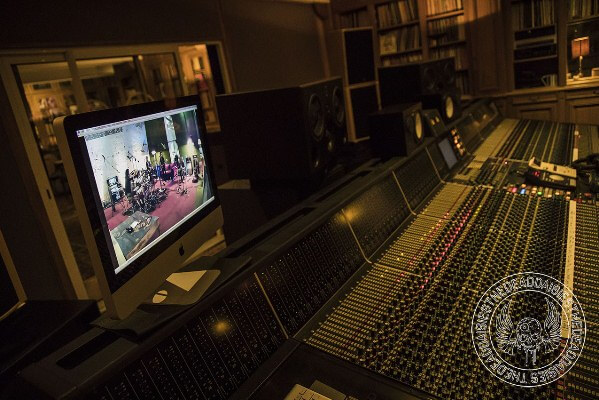 THE DEAD DAISIES IN THE STUDIO
18th November 2019
As you're probably all aware the band have been in the studio creating tracks for the new album coming out in 2020.
La Fabrique in the south of France is an incredible place to get the creative juices going and to put on a few kilos with the sumptuous food laid out daily by Chefs Glen & Doug (not our Glenn & Doug..)
You've had a taste of things to come with 'Righteous Days'.  The new tracks are really starting to take shape with producer Ben Grosse at the helm!
December sees the band return to La Fabrique to finish recording parts for the album. 
Can't wait for you guys to hear these songs.
THE DEADLY DAISYS – COMING SOON
With 2020 around the corner, a new line-up and a new album we thought it would be a great idea to stream-line The Dead Daisies family into one entity and we've called it The Deadly Daisys. We would really love you all to join up, it costs nothing and we want you to stay part of our family. Once we get this going there will be exclusive news, music, videos and some VIP experiences, special offers and heaps more….. We'll let you know more at the beginning of next week with another mail out and across social media.

PLANES TRAINS & AUTOMOBILES
If you're travelling you gotta have great tunes to listen to. We've put a rockin' Spotify playlist together for you so… Stream and follow The Dead Daisies, 'Planes Trains & Automobiles'! If you've got 'Miles In Front Of You' and you want 'Freedom' remember you 'Can't Take It With You'…… Listen to the playlist here.
COVERS ALBUM STILL ROCKING
Thanks for all the support on 'Locked And Loaded' – the covers album! This album just keeps giving with global airplay, reviews and an overwhelming massive thumbs up!   Here's some of what the media have to say:"The two 'new' songs with which the album concludes are pretty much worth the asking price alone."  – RECORD COLLECTOR MAGAZINE – UK
"The Dead Daisies are renowned for the strength of their cover versions, to be fair there aren't many groups who do them better." – FIREWORKS MAGAZINE – UK "
For those without The Dead Daisies albums, who either want a crash course in rock history or a collection of good songs, this is a worthy purchase." –  UK POWERPLAY
"This album is an absolute must have not only for the Daisies' fans, but for rock'n'roll fans all over the world. …"  9/10 – Karl Elsenmann, Melody Lane
USA MERCHANDISE STORE
GRAND OPENING
If you've been holding out to get some of our Daisies merchandise, we've answered the call to have stock available in the US, which will keep postage costs down!
Our US merchandise store is officially open for business.
Check it out: https://www.jsrdirect.com/merch/the-dead-daisies