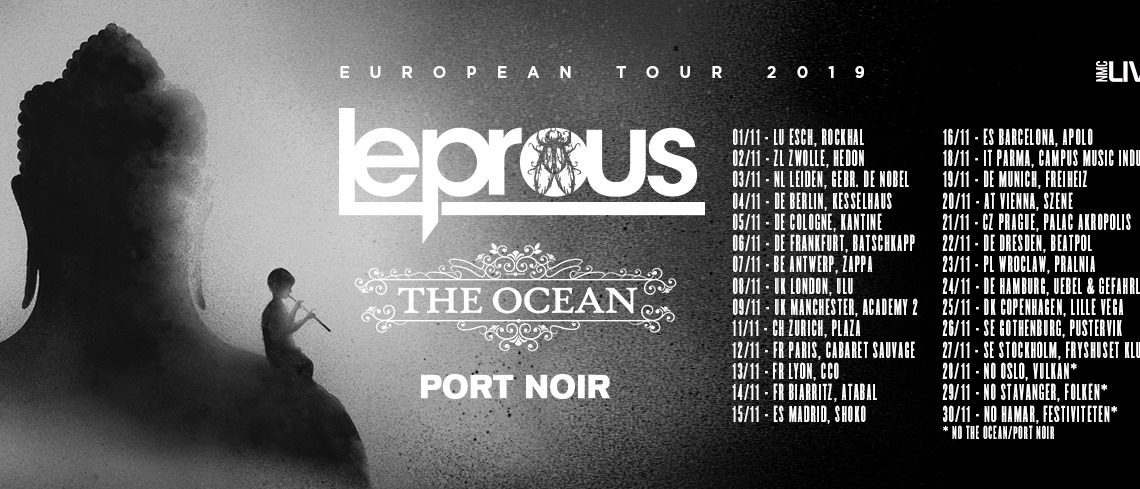 Leprous – Manchester Academy 9 November 2019
16th November 2019
0
By
Paul Flynn
Norway's sublime progressive metal outfit Leprous return to Manchester to deliver an exquisite set of dark and rhythmic soul.
In support of their latest release, the equally sublime, Pitfalls, Einar Solberg's band delivers in every way possible. Opener Below once again demonstrates Solberg's extraordinary vocal talents against the backdrop of the bands cinematic musicality; playing like the best Bond theme never released. Rock-Disco-esque I Lose Hope brings the groove before the trippy-prog expansion cuts through the venue like a blade.
Its clear at this point that Leprous have a keen sense of production and staging as their sound and presentation is impeccable. Each member of the band has a clear sense of purpose and presence and each nuance can be heard. The Valley provides proof of the bands zeal for progressive breakdowns and their technical ability is truly something to behold; the crunching and mesmerizing mid-section creating a sort of metal obbligato; this is right up my street.
From the Flame again demonstrates the bands penchant for syncopation but with an appreciation of vigorous refrains to lift the crowd. Slowing things down mid set Observe the Train offers the opportunity to observe the band expanding their abilities of performance in round. Tracks like Alleviate and Slave may well showcase individuals, such as Baard Kolstad's percussive prowess and Tor Oddmund Suhrke's guitar cadenzas but the bands true genius lies in their interdependent and spirited performance.
Stage lighting and smoke allow Leprous to largely perform as silhouettes, maundering in quieter passages; exhilarating in explosive outbursts. The night continues to delight. Leprous choosing a long set  from their impressive back catalogue. Each song an expression of their talents as writers and performers. When it comes to the final song of the night they deliver in bucket loads; The Sky Is Red is the closer of Pitfalls and is seriously impressive. Dark, technical and menacing it makes patently clear the fact that Leprous are a true force of nature.
Their live performance leaves no doubt that they have a creative edge over most other bands in the field. And with their oddly office clean appearance Leprous are a band that stand out. I will happily watch this band perform again and again; such is their absolute brilliance.
Setlist:
Below
I Lose Hope
The Valley
From The Flame
Observe The Train
Alleviate
Slave
At The Bottom
The Price
Illuminate
Salt
Distant Bells
Mirage
The Sky Is Red
For all things Leprous, click HERE
How useful was this post?
Click on a thumb to rate it!
Average rating 5 / 5. Vote count: 3
No votes so far! Be the first to rate this post.
Related
About the author
I have been a music fan since I was about 10 years old but discovered Metal after hearing Maiden's Somewhere in Time back in '86. Since then I have been Metal mad, listening to Thrash, Death, Melodic and Extreme types. I can be found at venues in and around Liverpool and Manchester and do love a good pint. Hope you enjoy the reviews as much as I enjoy writing them.