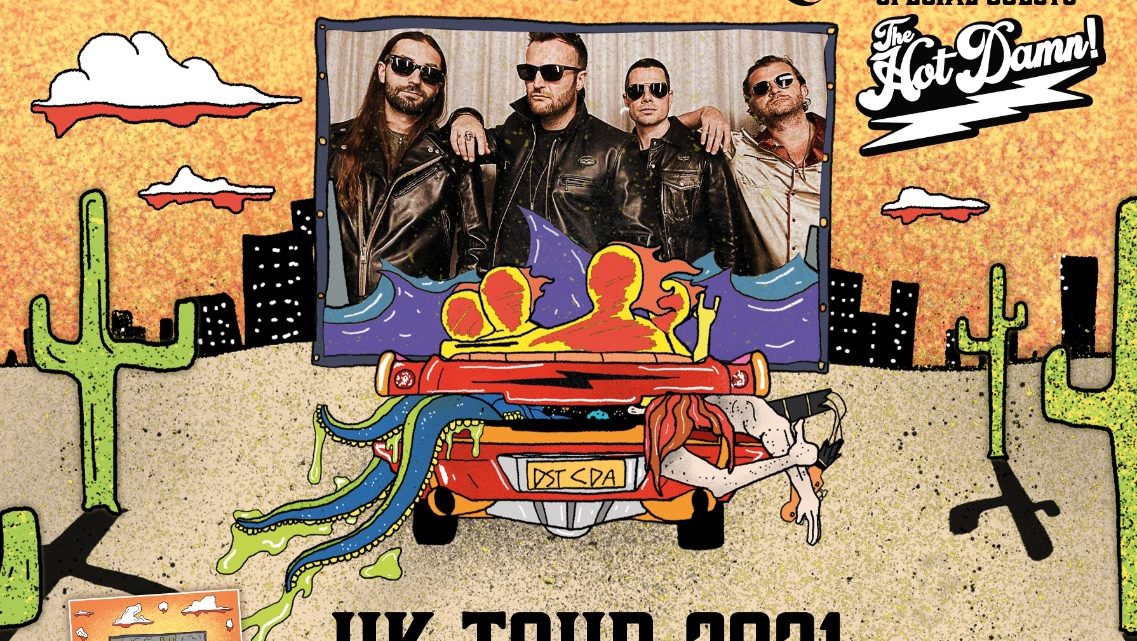 The Dust Coda With Support From The Hot Damn! and Salt River Shakedown – King Tuts, Glasgow 6th December 2021
24th December 2021
0
By
Kevin McCallum
Monday night at a legendary venue in Glasgow, not a bad way to spend it at all. Three bands , good crowd and plenty anticipation.
Local band 'Salt River Shakedown' opened the proceedings with their own brand of rock, funk and edgy prog music, giving the crowd 6 songs. They delivered a combination of styles with a strong early seventies vibe to them. Set highlight for me was 'Honey' and they gave a good interpretation of the Free classic 'The Stealer'. Watch out for these guys in the future , check them out live if you get the chance and also their 2019 album release 'Road to the Sacred Island'. Check them out HERE
Next up 'The Hot Damn' , 4 piece who have been getting a lot of good press recently . Again a 6 song set , one thing for sure is that they ooze charisma and definitely give a 'its fun to rock' vibe, which the crowd reacted to easily. Check them out HERE
Vocals/Guitar: Gill Montgomery, Guitar/Vox: Laurie Buchanan Bass/Vox: Lizi Hayes Drums: Josie O'Toole have a sound that is on a platform with the Green Days of this world, but give their own identity to it. New single 'I Didn't Like You Anyway' is a good song , set favourite for me along with 'Dance Around' and from Gill's previous band The Amorettes, they gave us 'Everything I Learnt I learnt from Rock n Roll', stage presence in abundance with a good sound to match, catch up with them when you can.
Main act of the night 'The Dust Coda' hit the stage at 1025pm .I first heard about 'The Dust Coda' when their EP 'The More it Fades' was first aired in 2016. Moving into 2017 their debut album 'The Dust Coda' hit the ground. Spring forward to 2021 and we have the release of this great album to mark this tour namely 'Mojo Skyline'. Its a 12 track serving from the London based band featuring John Drake (Vocals/Guitar), Adam Mackie (Guitar) and a rhythm section of Scott Miller (Drums) and Tony Ho (Bass).
'Jimmy 2 Times' opens the set, this is a good upbeat rock song and sets the scene for the rest of the night.
'Demon', is a real foot stomper head bopper plants you right into the musical style of the band that you'll hear right through both albums and the live setting.
'Dream Alight' slows you right down in parts and gives you a great festival feel song and this would hold its on on the summer stages, as the lyrics say 'you just make me feel alive…..set this dream alight', great song.
'Breakdown' gives you a more bluesy funky feel but great lyric writing and moody chorus.
So the set opens with four songs rapid from the 'Mojo Skyline' album, then dips into the 2017 album with firstly 'Sweet Love' , this song for me showcases the great and strong vocal talent of John Drake, and then 'All I Got'.
The band released a cover version of the classic Blondie song 'Call Me' and they do it justice .
Next up 'I've Been Waiting' again from 2019 and then 'Rolling' with a brilliant lead guitar solo that would grace any gig, absolute quality.
The musicianship of all these guys is up there with the best of them and comes over brilliantly in the live setting.
'Bourbon Pouring' has definite Country /Americana styles and delivers a song that slows the pace down and comes over well.
Followed up with 'Down in The Valley', '"Best Believe It' another great rock song and 'Its a Jam'
Set closer is one of the best rock songs I've heard for a while, 'Limbo Man'. It's an out and out power rock song and brings with it some echoes of the NWOBHM era.
Show favourites for me were 'Demon', 'Limbo Man', 'Dream Alight' ,'Rolling', 'Bourbon Pouring', 'All I Got', 'Sun Goes Down' and 'Sweet Love'.
There are many snippets of styles from 'The Dust Coda' that cross over a bit of Deep Purple, AC/DC, Bad Company, Led Zeppelin etc with some Alter Bridge tones in there as well. The good thing is the band put these all into the pot and lay down their own mar on proceedings, these guys know rock n roll. 'The Dust Coda' strength in lyric writing and supporting with great melody and musicianship are up there with the best we've heard in 2021. In a market with an abundance of peers the 'The Dust Coda' lead the way for me both on record and live.
Criticism of the night would be that we had no encore due to the curfew, start earlier than a doors of 8:30pm, with three bands on the bill this was always going to be a tight ask. Set List
1. Jimmy 2 Times
2. Demon
3. Dream Alight
4. Breakdown
5. Sweet Love
6. All I Got
7. Call Me (Blondie cover)
8. Sun Goes Down
9. I've Been Waiting
10. Rolling
11. Bourbon Pouring
12. Down in the Valley
13. Best Believe It
14. It's A Jam
15. Limbo Man

For all things on The Dust Coda, click HERE
How useful was this post?
Click on a thumb to rate it!
Average rating 5 / 5. Vote count: 1
No votes so far! Be the first to rate this post.
Related