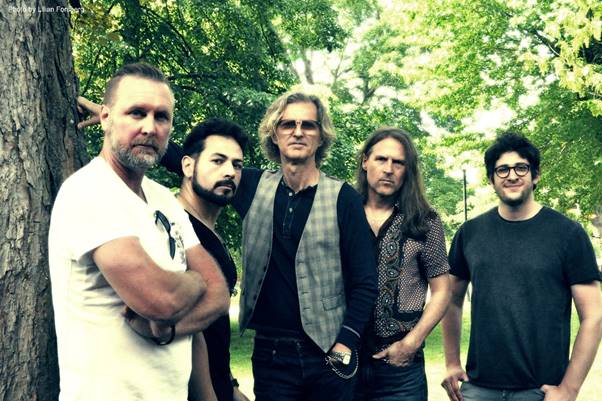 The Flower Kings launch first single 'Black Flag' and start presales for new studio double-album 'Waiting For Miracles'
23rd October 2019
0
By
John Deaux
Progressive rock legends THE FLOWER KINGS are pleased to present a first track from the group's much anticipated new studio double-album 'Waiting For Miracles', which will be released on InsideOutMusic on the 8th November 2019. The album is comprised of 15 new tracks, recorded over the summer at RMV studio in Stockholm, Sweden – a vintage studio space owned by ABBA star Benny Andersson.
The band is excited to now share a track from this record: "Here's 'Black Flag'. A fine example of what you can expect of the new record, yet just a glimpse at the rich variations this new opus offers. It is a huge tribute to when music was played by a real band, a time when being creative in the studio meant progress in all direction and fusing all styles – this is a band creating its very own special cinematic sound, built upon 60's & 70's and contemporary prog, rock and orchestral music. A fine display of instrumental and vocal interplay from all members – the trademark Flower Kings sound is back, but yet with a new twist. Full circle – and this track even has guesting from former TFK bass player Michael Stolt. This time The Kings set sail for a big adventure."
Listen to 'Black Flag' here:
YouTube: https://youtu.be/LoDfg9dS7LI
Spotify – http://bit.ly/TFKBlackFlagSpotify
Apple Music – https://theflowerkings.lnk.to/WaitingForMiracles/AppleMusic 
Deezer: http://bit.ly/TFKBlackFlagDeezer
Furthermore, presales for physical and digital formats have started! "Waiting For Miracles" is available as 2CD, Gatefold 2LP + 2CD & as digital album. Order your format of choice below:
https://theflowerkings.lnk.to/WaitingForMiracles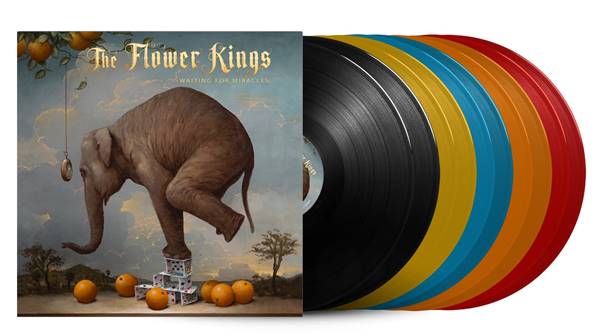 The following limited vinyl editions can be pre-ordered now, too:
200x light-blue plus signed post card @ Burning Shed UK http://bit.ly/TFKBurningShed
100x orange & 200x red @ InsideOut Shop Germany http://bit.ly/TFK-IOMShop
100x yellow @ JustForKicks Germany http://bit.ly/TFK_JFK
Furthermore, the band, currently comprised of Roine Stolt, Jonas Reingold, Hasse Fröberg, Zach Kamins & Mirko DeMaio will be heading out on tour this December with label-mates KAYAK.
The two bands will perform 12 dates across 6 countries, and you find the full list of shows below, tickets on sale now:
1st December – Bahnhof St. Pauli, Hamburg, Germany
2nd December – Musikzentrum, Hannover, Germany
3rd December – OK Andaluzia, Piekary Slaskie, Poland
4th December – Klub U Bazyla, Poznan, Poland
6th December – Burgerweeshuis, Deventer, Netherlands
7th December – De Boerderij, Zoetermeer, Netherlands
8th December – Scala, London, UK
9th December – Piano, Dortmund, Germany
10th December – Columbia Theater, Berlin, Germany
11th December – Amager Bio, Copenhagen, Denmark
12th December – Brewhouse, Gothenburg, Sweden
14th December – Kraken, Stockholm, Sweden
The Flower Kings started as an outlet for guitarist/singer/composer Roine Stolt in 1994 – a time when prog-rock wasn't mere history, nor a dirty word. The band quickly gained momentum and was one of a handful of bands helping to revive the progressive rock scene worldwide. Roine has since collaborated with a host of legendary musicians across various projects, including his acclaimed 2015 album with Yes-legend Jon Anderson, progressive-rock supergroup Transatlantic alongside Neal Morse, Mike Portnoy & Pete Trewavas, and a year as bass player with Genesis guitarist Steve Hackett. The Flower Kings however, has always felt like home for Roine and the other band veterans Jonas Reingold & Hasse Fröberg.
THE FLOWER KING's online:
https://www.roinestolt.com/
http://www.facebook.com/TheFlowerKings
https://www.songkick.com/artists/84715-flower-kings
https://www.bandsintown.com/en/a/52676-the-flower-kings
INSIDEOUTMUSIC online:
www.insideoutmusic.com
www.youtube.com/InsideOutMusicTV
www.facebook.com/InsideOutMusic
www.twitter.com/insideouteu
How useful was this post?
Click on a thumb to rate it!
Average rating 0 / 5. Vote count: 0
No votes so far! Be the first to rate this post.
Related
About the author
Some say Yank My Doodle, It's A Dandy! is a biographical movie based on John. Some have even said that his favorite artist is Chesney Hawke! All we really know is he sleeps inside out and his hair tastes like candy floss.