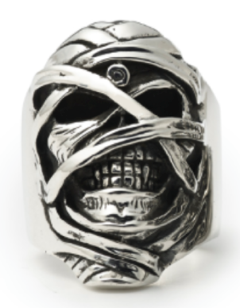 The Great Frog Launch First of Four Official Licensed IRON MAIDEN Rings
4th December 2015
Legendary jewellers The Great Frog synonymous with the rock and roll scene since 1972 launch the first of four Official IRON MAIDEN rings with 'Powerslave Eddie' ahead of the band's 2016 The Book Of Souls World Tour. The Great Frog (TGF) now in its 43rd year as the go-to brand for alternative, high-end jewellery, have hand crafted a series of 4 solid sterling silver rings to be released over the next 12 months in collaboration with IRON MAIDEN. The first design in the collection, 'Powerslave Eddie' is named after IRON MAIDEN's iconic mascot of the 'Powerslave' album era and features the mummified Eddie on the band's celebrated1984-1985 World Slavery Tour artwork. It will be available to buy from November. Each ring is unique and will be individually numbered with an authentication certificate signed by TGF designer Reino Lehtonen-Riley included with every purchase.
The Great Frog have had a long-standing relationship with the band; in 1983 the London jewellers were asked by IRON MAIDEN's lead singer Bruce Dickinson to produce a one-off 'Eddie' belt buckle ahead of the Powerslave tour. Unusually this was carved straight into brass rather than traditional wax carving TGF use to produce its jewellery.
With approval and close scrutiny from Iron Maiden's management this has been a dream come true for lifetime IRON MAIDEN fan and TGF owner Reino Lehtonen-Riley who spent many childhood (and adult) years drawing the stunning Iron Maiden album cover art. The Great Frog have previously launched official licensed rings with Motörhead, Slayer and Anthrax.