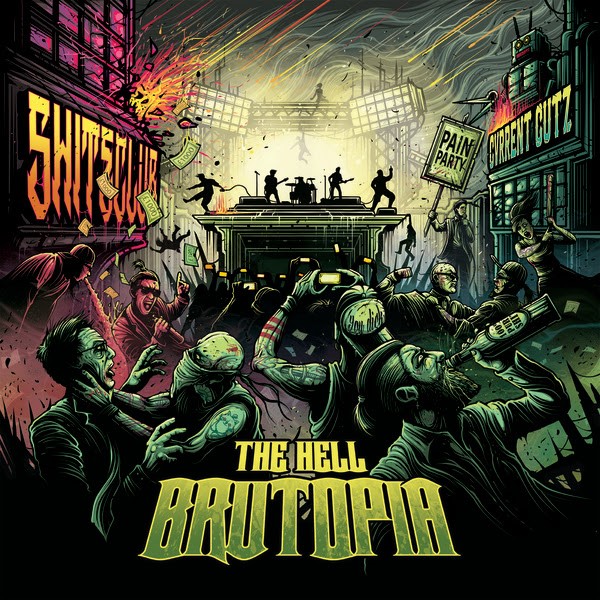 THE HELL – UNLEASH NEW ALBUM & TOUR
28th October 2015
Watford's mysterious mosh-crew THE HELL return with their brand new album, 'Brutopia'. Renowned for their less than subtle satire and a brutal lashing of fist-to-the-face riffs and grooves, 'Brutopia' is the band's wildest ride to date. Described by Rocksound as a "chugga-chugga-masterclass", 'Bruptopia' follows a year of notorious festival appearances at Reading & Leeds, Sonisphere, Copenhell, Groezrock and the Hevy Festival and baiting / polarizing the music press with their gob-shite rhetoric and cutting social mockery.
"You don't listen to The Hell, The Hell take a shit down your ears" furthered Rocksound, and they are not wrong.
'Brutopia' features the future hits, 'Sick', 'I've Got Loads Of Money', 'Shite Club' and 'Fuck You All' amongst others. The band will be hitting the road to coincide, bringing a van load of abuse to a town near you.
30 Oct – London – tinyurl.com/o6te8m2
06 Nov – Huddersfield – tinyurl.com/ptke737
07 Nov – Wigan – tinyurl.com/p43aoep
08 Nov – Chester – tinyurl.com/o9ly3on
13 Nov – Guildford – tinyurl.com/q5n8bjd
19 Nov – Birmingham – tinyurl.com/pbpourr
20 Nov – Stoke – tinyurl.com/pqjg5jr
22 Nov – Glasgow – tinyurl.com/pwvhqnf
10 Dec – Bournemouth – tinyurl.com/qatasp9
11 Dec – Plymouth – tinyurl.com/pdeeswb
13 Dec – St Albans – tinyurl.com/owf45g9