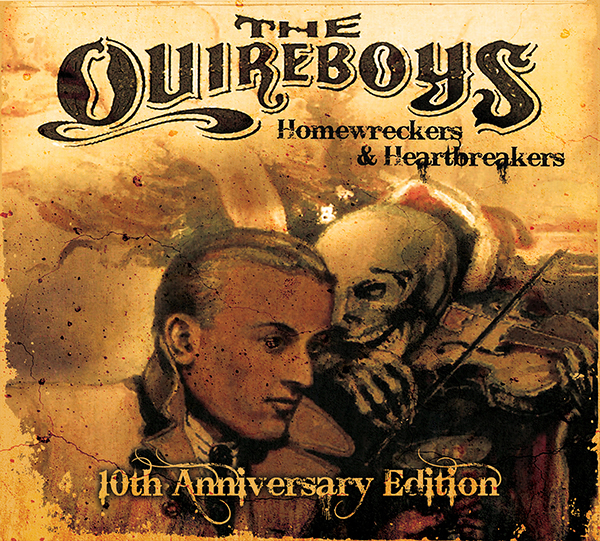 The Quireboys Homewreckers & Heartbreakers celebrates 10th birthday!
10th July 2018
Critically acclaimed Quireboys album re-released with bonus Live Tracks from 30th Anniversary
Special show at London's O2 Forum Kentish Town – 14th September 2018
Rock and roll heroes The Quireboys will put on a capital show in Kentish Town as they celebrate the band's iconic Homewreckers & Heartbreakers record in style.
Ten years after releasing the album that cemented a long overdue comeback, the band will be joined by H.E.A.T., Aaron Buchanan & The Cult Classics and Those Damn Crows at London's O2 Forum.
And the one-off gig will be an opportunity for fans to snap up the re-released version of Homewreckers – a Quireboys classic that continues to delight a decade down the line with some quality bonus live tracks from the 30th Anniversary aptly entitled 'Back at the Moon', where they played their very first gig.
The 2008 album will be played in its entirety at the hotly anticipated September 14 show. And according to Guy Griffin, it's impossible to underestimate the importance of The Quireboys' critically acclaimed fifth studio album. "Homewreckers & Heartbreakers was the record that re-established the band," insisted the long serving guitarist. "We'd been back together for a few years but until then we were still testing the waters. 
"Homewreckers & Heartbreakers was the start of something special – until then everything had been done in fits and starts. But we'd played a lot of shows, we'd identified our sound and we had a settled line-up. We went into a great place in Bedfordshire, called Lost Boys Studio, to make the record. It's in the middle of nowhere and there were no distractions. We came out with an album that, in my view, is second only to A Bit Of What You Fancy."
A decade down the line Homewreckers & Heartbreakers is still writ large across a Quireboys live show – and for good reason. Love This Dirty Town and the epic Mona Lisa Smiled are timeless classics and the latter still has a special place in the heart of frontman Spike. "The idea came to me when I was working on another project in Spain," he explained. "I was told about Salvador Dali and his wife Gaya and it was their lives and deaths that inspired the song. It's a bittersweet love story and it's a song that's always been popular with our fans." Griffin added: "The lyrics for Mona Lisa Smiled are some of Spike's best. It's a fantastic song."
Homewreckers & Heartbreakers boasts myriad highlights – including the brilliant Blackwater. "That's one of my favourite Quireboys songs," added Spike. "It's about Jack Daniels – so that might be why! But it's also about any journey that you make, only to realise that what you're looking for might not be there after all."
Ten years after Homewreckers & Heartbreakers proved The Quireboys' comeback was no flash in the pan, the fan favourite is long overdue a well-deserved reappraisal. "Looking back it was a real labour of love," added Griffin. "We had the time we needed to make the record we wanted. And it shows."
The Quireboys play London's O2 Kentish Town on Friday September 14. Standard & VIP Tickets are on sale now via www.offyerrocka.com.
10th Anniversary Limited Edition "Homewreckers & Heartbreakers" digipacks are re-released via Off Yer Rocka Recordings on September 3. 
Track Listing Cat Number OYR054:
  I Love This Dirty Torn
02.     Mona Lisa Smiled
03.     Louder
04.     Hello
05.     Blackwater
06.     Fear Within The Lie
07.     One For The Road
08.     Late Nite Saturday Call
09.     Hall Of Shame
10.     Take A Look At Yourself
11.     Josephine
12.     Too Much Of A Good Thing (live)
13.     Homewreckers & Heartbreakers (live)
14.     Mona Lisa Smiled (live)
15.     Mother Mary (live)
16.     I Love This Dirty Town (live)