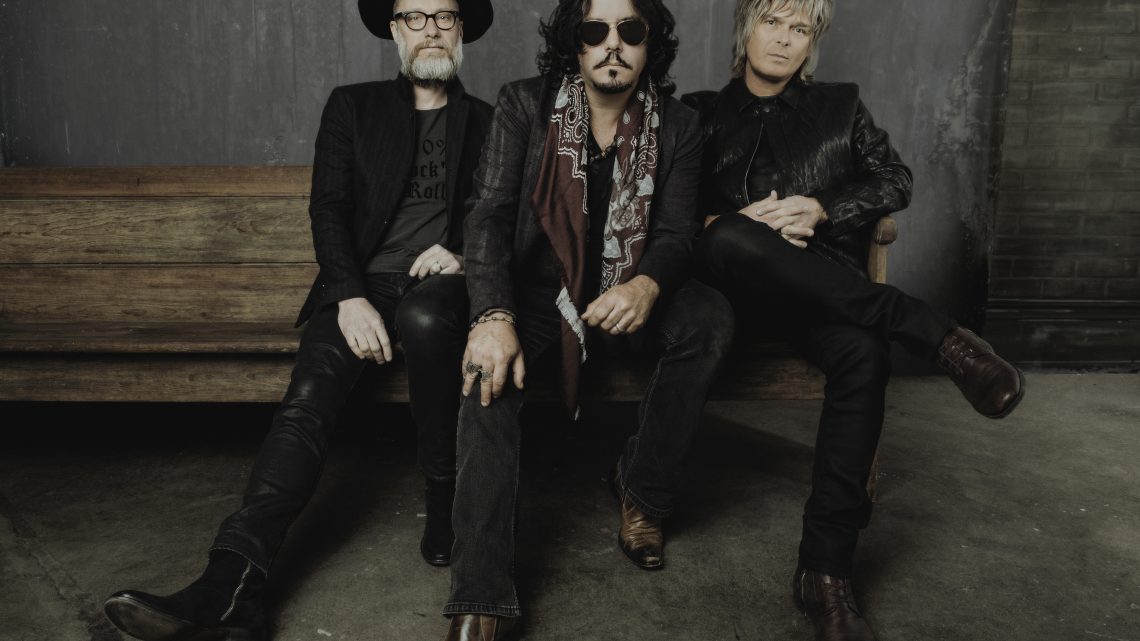 The Tea Party – Announce "Blood Moon Rising" release and start pre-order; Launch lyric-video for opening track "Black River"
8th October 2021
0
By
John Deaux
Canadian Rock trio The Tea Party will be releasing their first new music in Europe since 2014's "The Ocean At The End" album with a full-length record titled "Blood Moon Rising", out November 26th, 2021 via InsideOutMusic. 
"Blood Moon Rising" (Cover artwork to be seen above!) features 11 tracks recorded by The Tea Party over the course of the last 5-years in Canada and Australia, compiling the self-released "Black River" EP with another stack of fascinating new rock compositions and even additional bonus material.
A fantastic way to celebrate the band's 30th Anniversary of existence… 
The Tea Party's Stuart Chatwood (Bass, Keyboards) checked in to comment about "Blood Moon Rising" as follows:
"Putting together "Blood Moon Rising" has been an epic ordeal split into 2 parts with recordings and mixing taking place all over the world.  After many years away from the European market we're thrilled to return with such a varied collection of rock songs. In the time since our "The Ocean at the End" release the band has remained busy touring Canada, the USA and Australia, which included some monumental orchestra performances.
Once again Jeff Martin has helmed the production with the original Australian sessions for "Black River" taking place in 2015. We finished the recordings in Vancouver at the legendary Armoury Studios whose past clients have included AC/DC, REM, INXS and others. The band explores its rock, acoustic and blues influences over the album's eleven tracks. Of particular note is the title track dedicated to our longtime front of house sound engineer John Watt, who sadly passed away during the recording of the record. 
With the world thrown into chaos thanks to Covid the band is unsure when the world tour will commence for the record, but we are hoping for a return to European audiences can be included for the first time since 2001. Put some headphones on and enjoy the journey!"
Check out the release's opening track "Black River"
Stuart Chatwood added the following about "Black River":
"That epic riff from "Black River" is what launched the sessions to the follow up to our 2014 release "The Ocean at the End". Many of our epic songs came from the interplay between the guitar and the drums with those two instruments talking to each other. This riff was imagined in 2015 when Jeff Burrows and Jeff Martin found themselves in our hometown of Windsor with some idle time between tour dates. They decamped to a garage to jam out ideas which turned into an epic 5-hour session that resulted in the skeleton of this proto-1970s, British Blues Rock anthem that could only have been written in the shadows of the Detroit skyline. Whilst I was unexpectedly absent that day, I was able to contribute when I heard the rough recording at the next soundcheck and realized the song was missing a bridge and a melodic one in that. I was sitting on such a piece and the rest is history. "
Here is the complete track-listing for the "Blood Moon Rising" release: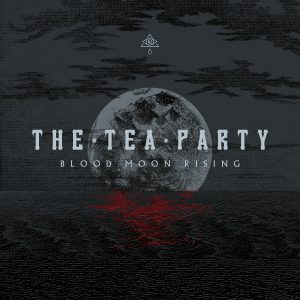 The Tea Party – "Blood Moon Rising":
Black River
Way Way Down
Sunshower
So Careless
Our Love
Hole In My Heart
Shelter
Summertime
Out On The Tiles (Led Zeppelin Cover)
The Beautiful
Blood Moon Rising (Wattsy's Song)
———————————
Isolation (Joy Division Cover) *
Everyday Is Like Sunday (Morrissey Cover) *
Way Way Down (Bonus Live Version) *
* Digipak CD/Digital Album Bonus – Not on Vinyl!
"Blood Moon Rising" can be pre-ordered as of today in the Limited Digipak CD, LP on 180g Black Vinyl and Digital Album formats from the following location: 
https://theteaparty.lnk.to/BloodMoonRising 
With a career spanning over thirty years and nine major-label releases, The Tea Party, composed of Jeff Martin, Jeff Burrows, and Stuart Chatwood, have successfully gained the attention of fans on a worldwide level. In addition to selling close to 2 million records worldwide, they have toured a countless number of times throughout Canada, the United States, Europe, and Australia. Much of the band's success can be attributed to their larger-than-life stage presence, featuring industrial rock, blues, progressive rock, and Middle Eastern music influences, dubbed "Moroccan Roll" by the media.
Also check out The Tea Party's previously released digital single "Summertime" here:
https://www.youtube.com/watch?v=hHr6niSYKa0
Stay tuned for more news on The Tea Party coming soon…
The Tea Party line-up:
Jeff Martin – Vocals, Guitar
Stuart Chatwood – Bass, Keyboards
Jeff Burrows – Drums, Percussion
The Tea Party online:
www.teaparty.com
www.facebook.com/theteapartyofficial
www.instagram.com/theteapartyband/
https://twitter.com/theteapartyband
InsideOutMusic online:
www.insideoutmusic.com
www.youtube.com/InsideOutMusicTV
www.facebook.com/InsideOutMusic
www.instagram.com/insideoutmusic
www.insideoutshop.de
How useful was this post?
Click on a thumb to rate it!
Average rating 0 / 5. Vote count: 0
No votes so far! Be the first to rate this post.
Related
About the author
Some say Yank My Doodle, It's A Dandy! is a biographical movie based on John. Some have even said that his favorite artist is Chesney Hawke! All we really know is he sleeps inside out and his hair tastes like candy floss.