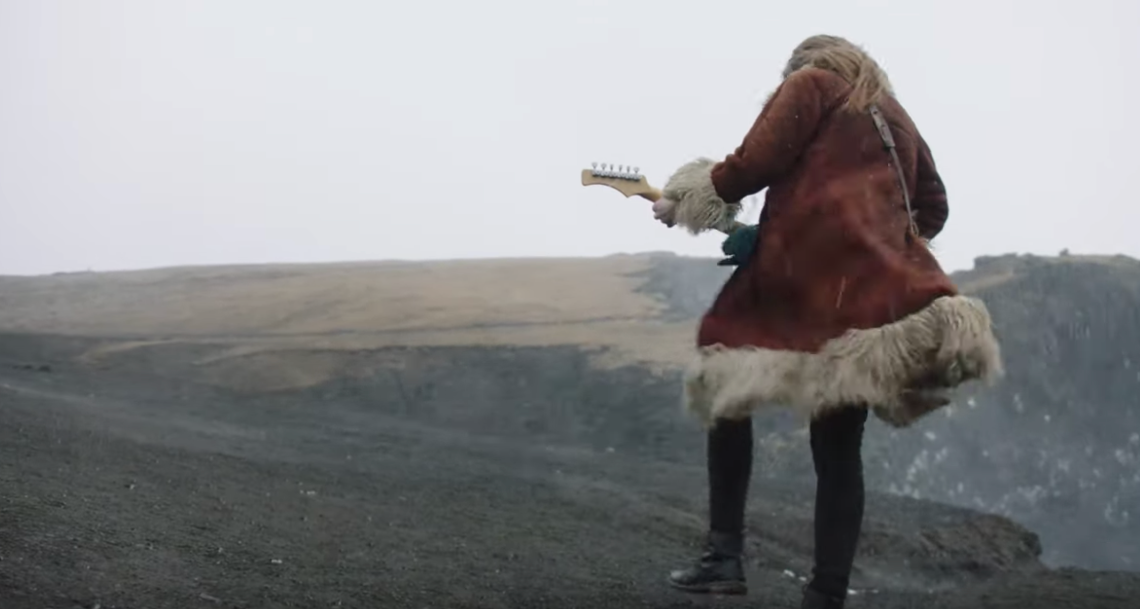 THE VINTAGE CARAVAN | Band premiere official video for 'On The Run'
11th April 2019
Icelandic classic rock trio THE VINTAGE CARAVAN are about to kick off the second leg of their European tour in support of their latest studio album, Gateways. The guys hit the road once again with Belgian rock outfit BLACK MIRRORS and to celebrate, they have premiered the official video for 'On The Run':
Guitarist/vocalist Óskar states, "We are very happy to share this video with all of you. The director of the video is Nicholas Helgason who also worked with us on 'Crazy Horses' and 'Babylon'. The making of the video was fun and also quite hard, Icelandic weather is not very predictable. It can go from sunny to a snowstorm in a matter of minutes. This video differentiates itself from our other videos, less focused on humor and the weirder things and is more serious because the song is one of our more personal ones. The song is about touring, those moments leading up to going to the airport to leave your loved ones behind. Nicholas had a very good interpretation of the song and his concept for the video gives the song a wider meaning, he really did it justice, well done, man!
We are so excited to start the Gateways Tour Part II with our dear friends in BLACK MIRRORS! The last run was so incredibly fun, we can't wait to do it again! See you all 'On The Run'!"
Gateways can be ordered below:
Limited Edition Digipack CD:  nblast.de/TVCGatewaysCD
Limited Edition Black Vinyl:  nblast.de/TVCGatewaysVinyl
Digital album:  nblast.de/TVCGatewaysIT
Gateways European Tour – Part II
w/ BLACK MIRRORS
17.04. NL Amsterdam – Melkweg
18.04. NL Sittard – Poppodium Volt
19.04. NL Deventer – Burgerweeshuis
20.04. B Antwerp – Trix
21.04. D Essen – Turock
23.04. D Münster – Sputnikhalle
24.04. CH Olten – Coq d'Or
25.04. A Innsbruck – p.m.k.
26.04. A Ebensee – Kino
27.04. A Linz – Posthof
28.04. D Weinheim – Café Central
29.04. D Kiel – Die Pumpe
01.05. DK Copenhagen – Pumpehuset
02.05. S Gothenburg – Sticky Fingers (w/ BULLET)
03.05. S Stockholm – Kägelbanan (w/ BULLET)
04.05. N Oslo – John Dee Live Club
06.05. FIN Helsinki – On the Rocks
Tickets: www.thevintagecaravan.eu/tour
Merch: https://merchplanet.com/vintagecaravan/
More TVC dates:
13.04. B Bomal-Sur-Ourthe – Durbuy Rock
07./09.06. D Gelsenkirchen – Rock Hard Festival
08.06. D Bückeburg – Rock'n'Booze Open Air
20. – 22.06. D Netphen – Freak Valley *SOLD OUT*
21./22.06. IS Reykjavík – Secret Solstice Festival
23.06. UK Kent – Black Deer Festival
18. – 21.07. NL Lichtenvoorde – Zwarte Cross
23.07. SLO Tolmin – MetalDays
01. – 03.08. D Wacken – Wacken Open Air *SOLD OUT*
18.08. F St. Nolff – Motocultor Festival
20./21.09. D Hamburg – Metal Dayz
26./27.10. UK Pwllheli – HRH Prog
Follow online:
thevintagecaravan.eu
facebook.com/vintagecaravan
nuclearblast.de/thevintagecaravan
How useful was this post?
Click on a thumb to rate it!
Average rating / 5. Vote count: