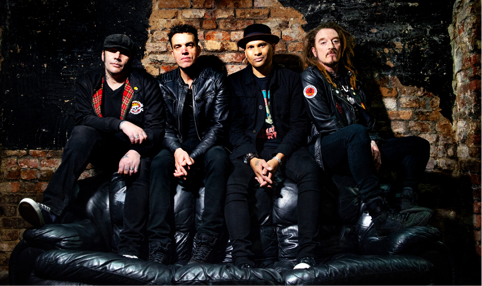 The Wildhearts – Live Online By Request – 17th April 2021
20th April 2021
What a week! The pubs and shops reopened, restrictions started to lift, but life saved the best bit for last…The Wildhearts live on a Saturday night. Albeit live on my telly, but after over 12 months without live music, it felt so good to blast away a years worth of gig-free cobwebs. And there was no one better for the job!
 The gig was an online stream with a by request set. A list of choices was posted earlier in the year and everyone was invited to choose which songs they wanted to hear on the night. The list ranged from their more familiar tracks, to fan favourites to rarities. The most requested songs would be played. In addition to access to the gig, ticket holders also gained access to exclusive interview material. 
 So, onto the gig itself. Set in an atmospherically lit studio setting, the band immediately hit top gear with storming Dislocated. Taken from 2019's The Renaissance Men, its a powerful way to announce that they're back and mean business. An out of breath Ginger at the end of it shows that full gig fitness is a while off after a year on the sidelines. 
 As the set progresses, it's like being reacquainted with a procession of old friends that you haven't seen throughout lockdown. Just as in real life, we have been kept apart from them, but now it's time to say hello again. TV Tan, Everlone,  Suckerpunch, Vanilla Radio, Red Light, Green Light , Caffeine Bomb and Sick Of Drugs whizz by. Their familiarity makes this a truly joyous occasion. 
  That said, one minor quibble would be that it was, in effect, a best of set that had been voted for. As a fan of nearly 30 years, my choices had stayed away from the hits, for want of a better word. This was a chance to hear more off the beaten track songs. Choices like Beautiful Thing You, Urge or Stormy In The North didn't make the cut, but hey ho. Ginger even commented during the show that it was amazing that they let the fans choose the set and they chose the songs that they normally play anyway. Something similar happened when Metallica did a by request set in 2014. It was just a regular best of set with few surprises. This aside, both were still great shows, democracy wins out in the end. 
 The most controversial moment of the set was after a great version of Greetings From Shitsville. Ginger turns to the rest of the band and asks can they all agree that that is the last time they will ever play the song. He then goes on to say that he regrets writing it. While I can agree that its been played to death over the years, it would be a shame if it was confined to the shelf forever. Hopefully absence will make his heart grow fonder, and it will make a reappearance one day. 
 After cracking run throughs of My Baby Is A Headfuck and Diagnosis, Ginger asks god to please provide them with a lead singer for the band, and lo and behold his prayers are answered in the shape of special guest Frank Turner. His fanboy enthusiasm for taking part seems to lift the band to a new level as they storm through Let Em Go, and I Wanna Go Where The People Go to end proceedings on an energetic high. 
 The stream then ends with a message to check the app for further material including an encore. After a familiar set, there was a major surprise here. A brand new track! Splitter is a storming punk rock track and shows that the band have lost none of their fire during lockdown. And if that wasn't enough, it also marked the announcement of a brand new album available for pre-order called 21st Century Love Songs ,to be released on September 3rd 2021. I cannot wait! 
 A triumphant end to a great night. Tonight was ultimately about celebration. Lockdown is coming to an end. Gigs are back, online at the moment, but not too far away in the flesh. And more importantly, The Wildhearts are back, hungry and on fire both live and in the songwriting department. What a great end to a great week, and hopefully the start of a great future with a bloody great soundtrack!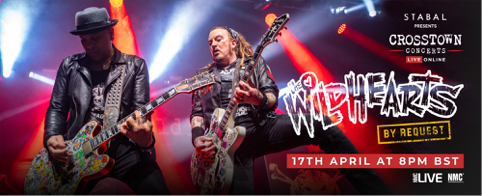 Setlist:
1 – Dislocated
2 – TV Tan
3 – Everlone
4 – Suckerpunch
5 – Vanilla Radio
6 – Revolution Will Be Televised
7 – Red Light, Green Light
8 – Sick Of Drugs
9 – Caffeine Bomb 
10 – Greetings From Shitsville
11 – My Baby Is A Headfuck
12 – Diagnosis
13 – Let Em Go (Featuring Frank Turner)
14 – I Wanna Go Where The People Go (Featuring Frank Turner)
Encore – Splitter