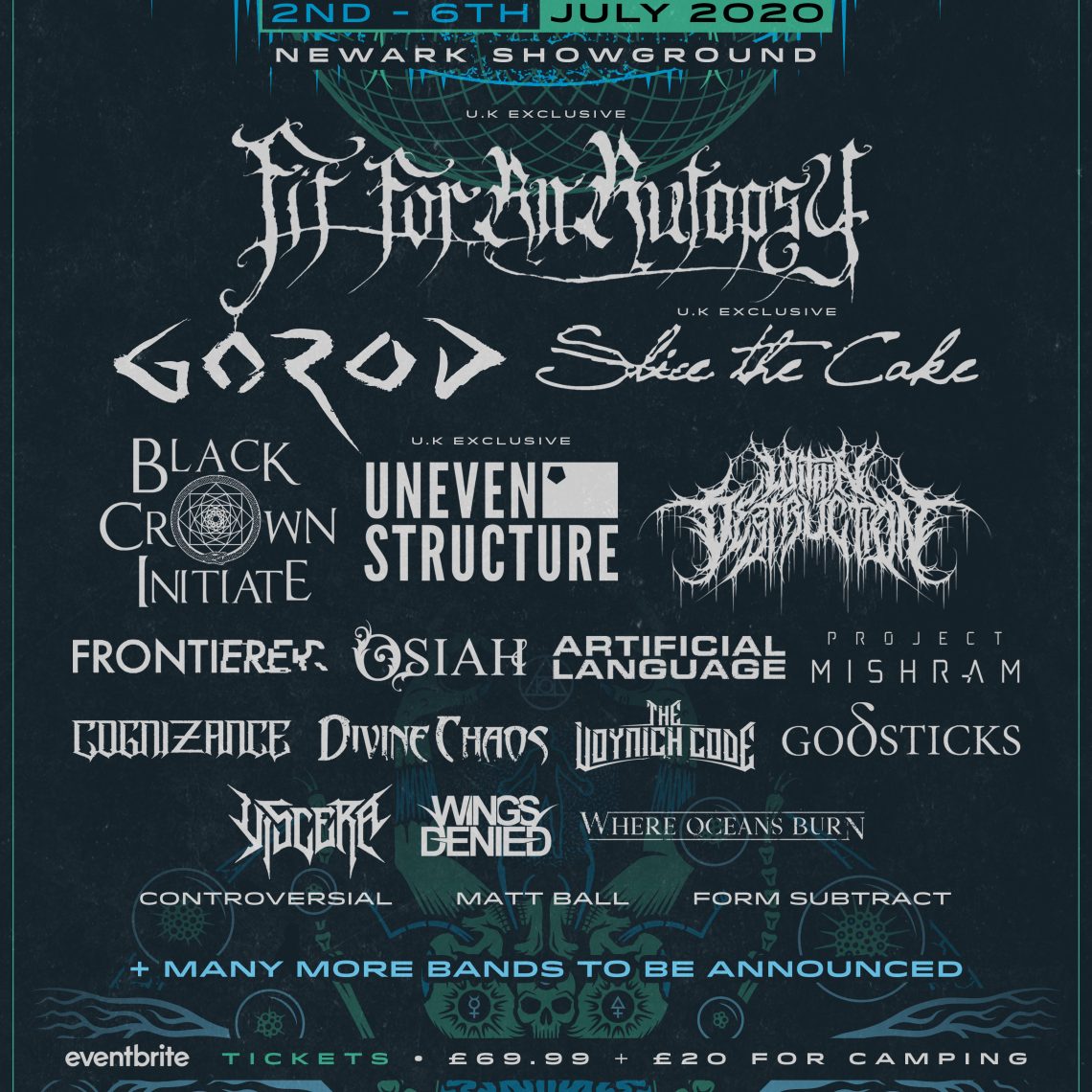 UK TECH-FEST announces Fit For An Autopsy, Gorod, Slice The Cake and 17 more for 2020 2nd-6th July 2019 at the Newark Showground
20th December 2019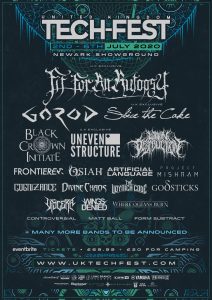 UK TECH-FEST has announced its first wave of bands for the four-day event at the Newark showground on 2nd-6th July 2019.
Technical death metallers Fit For An Autopsy (UK Exclusive), prog-death metallers Gorod tech wizards Slice The Cake (UK Exclusive) lead the charge with the following bands also announced:
Black Crown Initiate
Uneven Structure (UK Exclusive)
Within Destruction
Frontierer
Osiah
Artificial Language
Project Mishram
Cognizance
Divine Chaos
The Voynich Code
Godsticks
Viscera
Wings Denied
Where Oceans Burn
Controversial
Matt Ball
Form Subtract
UK TECH-FEST is also excited to announce a partnership with Primordial Radio, more news on that soon.
2020 Sponsors are:
https://www.facebook.com/strandbergGuitarworks
https://www.facebook.com/MoominMerch
https://www.facebook.com/handsonprinting
 
Long Branch Records – https://longbranchrecords.bigcartel.com/
Line 6 – https://line6.com
Yamaha – https://uk.yamaha.com
Pins & Knuckles – https://www.pinsandknucklesmerch.com/
Blackstar Amps – https://www.blackstaramps.com/
Claas Guitars – 
https://www.facebook.com/claasguitars/
Chris Surgenor Audio
Loki Films – 
https://www.facebook.com/LokiFilms
https://www.facebook.com/JWACreations2016
https://www.facebook.com/Jonny.harper86
Expect big things for 2020 as UK TECH-FEST promises to return with yet another mind-blowing forward-thinking line up. As well as a bill packed packed full of incredible bands, there will be many workshops, gear demos and after parties too.
Weekend tickets currently available at an early bird price of £69.99 + £20 Camping.
Purchase tickets here: www.uktechfest.com
Venue address:
Newark Showground
Lincoln Rd
Newark-on-Trent 
Winthorpe 
Newark 
Nottinghamshire 
NG24 2NY
OFFICIAL WEBSITE: www.uktechfest.com
UKTMF YOUTUBE: https://www.youtube.com/UKTechMetalFest
INSTAGRAM: https://www.instagram.com/uktechmetalfest/
FACEBOOK: 
http://www.facebook.com/uktechfest