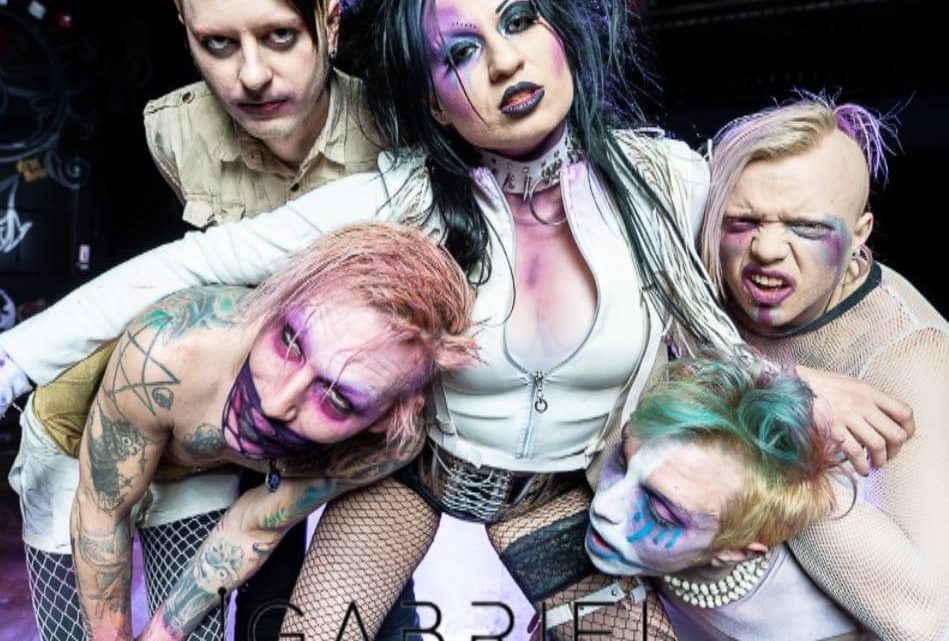 Vocalist Lindy Gabriel of Gabriel and the Apocalypse Speaks Mastiff
11th February 2021
Hailing from the mean streets of Minneapolis, Minnesota, Gabriel and the Apocalypse produce some of the most hook laden industrial sounding metal that gives their predecessors a serious run for their money. We managed to catch up with front person Lindy for a chat about her doggies.
I have an 8.5-year-old Italian Mastiff named Reznor-Enzo. Reznor after Trent Reznor and Enzo, Italian meaning "Rules the home" since he's a guard dog. I've had him since he was a puppy. I also have a 6.5-year-old English Mastiff named Dillinger-Blue. I thought Dillinger sounded like a badass gangster name but the funny thing is, he's such a big sweet love bug, so I call him Dilly-Bob or Bob, as it suits him more. lol, I've had Dillinger since he was a puppy.

What is the weirdest thing Bob and Reznor do?
Bob likes to suckle on pillows. He's been doing it his whole life. It's adorable but I can't have any pillows lying around. He does it every day!
Reznor is on the crazy side. He's broken my bay window, he accidentally broke my husband's finger. He broke my cat's collar bone. He's insane but I still love him!

Apart from breaking bones, what else does Reznor get upto?
Reznor went through training and knows a lot of tricks. He's the smartest dog I have ever had. Many dog trainers that worked with him said he should have been a police dog. He loves to work.
What about Bob?
Bob on the other hand went through training and just laid there haha He's kind of a couch potato. He knows basic tricks but will only do it for food.

How has your anxiety been through this pandemic. Have the dogs helped?
The only positive thing about Covid is all of the extra time I have gotten to spend with my dogs. When my anxiety gets high I just snuggle up with Bob. I cherish those moments.

Have you always been an animal lover? 
I have always loved animals. I am also an animal rights activist, I have worked with several rescue groups and fostered several dogs and cats. I have done rescue runs for chickens and ducks!
I love all animals and hope to have my own animal rescue or farm sanctuary.

There's a few of us in the office that like to rescue animals as well. 

Are you one of those people that puts the dogs into costumes?
Yes! It's kind of funny though seeing a 185 pound dog in a Christmas sweater. This past Halloween Reznor was dressed up like a lil devil and Bob was a lion with this fuzzy black mane.
Now there's an endearing image that'll be hard to erase haha
How do they react when you practice at home?
I think they just like it when we practice because they get to see the whole band. They just chill when we rehearse. When I sing to Reznor he growls at me and when I sing to Bob he starts doing this weird moo sound, I think he's trying to sing along.

Who looks after your pet whilst you're away on tour/holiday?
I am so fortunate to have my parents take care of them while I'm on tour.
That's really good of them. 
Speaking of practising, any new music in the pipeline? IF so when is it due and what can your audience expect?
We have a Remix EP dropping February 26th, it has remixes on it by Rick Stitch Thomas of Mushroomhead, Sin Quirin of Ministry, and more! We are also currently writing brand new tunes!

Have you anything you'd like to say to your fans/followers?
Thank you all for your love and support! We are looking forward to getting back on the road and rocking your faces!
Thank you so much for your time Lindy. It's been a pleasure to chat with you. 
Stay safe and well and we hope to see you on a stage again soon. Looking forward to the remix E.P For all things Gabriel and the Apocalypse, click HERE and to purchase product, click HERE