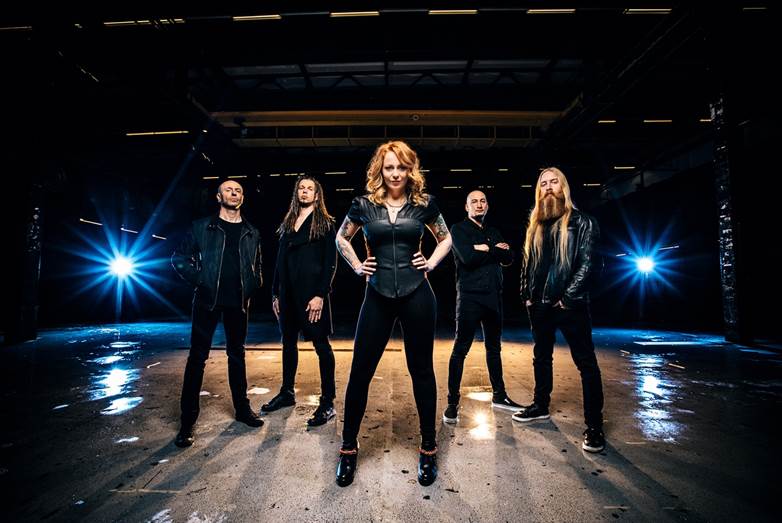 Anneke van Giersbergen's VUUR announce UK & Europe headline tour for 2018!
18th January 2018
On October 20th Anneke van Giersbergen's new progressive metal band VUUR released their much-anticipated debut album, 'In This Moment We Are Free – Cities'. The album entered the Dutch Album Top 100 at number 2, Van Giersbergen's highest-ever chart position.
While currently on tour in Europe as main support to Epica, the band just added a string of headlining tour dates for February 2018, including 5 dates in the UK following on from the one-off London date on the 9th December this year.
Anneke comments:
"We are currently on tour with Epica and we are very grateful they provide the opportunity to play large venues straight after the release of our debut album, but we're equally excited to return to Europe in February 2018 to play these headline shows! The setlist will include most tracks form the VUUR album and my favourites from my heavy back catalogue."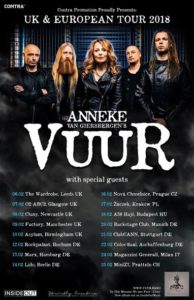 Anneke van Giersbergen's VUUR – UK & European Tour 2018
Feb 06, 2018 – The Wardrobe, Leeds UK
Feb 07, 2018 – O2 ABC2, Glasgow UK
Feb 08, 2018 – Cluny, Newcastle UK
Feb 09, 2018 – Factory, Manchester UK
Feb 10, 2018 –  Asylum, Birmingham UK
Feb 12, 2018 – Rockpalast, Bochum DE
Feb 13, 2018 Marx, Hamburg DE
Feb 14, 2018 – Lido, Berlin DE
Feb 16, 2018 – Nová Chmelnice, Prague CZ
Feb 17, 2018 – Żaczek, Kraków PL
Feb 18, 2018 – A38 Hajó, Budapest HU
Feb 20, 2018 – Backstage Club, Munich DE
Feb 21, 2018 – ClubCANN, Stuttgart DE
Feb 22, 2018 – Colos-Saal, Aschaffenburg DE
Feb 24, 2018 – Magazzini Generali, Milan IT
Feb 25, 2018 – MiniZ7, Pratteln CH
Watch the video for 'My Champion – Berlin' here: https://youtu.be/gAwDw5zXtLI
Listen to the track 'Freedom – Rio' here: https://youtu.be/Pgi5XeKBnUE
Listen to the track 'Days Go By – London' here:https://youtu.be/Y3rT-X_zgOg
An album preview, including snippets of all songs is available here: https://youtu.be/xWag98avUQI VUUR's full length debut was produced by Joost van den Broek, who was also involved in the writing process. Other co-writing partners are Mark Holcomb (Periphery), Esa Holopainen (Amorphis), Daniel Cardoso (Anathema), and both of VUUR's guitar players wrote a song as well.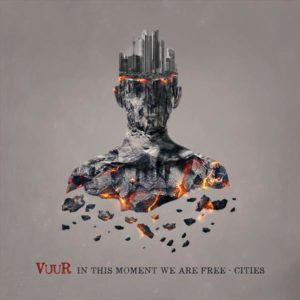 'In This Moment We Are Free – Cities' tracklist:
My Champion – Berlin
Time – Rotterdam
The Martyr And The Saint – Beirut
The Fire – San Francisco
Freedom – Rio
Days Go By – London
Sail Away – Santiago
Valley Of Diamonds – Mexico City
Your Glorious Light Will Shine – Helsinki
Save Me – Istanbul
Reunite! – Paris
The band will team up with Scar Symmetry for a short co-headline tour in December. Opening act for these exclusive shows will be My Propane.
Dec 07, 2017 – Le Trabendo, Paris FR
Dec 08, 2017 – Biebob, Vosselaar BE
Dec 09, 2017 – The Dome, London UK
Dec 10, 2017 – Tivoli Vredenburg, Utrecht NL
VUUR are:
Anneke van Giersbergen (ex-The Gathering) – vocals
Ed Warby (Hail of Bullets, Ayreon, ex-Gorefest) – drums
Jord Otto (My Propane, ex-ReVamp) – guitars
Ferry Duijsens – guitars
Johan van Stratum (Stream of Passion) – bass