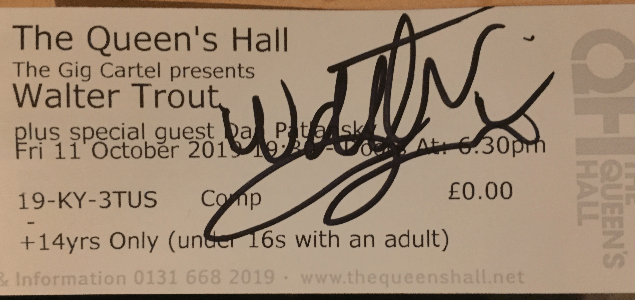 Walter Trout – Queens Hall, Edinburgh, 11th October 2019
12th October 2019
It's been 3 years since Blues impresario Walter Trout took to the stage at the Queens Hall in Edinburgh. I'll be honest dear reader, that after seeing Mr. Trout the last time he was in Edinburgh, blew my tiny little mind. So if he was half as good this night as he was 3 years ago, I was going to be extremely happy.
Kicking off tonight's entertainment was South African blues-man Dan Patlansky. One hell of a guitar player and a master of the slow blues jam which was showcased by a magnificent 13 minute version of Big Things, Going Down.
Quite simply, it was mesmerizing to watch a man who, despite being just in his 30's, feels the blues as much as his peers
Albert King
and alike. 
Now it was time for the main event. Walter Trout hits the stage and immediately launches into I Can Tell, and you can already tell he's feeling it.  
It's during the Jimmy Dawkins cover, Me, My Guitar and the Blues that the audience witness Walter Trout have an out of body experience. It was as if Walter was allowing the spirit of James Henry (Jimmy) Dawkins to overtake him and propel Mr. Trout to a whole different astral plane. 
To bring himself back down to earth, a song written during his 1st divorce is next in the set (Put It Right Back) and closely followed by the very personal Saw Momma Cryin'
It's not often I'm moved to tears at a concert, but tonight I was when Fly Away made an appearance in the set.  Last time Walter was here I was lucky enough to chat to the man backstage for the best part of an hour, swapping personal stories and generally putting the world to rights etc. I explained to him what this particular track meant to me in regards to my own mortality and a near death experience. It turned out that we both had a very similar near death experience.
Walter got a song from his, and I got epilepsy. A fair trade in my book.
Special guest Alan Nimmo from Glaswegian blues band King King made an appearance on stage to play a couple of numbers with Walter. This led into an amazing jam session with both Alan and Trout trading guitar solos and generally trying to out widdle each other. Absolutely outstanding to watch 2 blues guitarists who have so much talent between them it should be a criminal offence to carry, just trade off each other.
Red Sun from the Survivor Blues album sounded immense in this venue. Floyd Lee would've loved the rendition of it tonight. Fingers crossed another publishing cheque is in the mail for his so he can buy ANOTHER new guitar.
Walter Trout played for the best part of 105 minutes yet again, and truth be told again dear reader, he outdid himself tonight. My ears are ringing and I'm still buzzing after that performance as I'm writing this a couple of hours later.
If Mr. Trout is EVER playing anywhere near you, buy a ticket and go and see him. You won't be disappointed I promise.
Check out Walter Trout on Facebook.
You can purchase Survivor Blues here.