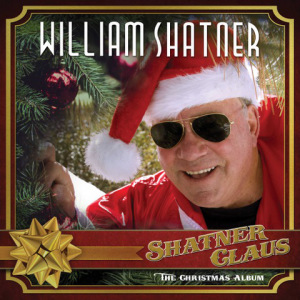 William Shatner Releases First Ever Holiday Album "Shatner Claus – The Christmas Album" Feat. Iggy Pop, Todd Rundgren, Billy Gibbons, Ian Anderson, Rick Wakeman, Henry Rollins, Judy Collins and others!
15th October 2018
Los Angeles – William Shatner has announced his very first holiday album: "Shatner Claus – The Christmas Album" (October 26/Cleopatra Records). Shatner has assembled a truly eclectic roster of vanguards, icons and misfits for a holiday album unlike any that have come before it. The legend of stage, screen and spoken word has taken 13 holiday classics and turned them on their head, joined by the likes of Henry Rollins, Iggy Pop, Brad Paisley, Judy Collins, Billy Gibbons, Rick Wakeman, Todd Rundgren and more. See below for full track list and credits.
Listen to "Jingle Bells" featuring Henry Rollins here: https://soundcloud.com/cleopatra-recs/jingle-bells-ft-heny-rollins-1/s-oUIsa
"Shatner Claus" gets into the holiday spirit from the very first notes. A sweeping set of strings introduces "Jingle Bells," but the song quickly becomes amplified as William and Henry Rollins trade lyrical duties over an increasingly rambunctious beat. Next comes a grooving honky-tonk rendition of "Blue Christmas" with Brad Paisley. As the album unfurls it weaves through jazz, blues, rockabilly, bossa nova and beyond, balancing joyful and sentimental moments with blazing rock n' roll, and big guitar solos from the likes of Billy Gibbons and Todd Rungdren. Other highlights include a memorable duet with Iggy Pop on "Silent Night," and a tremendous presentation of keyboards courtesy of Rick Wakeman on "O Come O Come Emanuel." A bonus track version of an even more revved-up version of "Jingle Bells," also featuring Henry Rollins, is labeled "Punk Rock Version."
William Shatner has cultivated a career spanning over 50 years as an award-winning actor, director, producer, writer, recording artist, and horseman. He is one of Hollywood's most recognizable figures and a major philanthropist. He released his first studio album in 1968. In 2018 alone he has published a book and released an album of country music. "Shatner Claus" is William's third album for Cleopatra Records, following 2011's "Seeking Major Tom" and 2013's "Ponder The Mystery."
Track List:
1. Jingle Bells feat. Henry Rollins
2. Blue Christmas feat. Brad Paisley
3. Little Drummer Boy feat. Joe Louis Walker
4. Winter Wonderland feat. Todd Rundgren & Artimus Pyle (Lynyrd Skynyrd)
5. Twas The Night Before Christmas feat. Mel Collins (King Crimson)
6. Run Rudolph Run feat. Elliot Easton (The Cars)
7. O Come, O Come Emmanuel feat. Rick Wakeman (Yes)
8. Silver Bells feat. Ian Anderson (Jethro Tull)
9. One for You, One For Me
10. Rudolph The Red-Nosed Reindeer feat. Billy Gibbons (ZZ Top)
11. Silent Night feat. Iggy Pop
12. White Christmas feat. Judy Collins
13. Feliz Navidad feat. Dani Bander
BONUS TRACK
14. Jingle Bells feat Henry Rollins (Punk Rock Version)
How useful was this post?
Click on a thumb to rate it!
Average rating / 5. Vote count: