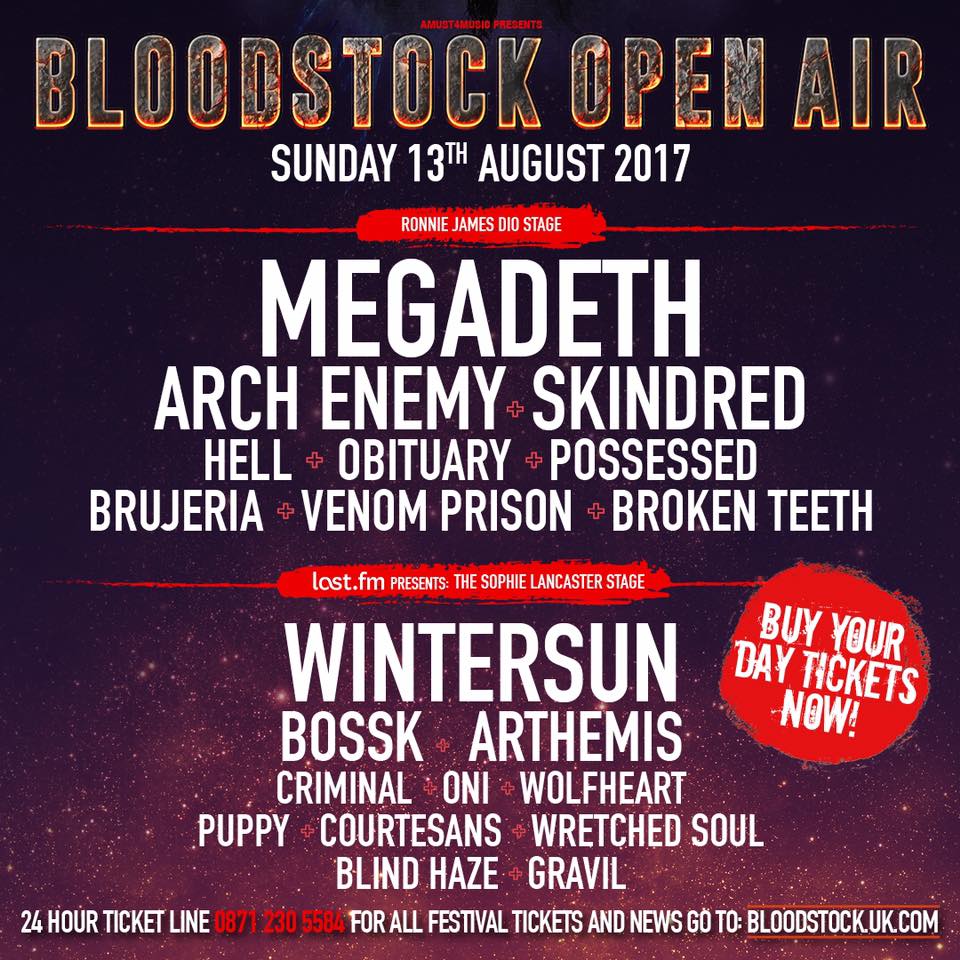 Bloodstock Festival 2017 Review – Sunday
18th August 2017
3
By
Fraser
Well, what a whirlwind the Saturday of Bloodstock was. So. Much. Thrash. Unfortunately, again due to our travel and accommodation situation, we had to leave soon after Kreator finished their set. This meant we had to miss out on Xentrix and Macabre, which is really depressing, and Ghost, which was less upsetting. However, as we made our way towards the Ronnie James Dio Stage bright and early on the Sunday in the baking sun, I was definitely glad for the comfortable bed and shower. Anyway, read on, and see our report for the third and final day of Bloodstock 2017!
Venom Prison – Ronnie James Dio Stage
After catching Venom Prison with Aversions Crown in Glasgow only a few days before Bloodstock kicked off, I knew they were worth getting to the arena nice and early for. Despite having a reasonable idea of what to expect, I was once again blown away by Venom Prison's performance. There is no fills with them, no gimmicks and no bullshit. Drifting from song to song with little crowd interaction at all, the British quintet offered up a super intense and utterly brutalising showcase of their most recent record, "Animus". Going in, I was a little worried the band would lose a bit of the intensity I experienced during their Glasgow show – but after a couple of tracks, it became clear these worries were unfounded. Despite the sunshine and the massive stage, Venom Prison were just as dark and foreboding as they were in a dimly lit, small venue in the heart of Glasgow. Not a band for the faint of heart, but definitely one worth watching.
Verdict – 8/10
Order Venom Prison's latest album, "Animus", here.
Wretched Soul – Sophie Lancaster Stage
Canterbury blackened thrashers Wretched Soul were the third band to grace the Sophie Lancaster Stage of the day. Having released a new album last year through UKEM Records, they were ready to return to Catton Hall for the first time since 2012, armed with a new set of killer tracks for the Bloodstock crowd. From the opening notes, Wretched Soul utterly blew me away. Proving to be one of my highlights of the whole weekend, the quintet perfectly mixed black metal and thrash, with a traditional heavy metal flare thrown in for good measure. Necromancer, The Silent God and War Wolf, all from the new album, The Ghost Road, were all personal highlights of mine. It would be a great tragedy if Catton Hall is denied the magnificence of Wretched Soul for another five years!
Verdict – 9/10
Order the newest Wretched Soul album, "The Ghost Road" here.
Courtesans – Sophie Lancaster Stage
The genre-bending Courtesans have long been friends of us here at All About The Rock, but I've never had the chance to catch them live myself yet. So when Wretched Soul finished up, we decided to hang around the Sophie Lancaster Stage for a bit – and I'm glad we did. Courtesans have a sound that normally isn't my thing, but their brand of grungy, bluesy hard rock proved to be as enticing and fun as it was soulful. Unfortunately, the London quartet clashed with death metal legends, so I had to duck away early, but from what I saw I wasn't the only one enjoying the show.
Verdict – 8/10
Order the new Courtesans EP "Better Safe Than Sober" here.
Possessed – Ronnie James Dio Stage
Any guilt I felt for leaving Courtesans' set early was swiftly torn to shreds and set ablaze as Possessed took to the stage. There are few bands with such a relatively small back catalogue, all dating back to over 30 years ago, that would capture the interest and attention of such a crowd, but Possessed are certainly one of them. They may lack the hype of a just-released opus, or the legacy of a "special" album anniversary, but the legendary quintet pulled the crowd and performed with the razor-precision and ferocity of a band with far more "relevance."
As much as I enjoy banging on "Seven Churches" or "Beyond The Gates", neither record quite portrays the quality of the tracks as their utterly perfect set did. Tearing through Confessions and, of course, My Belief, Possessed proved to any doubters right off the bat that their 30+-year-old tracks can still kick the arse off many of today's death metal bands. Possessed then took the opportunity of an utterly captivated crowd to showcase a track from their as yet untitled upcoming album (due next summer), Shadow Cult. Possessed have been performing new material for a few years now (check out live videos of The Crimson Spike and Abandoned on YouTube), and it's clear the new album is going to be devastating. The band are obviously very proud of the new material, and rightfully so – Shadow Cult sounds like it's going to be one of their best tracks yet! After Shadow Cult, Possessed ripped through a trio of tracks from their genre-birthing debut, "Seven Churches". The Exorcist, Fallen Angel and, of course, Death Metal all gave Bloodstock a master class on the ferocity and raw, feral energy that old-school death metal should have.
What impressed me most about Possessed's set was frontman Jeff Becerra. Despite being confined pretty much to one spot on the stage, his stage presence and command of the crowd placed him among the best frontmen of the weekend. His passion for the music was obvious, and his concern for the quality the Bloodstock crowd received was touching – repeatedly, he checked with the engineers to ensure the sound from the crowd was as good as the fans, the band and the music deserved. Possessed not only delivered the best set of the day by a mile, but are a serious contender for the band of the weekend. 
Verdict – 10/10
Keep an eye out for the first Possessed album in over 30 years, dropping on Nuclear Blast Summer 2018.
Obituary – Ronnie James Dio Stage
After being blown to pieces by Possessed, I had to refuel – a bite to eat, a beer, and a seat in the sun, and then I was ready for the excellence that is Obituary. One of the death metal elite that seem to have gotten better with age, Obituary are on a streak of new albums that are some of the best in their career. Unfortunately, in what was my most depressing clash of the weekend, Finnish melodic death metal band Wolfheart were playing not long after Obituary started. As Obituary are in the UK semi-regularly, I opted to catch the first few songs then nip over to the Sophie Lancaster Stage. It may have only been about 15 minutes of their set I saw, but those 15 minutes were utterly brutalising. Bludgeoning their way through old-school classics Internal Bleeding and Chopped In Half, the Tampa veterans proved that while the modern era of death metal is producing a lot of greatness, there's no school like the old-school. As their brutal showcase of "Inked In Blood" track Visions In My Head it was time for me to make my way to the Sophie tent – after much internal conflict! When trying to convert someone to death metal, Obituary is always one of the bands mentioned – accessible and groovy, but utterly crushing, they embody the old-school like it's '89 all over again.
Verdict – 9/10
Order Obituary's new, self-titled record here.
Wolfheart – Sophie Lancaster Stage
Finland's Wolfheart have been a band I've been extremely interested in for a long time. Fronted by the musical genius that is Tuomas Saukkonen, Wolfheart came to be after he decided to disband the half-dozen other bands he was actively involved with. Even a cursory listen of Wolfheart is concrete evidence the band are definitely Finnish – doomy melodic death metal with a blackened edge, melancholic atmosphere and cold production are all tell-tale components of the national sound. Wolfheart's newest record, "Tyhjyys", was released earlier this year through Spinefarm Records, and is a true piece of art. With masterful musicianship and poignant lyrics, the album moves you to tears with its melancholic melodies before eviscerating your soul with sheer aural savagery. In a live setting, the weight of the emotion in the music is crushing. Bloodstock witnessed a near-perfect performance from the Finns, marred only by a less-than-deserving crowd reaction, and a touch of the soulful melody lost in the mix.
Verdict – 9/10
Order Wolfheart's newest album, "Tyhjyys" here.
Hell – Ronnie James Dio Stage
I have struggled a great deal with Hell. Another band that I really want to like, but struggle to get into, I can't help but think about how much I want (in vain) for a Sabbat reunion every time I see Andy Sneap shredding to End Ov Days or On Earth As It Is In Hell. That is nothing against Hell's music, I just really, really love the Sabbat albums. However, as had been want to happen time and time again at Bloodstock, I was blown away by Hell's performance. Offering up a somewhat thrashy take on the classic NWOBHM sound, Hell blistered their way through a selection of fantastic songs and, above all, an outstanding show. Since seeing their theatrical performance, complete with frontman David Bower whipping himself and becoming Satan, and more pyro than I've ever seen in my life, both albums have seriously clicked for me. Anyone a bit unsure about Hell – buy a ticket, get to a show, and witness a thrashy, satanic opera. You won't regret it.
Verdict – 8.5/10
Order the latest Hell album "Curse & Chapter" here.
Skindred – Ronnie James Dio Stage
Possibly the only time in history these two bands will be compared, but Skindred are like Municipal Waste to me – not a band I enjoy listening to on record, but live… utterly fantastic.  There are few ways better to get a crowd of metalheads hyped for a setting than blasting AC/DC's Thunderstruck through the PA before walking on stage to The Imperial March with Darth Vader. Say what you will about the band's music, but there is no denying Benji Webb is a beast of a frontman. Blazing through a set of bouncy, Skindred classics (including Pressure, which had a small snippet of Back In Black thrown in for good measure), Webb had pretty much every body in Catton Hall bouncing. "Who on the left side wants a t-shirt? And who on the right wants a t-shirt? Well, they're £25 quid, go and fucking buy one you cunts!" is a perfect, and shockingly the tamest, example of the kind of banter coming from the stage.
Most bands would be wary of slowing things down after building so much momentum. But after a heartfelt speech about a friend who recently passed away before he had a chance to say goodbye, Webb led a soft, semi-acoustic rendition of Saying It Now that was genuinely moving. It didn't take long before the Welsh nu-metallers were back in full swing, diving straight into Kill the Power and showcasing a new track, Machine. Skindred played a short snippet of Black Sabbath's War Pigs – which, let's face it, was always guaranteed to go down fantastically at Bloodstock – before firing into the closing anthem, Warning. There's something quite spectacular about seeing 15,000 hardened metal heads grinning and spinning their shirts above theirs heads in the "Newport Helicopter". Musically, there's nothing wrong with Skindred, they're just not my thing. But live, they are one of the most infectiously fun bands I've ever seen.
Verdict – 9/10
Order Skindred's latest album, "Volume", here.
Arch Enemy – Ronnie James Dio Stage
The Sunday of Bloodstock 2017 was a special night for Arch Enemy – after over 300 shows, it marked the end of the War Eternal touring cycle as the band gears up to unleash their tenth full-length, "Will To Power". From the moment Arch Enemy took their awesome looking stage, Bloodstock was treated to a solid hour of accessible, well executed melodic death metal. About half of the songs in their set were tracks new(ish) frontwoman Alissa White-Gluz performed on, including the new single The World Is Yours. Having never seen Arch Enemy before, but really enjoying "War Eternal", getting to witness As The Pages Burn and the title track was very cool indeed. Arch Enemy also paid homage to the Angela Gossow era, performing classic tracks and setlist mainstays like Nemesis, We Will Rise, My Apocalypse and, in a personal highlight for me, one of the best tracks from 2011's "Khaos Legions", No Gods, No Masters. It would have been very cool to see Arch Enemy return to their roots, and showcase some of the more old-school, Johan Liiva material – though perhaps they are leaving that to Black Earth. However, regardless of any setlist changes I may have prefered, Arch Enemy performed utterly spectacularly.
Verdict – 8.5/10
Preorder the upcoming Arch Enemy album "Will To Power" here.
Voodoo Blood –
Jägermeister

Tent

Timed absolutely perfectly, Mancunian blues rockers Voodoo Blood took to the stage in the Jägermeister Tent just as Arch Enemy finished their set, and finished up just before Megadeth began theirs. Given our position in the crowd of just between the Jägermeister Tent and the sound "desk," we could hear Voodoo Blood perfectly. Only a song deep into their set, the Jägermeister Tent was overflowing with people, and rightly so. Offering up a sound a little different from the extremity Bloodstock had on display for most of the weekend, Voodoo Blood had a gothic take on sleazy, bluesy, hard rock that felt unique and extremely enticing. They may be a band in their infancy, but they are definitely one to keep your eyes on.

Verdict – 8/10

Order Voodoo Blood's debut EP "Anabolic Blues" here.
Megadeth – Ronnie James Dio Stage
It's very popular for metalheads to hate on Megadeth – as it is with every "big" band in our musical niche. And though the thrash legends have released a couple of questionable albums in recent years, the new record, "Dystopia", absolutely slays. Kiko Loureiro and Dirk Verbeuren have seriously breathed a new life into Mustaine and Ellefson. I've only seen Megadeth a couple of times before – once on the "Super Collider" tour, and once just before "Dystopia" was released. However, neither time compared to their Bloodstock set, this was something else entirely.
Dave Mustaine has a new-found energy and excitement for the music that hasn't been seen in many years. Blistering through a set of classic Megadeth, the quartet showed the younger generation exactly how thrash is done with near-perfect performances of Hanger 18, Wake Up Dead, and Tornado Of Souls. However, Megadeth are still on the "Dystopia" cycle – it was only right they showcased some of the fantastic new tracks. The Threat Is Real garnered a very respectable response from the Bloodstock crowd, while Kiko serenaded the 15,000 strong crowd with his awesome Conquer… Or Die! Poisonous Shadows saw some truly wonderful guitar dueling, and the new record's title track went down a storm. No Megadeth show is completely with the "Countdown To Extinction" classics Sweating Bullets and Symphony of Destruction – the latter of which hit the crowd like a derailed train. Finishing up with the forever-epic Holy Wars… The Punishment Due, Megadeth brought Bloodstock to it's knees.
This has been an ever-present complaint of mine regarding Megadeth's setlist since I first saw them – still there is no representation of "Endgame" in the set! Perhaps it's a nostalgia thing for me – "Endgame" was the first metal album I bought with my own money, and the first thrash album I heard in full. But it's a record I always go back to, simply because every song on there absolutely slays, and it's about time Mustaine & co gave it some love live! However, no one is ever going to be 100% satisfied with the setlist, and on the whole, Megadeth crafted a very, very strong show.
No frills, no fancy stage or gimmicks, just an LCD screen with some pretty cool animations, and four dudes thrashing their hearts out. Simply awesome.
Verdict – 9/10
Order Megadeth'slatest record, "Dystopia", here.
Bloodstock Day Three – Band of the Day
The Sunday of Bloodstock was probably the most consistent in the bands I saw delivering excellence. Although Wolfheart, Megadeth and Obituary were all utterly mind-blowing live, far and away the best set of the day came from Bay Area death metallers Possessed. Everything about their minimalist set was impeccable, while every track was performed to perfection. Possessed join Kreator and Amon Amarth as the best bands of the weekend!
Read our review for Day One of Bloodstock 2017 here.
Read our review for Day Two of Bloodstock 2017 here.
Read our "Final Thoughts" for Bloodstock 2017 here. here.
About the author
This bearded wildman from North of the wall survives the harsh ever-present winter of Scotland on a healthy diet of thrash, death metal and beer.