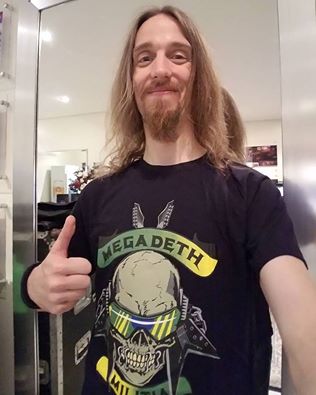 Interview with Megadeth's Dirk Verbeuren
9th August 2016
Megadeth have rightfully earned their position as on of the big 4 of Thrash. They have had their fair share of lineup changes with each new member bringing a new dimension to the band and taking the bands sound to a whole new level. Their newest member comes in the form of former Soilwork one-man drum machine Dirk Verbeuren and it is with great pleasure All About The Rock bring to you our interview with Dirk himself.
AATR: Let's jump right in with the big one. Well done on securing the Megadeth drummer position! How does it feel to be the drummer of such a legendary band? Has it actually sank in that you now play in one of "The Big 4" of thrash bands?
Dirk: Thank you! It feels surreal, for sure. Initially I was filling in for Chris Adler while he was busy with Lamb of God. When I got the call, I wondered if Megadeth might ask me to join them full time. The fact that it actually happened probably won't fully sink in until later. I'm just grateful to be here and enjoying every minute.
AATR: The first night you were sat behind the drums for Megadeth. You are sat at your kit, the intro music is playing, the lights are still off – you can hear the fans cheering and the gig is about to start. What was going through your head at that exact moment?
Dirk: "Is this really happening?" At the same time, I was focused on delivering the best performance I possibly could. No matter how well prepared you are, the first few shows with a new band are going to be a little stressful.  Now we've been touring for several months, so everything feels more natural and it's easier to be in the moment, to enjoy the crowd and whatever happens on stage.
AATR: Megadeth have had some amazing drummers in the history of the band, how was it learning the songs ready for a live audience?
Dirk: They sure have! The current live set is based on Dystopia and the early albums, from Gar Samuelson to Nick Menza. These guys really had their own style. Nick was actually one of my influences as a young drummer.  Anyways, I had ten days to study eighteen songs. I tried to capture the intention behind the drum parts in order to respect the band's vision. Gar and Nick have a more old school swing whereas Chris Adler's approach is more contemporary. I stay true to the originals while injecting some of my own groove and flair. Chris was very helpful in guiding me as to what the band would expect from me, which is super cool of him. It made the rehearsal and first shows a lot easier.
AATR: Of all the bands you have been in, which has been the most challenging and why?
Dirk: Conquering challenges is part of why being a musician appeals to me. A full-time band is basically like a full-time job, it requires dealing with a lot of daily stuff. Session jobs can be tough in their own way. I had a couple of days to study the Satyricon headlining set. That was pretty intense. Frost is an amazing drummer. Luckily I was familiar with a lot of their material. The most time and effort I put into one show was probably for Devin Townsend's Deconstruction show in London. That's an extremely complex album but we had a blast nailing it, well, almost!
AATR: What has been the most fun or memorable tour?
Dirk: Ozzfest with Soilwork in '05. Everything about that tour was special. We played for tens of thousands of people, sometimes at nine in the morning. Signing sessions lasted for hours. The line-up was amazing too, with Mastodon, The Haunted, Arch Enemy, In Flames, Rob Zombie, Black Sabbath… We also did a bunch of shows with Killswitch Engage on the off-days. I made a lot of new friends that summer, including my now wife Hannah. The whole experience was unforgettable.
AATR: Has your new position affected your personal relationships with the other members of Soilwork?
Dirk: No. Our friendship is stronger than that. We spent twelve years together and I've been playing with Sylvain in Scarve since way before then. I've got nothing but immense respect those guys as musicians and human beings.  Leaving Soilwork was obviously not a light-hearted decision but I think they understand my choice. I've been working hard my whole life trying to make a living as a band member, studio musician and drum teacher. Megadeth came into my life at a perfect time. I didn't realize that until it actually happened but I was ready for a new experience. To have the support of the Soilwork guys really means a lot to me. I'll forever be proud of everything we accomplished together.
AATR: As well as being in Megadeth, you are also in a number of other bands including Bent Sea and Scarve. How does your new position affect these bands? Are you still in these bands?
Dirk: Megadeth is my main focus from now on. It takes a lot of time and energy to travel across the globe. When there's a break from the touring schedule, I'll get to work in my studio. We've already discussed the next album and Dave asked me to contribute ideas, so I'm more than a little excited to see what I can come up with. Bent Sea is a different mindset. It's a spur of the moment type thing without any business plan. The idea from the get-go was basically "no pressure" and I intend to keep it that way. As for Scarve, we've been recording ideas for years. There might even be enough to make a record but it's a matter of us getting together and jamming. Our best stuff was written together in a room. We wouldn't release anything unless it's right up there with albums like Irradiant and Luminiferous.
AATR: Speaking of Bent Sea, it is great to finally see the new Split EP with To Dust being released on vinyl. Are there any other plans for Bent Sea to release anything else in the future or is it too soon to answer?
Dirk: I'm really excited about the split with To Dust. The Bent Sea side was completed at the same time as the split releases with Usurpress and Torture Division but these songs have a bit of a different feel to them. The title track has some Covenant-era Morbid Angel influences. There's also a cover of Animals by Godflesh; both the music and the message of that song really appeal to me and I tried to imagine how it would have sounded back when Justin Broadrick was still in Napalm Death.  I think it came out great and Justin actually liked the result, so that's pretty amazing! You'll definitely hear more of Bent Sea in the future.
AATR: Apart from the last track of the set what's the most fun/fave to play?
Dirk: I really like the drum grooves in "Wake Up Dead". It's quite seventies influenced with some cool accents and fills. "Tornado of Souls" and "Poison Was the Cure" are a lot fun to play… In fact, anything off of Rust In Peace is a blast.  The songs from Dystopia have enough double kick action to keep me on my feet. We've also been adding some tunes from Killing Is My Business, they're pretty intense with that old school thrash vibe. But I enjoy playing more straightforward stuff like "A Tout Le Monde" or "Trust" as well. We usually play around twenty songs and every song has its place in the set.
AATR: Finally, do you have a message or some words you want to give to your fans?
Dirk: Thank you to the Megadeth fans for welcoming me into the fold. It's been a pleasure getting to know you all. I also want to thank the Soilwork fans for following me in this new adventure. I'll see you on the road!