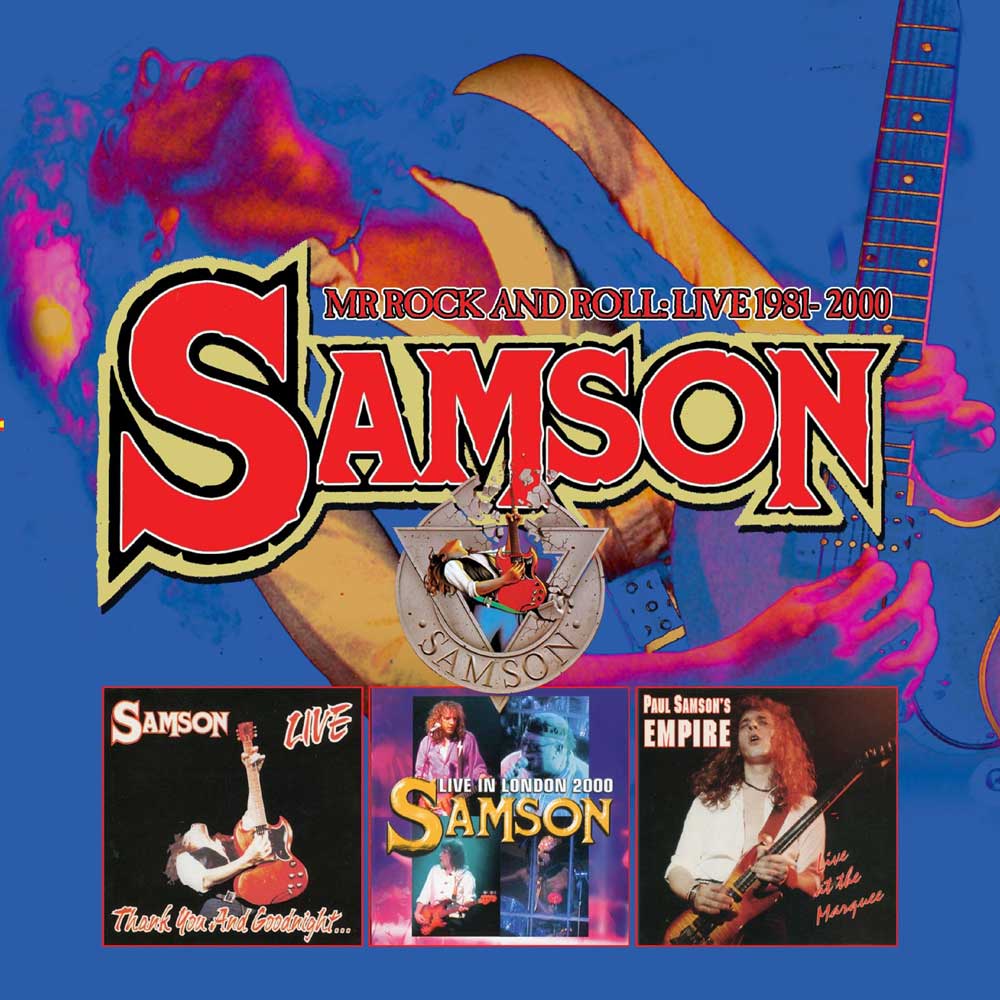 SAMSON – MR ROCK AND ROLL: LIVE 1981-2000
23rd November 2017
NWOBHM legend Paul Samson sadly passed away in 2002, but he did leave behind some amazing music as well as recordings of some simply brilliant live recordings. This box has 4 such recordings.
The 1984 Thank You and Goodnight album is here in its entirety on Disc 1 and added for extra value are 3 tracks from the NWOBHM E.P recorded in Mildenhall in 1982. Slap my thighs and call me Roger as this album is superb. Full of proper NWOBHM and a real sense of danger from the Punk sensibilities. Vocalist Nicky Moore sounds fabulous.
Once the band Samson was no more, Paul put together Paul Samson's Empire to promote the album Joint Forces. The live album (Live at the Marquee), recorded in 1986 but not released til 1992 takes up CD2. This doesn't quite have the same feel as Samson as it shows a slightly more commercial side of this incarnation, especially with the addition of 3 studio tracks (Stranger, Don't Turn Away and Tomorrow) Compared to the spit and polish of Disc 1, Live at the Marquee sounds as rough as biscuits. There's an abundance of echo and reverb (mainly down to the dreadful acoustics of The Marquee venue of this era) and that sadly impairs the listening of this record.
Paul Samson was an avid collector of all things Jimi Hendrix and the blues was his first love. Disc 3 is the Blues Nights (Slight Return) recordings from between 1981 and 1997. This is without doubt my favorite disc in this lavish box. From the incredible versions of the Hendrix classic Voodoo Chile (of which there are 2), Fleetwood Macs Albatross and an insane version of Sam Apple Pies Louise. I'm not ashamed to admit that I had an embarrassing trouser moment. Samson made the guitar his bitch and for those lucky enough to attend the nights these recordings were made, I'm sure they left pools of drool on the floor as well as exiting the buildings covered in sweat and goose bumps.
Disc 4 was recorded at the London Astoria 2 (LA2) 2000. Samson hadn't long reformed to celebrate 20 years since the birth of the NWOBHM genre. Despite not being together for a number of years, this gig and the subsequent recording is amazing. The magic, the fire and the danger was still there that was captured back on the Thank You and Goodnight. This album (Live in London 2000) has the production value of a bootleg, however a great sounding bootleg none the less. Considering this recording is 2 years before Paul transcended to the next chapter of his amazing journey, this is a great lasting testament to the band. Especially as this gig contains tracks from the 1st 5 Samson albums which includes the Bruce Dickinson era songs (Riding With The Angels and Earth Mother)
In summary, this 4 disc, clam shell box is well worth the purchase. Samson where one of the best live NWOBHM bands there was and this box proves that as well as showing the different sides of Paul Samson.
Quite simply a must have.
Score 6.5/10
Track List:
DISC ONE:
THANK YOU AND GOODNIGHT (1984)
1. BITE ON THE BULLET
2. INTO THE VALLEY
3. LOSING MY GRIP
4. VICE VERSA
5. LOVE HUNGRY
6. TOMORROW OR YESTERDAY
7. MR ROCK AND ROLL
8. DON'T GET MAD, GET EVEN
9. TEST OF TIME
10. ARE YOU READY?
LIVE AT MILDENHALL (1982)
(3 TRACK EP FROM 'NWOBHM LIVE')
11. RED SKIES
12. DRIVING WITH Z.Z.!
13. RIDING WITH THE ANGELS
DISC TWO:
PAUL SAMSON'S EMPIRE – LIVE AT THE MARQUEE (1986)
1. BURNING EMOTION
2. STRANGER
3. VICE VERSA
4. FIGHTING MAN
5. A MATTER OF TIME
6. AFRAID OF THE LIGHT
7. TELL ME
8. TURN ON THE LIGHTS
9. EARTH MOTHER
10. TOMORROW (STUDIO TRACK)
11. DON'T TURN AWAY (STUDIO TRACK)
12. STRANGER (STUDIO TRACK)
DISC THREE:
THE BLUES NIGHTS (SLIGHT RETURN) (1981-1997)     
1. LOUISE (1981)
2. VOODOO CHILE (SLIGHT RETURN) (1993)
3. RIDING WITH THE ANGELS (1993)
4. PURPLE HAZE (1993)
5. LOVE THAT BURNS (1995)
6. BLACK MAGIC WOMAN (1995)
7. ALBATROSS (1995)
8. HOT GIRLS (WITH THE RICHARD BLACK PROJECT) (1996)
9. THE CITY BURNS (With The Richard Black Project) (1996)
10. A FOOL FOR YOUR STOCKINGS (1997)
11. VOODOO CHILE (SLIGHT RETURN) (1997)
12. CHEROKEE MIST (With The Richard Black Project) (1996/2001)
DISC FOUR:
LIVE IN LONDON 2000
1. TEST OF TIME
2. VICE VERSA
3. ROOM 109
4. TURN OUT THE LIGHTS
5. BRAND NEW DAY
6. DON'T GET MAD, GET EVEN
7. RED SKIES
8. EARTH MOTHER
9. RIDING WITH THE ANGELS
10. TOMORROW OR YESTERDAY
11. MR ROCK AND ROLL
Release Date
December 1st 2017
Label
HNE Recordings
Check out Samson HERE & purchase the box set HERE