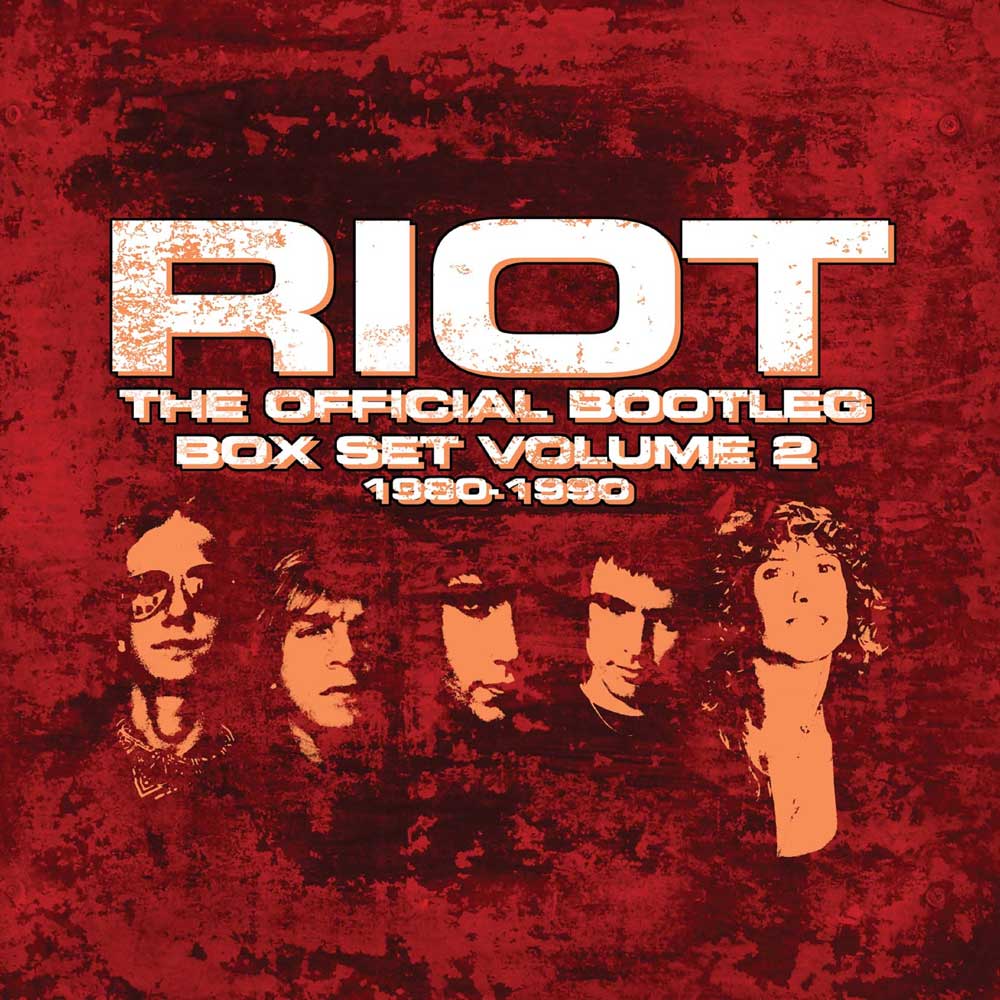 RIOT – THE OFFICIAL BOOTLEG BOX SET VOLUME 2 – 1980-1990: 7CD BOX SET
23rd November 2017
Just when you thought it was safe to revisit the NWOBHM classic albums comes another box set. After the success of the last Riot official bootleg box set comes a 2nd volume. 6 discs are proper bootlegs whilst the 7th disc is from the 1981 Fire Down Under era. This disc is incredible in its own right. Full of live rehearsals and acoustic writing demos, this truly is a must have item as it gives an amazing insight into the making of such a classic album.
Even though there's really only 2 years between the end of the Volume 1 and the start of Volume 2, you can really hear the advancement in the recording tech. All in all it's a much better sounding collection of live recordings and each of the 6 live discs could have been released on their own back in the day as they do sound that good.
As per the last box set, this is again officially licensed from the archives of the Mark Reale estate, c/o Anthony Reale, lovingly mastered from the original sources and are 100% live, no overdubs, clever edits and no messing. This is Riot at their best and most prolific creatively.
The 1st 2 discs are recorded a day apart (Manchester Apollo 13th October 1981 and Ipswich Gaumont 14th October 1981) and contain the same set list yet 2 entirely different performances. This is when Riot where supporting the headline act, Saxon
Disc 3 was recorded in Ohio on 8th November 1981 and this was the bands own headline show and it shows. Unrestrained from the time limit a support slot demands, Riot were free to do what they do best, engage with the audience and show what they can really do. Show off.
By the time they got to New York for the 1st July 1982 show (discs 4 and 5) Guy Speranza (RIP) had been replaced by Rhett Forrester on vocals, joining Mark Reale & Rick Ventura on guitar, Kip Leming on bass and drummer Sandy Slavin. This is a totally different sounding band, and thanks to the new vocals this breathed a whole new lease of life into the classic tracks Swords and Tequila, Outlaw and Warrior.
Disc 6 jumps ahead 8 years and has a performance from Osaka,Japan. This is a much heavier version of Riot and the best sounding concert there is in this set.
Once again this box proves that Riot (despite being American) really do deserve a special place in the category of NWOBHM.
If you're lucky enough to own Volume 1 (if not why the hell not?) then this is a perfect companion. If you're new to NWOBHM then this is a must have. In actual fact, if you're a fan of metal in general, just buy this box set. 7 discs of incredible music, song writing and of course ear melting musicianship.
Although the audio of the following video isn't in, it gives you an idea of how incendiary this band was live and why they're considered to be one of the most underrated metal bands. 

Score 8.5/10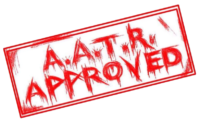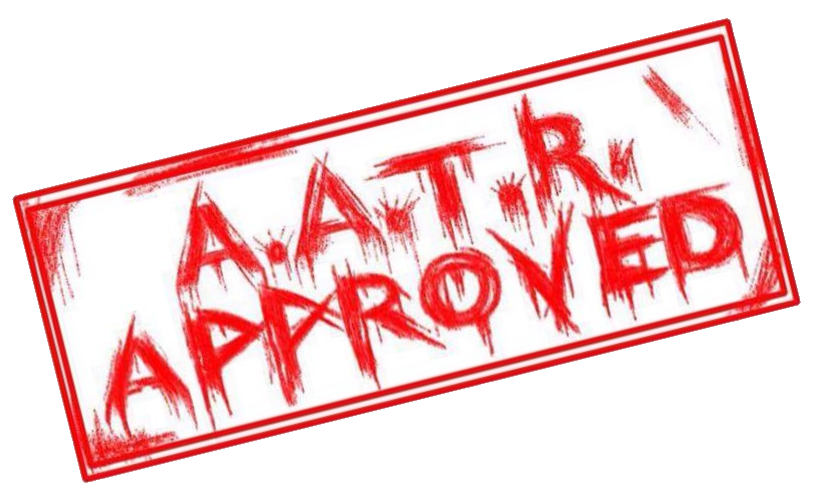 Track List: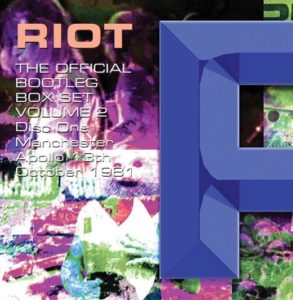 DISC ONE:
MANCHESTER APOLLO 13th OCTOBER 1981
1. SWORDS AND TEQUILA
2. FIRE DOWN UNDER
3. ALTAR OF THE KING
4. DON'T HOLD BACK
5. OVERDRIVE
6. OUTLAW
7. ROAD RACIN'
8. ROCK CITY
9. WARRIOR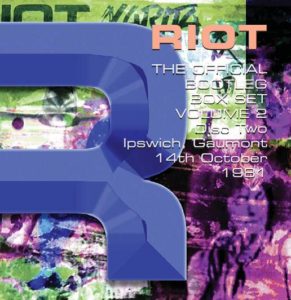 DISC TWO:
IPSWICH, GAUMONT 14th OCTOBER 1981
1. SWORDS AND TEQUILA
2. FIRE DOWN UNDER
3. ALTAR OF THE KING
4.  DON'T HOLD BACK
5. OVERDRIVE
6. OUTLAW
7. ROAD RACIN'
8. ROCK CITY
9. WARRIOR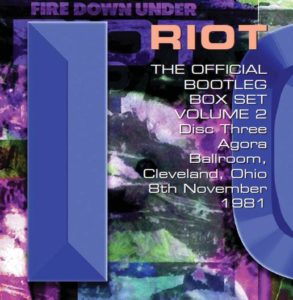 DISC THREE:
AGORA BALLROOM, CLEVELAND, OHIO 8th NOVEMBER 1981
1. SWORDS AND TEQUILA
2. FIRE DOWN UNDER
3. ALTAR OF THE KING
4. FEEL THE SAME
5. DON'T BRING ME DOWN
6. DON'T HOLD BACK
7. OVERDRIVE
8. GUITAR SOLO
9. OUTLAW
10. NO LIES
11. ROAD RACIN
12. ROCK CITY
13. WARRIOR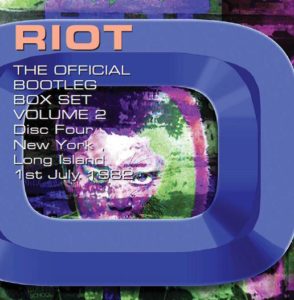 DISC FOUR:
NEW YORK, LONG ISLAND 1st JULY 1982
1. RESTLESS BREED
2. WHEN I WAS YOUNG
3. LOANSHARK
4. SHOWDOWN
5. SWORDS AND TEQUILA
6. DREAM AWAY
7. OVER TO YOU
8. GUITAR SOLO
9. OUTLAW
10. LOVED BY YOU
11. WARRIOR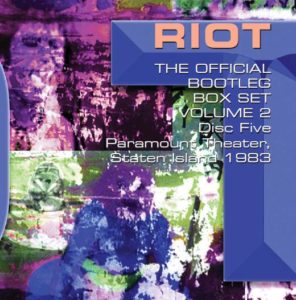 DISC FIVE:
NEW YORK, LONG ISLAND 1st JULY 1982
1. RESTLESS BREED
2. WHEN I WAS YOUNG
3. LOANSHARK
4. SHOWDOWN
5. SWORDS AND TEQUILA
6. DREAM AWAY
7. OVER TO YOU
8. GUITAR SOLO
9. OUTLAW
10. LOVED BY YOU
11. WARRIOR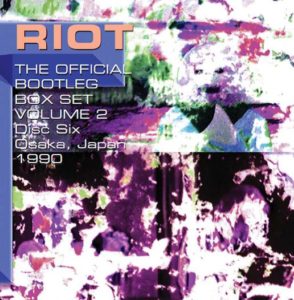 DISC SIX:
OSAKA, JAPAN 1990
1. FLIGHT OF THE WARRIOR
2. TOKYO ROSE
3. STORMING THE GATES OF HELL
4. JAPAN CAKES
5. BLOODSTREETS
6. BOBBY SOLO
7. RACING WITH THE DEVIL
8. MARYANNE
9. DANCE OF DEATH
10. DANNY BOY
11. THUNDERSTEEL
DISC SEVEN:
FIRE DOWN UNDER ERA: LIVE / REHEARSAL / ACOUSTIC WRITING DEMOS 1980
1. SWORDS AND TEQUILA (VERSION 1)
2. UNKNOWN (UNRELEASED TRACK)
3. UNKNOWN 2 (UNRELEASED TRACK)
4. MISTY MORNING RAIN (NON ALBUM TRACK)
5. SWORDS AND TEQUILA (VERSION 2)
6. NO LIES
7. OUTLAW (VERSION 1)
8. UNKNOWN 3 (UNRELEASED TRACK)
9. OUTLAW (VERSION 2)
10. ALTAR OF THE KING
11. UNKNOWN 4 (UNRELEASED TRACK)
12. SHAKIN' OFF THE ANGELS (UNRELEASED TRACK)
Release Date
January 5, 2018
Label
HNE Recordings
For all things Riot click HERE and to purchase the box click HERE