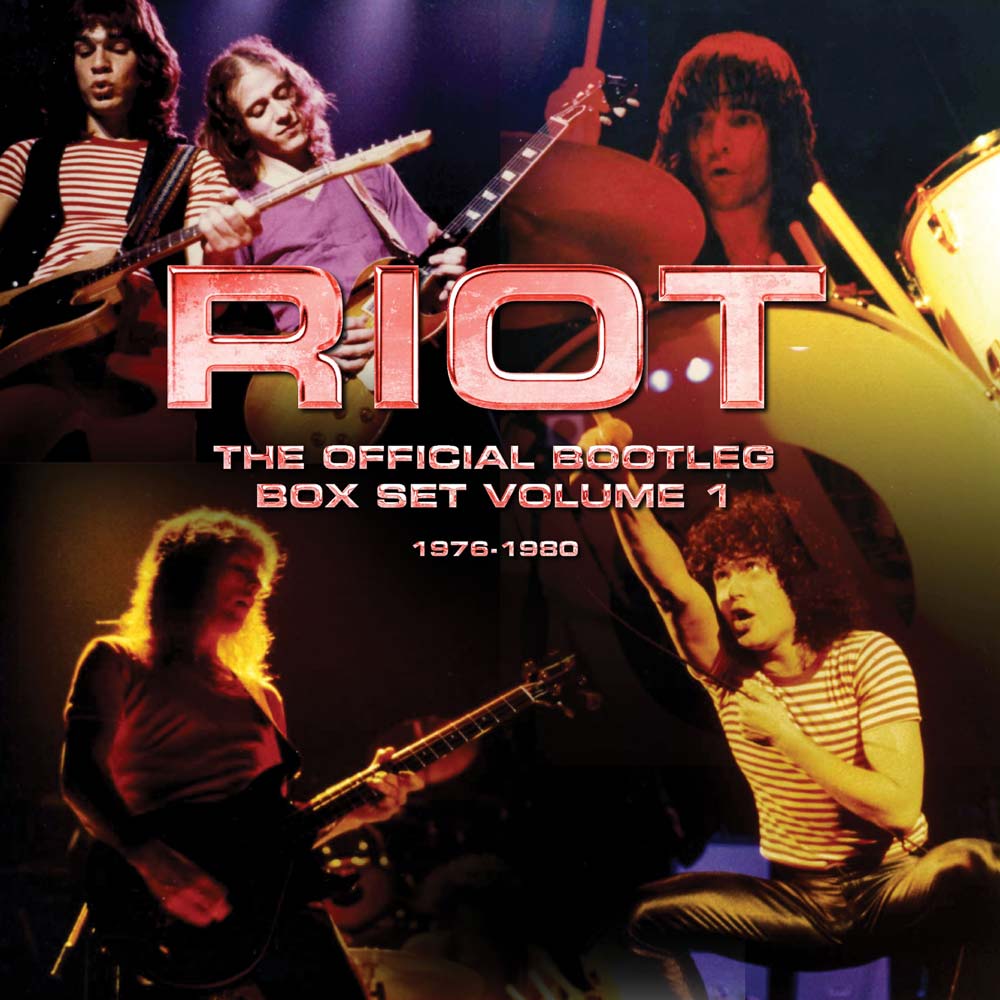 RIOT – THE OFFICIAL BOOTLEG BOX SET VOLUME 1 – 1976-1980: 6CD BOX SET
16th September 2017
Fuck me, what a box set this is. OK so they're proper bootlegs, a couple, including the legendary 1980 Donington set (which is not the same sound as the Donington compilation released in 1980)
are straight soundboard recordings. This
Riot
6 CD collection is a great alternative to the Riot Live album that came out in 1989 as this is Riot 100% live. No overdubs, no studio production, just straight from the tapes of founder member and guitarist Mark Reale. It's thanks to his estate that these tapes finally see the light of day.
Although Riot were based in New York they were always considered to be champions of the NWOBHM sound.
Of course you get your classic Riot tracks such as, Angel, Overdrive and Tokyo Rose, but you also get playful cover versions in the guise of The Sweets Fox On The Run, Deep Purples Highway Star and Eddie Cochrans Twenty Flight Rock among many others.
Riot are one of those bands that are immensely underrated, which is a massive shame as this set is tremendous. Everything about this band is pure class. From the songwriting, musicianship, vocals, quite simply, they were magical.
Admittedly this isn't high production value, and it does sound rough at points, but that's because these were originally recorded on good old-fashioned cassette and reel to reel tapes.  It's amazing these recordings even exist, let alone seeing the light of day.
Just treat yourself to this set. You won't be disappointed. It's beautifully packaged andthe liner notes by the human rock encyclopedia that is Malcolm Dome just add to bring the majesty of Riots music to life.
Score 8.5/10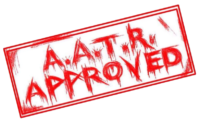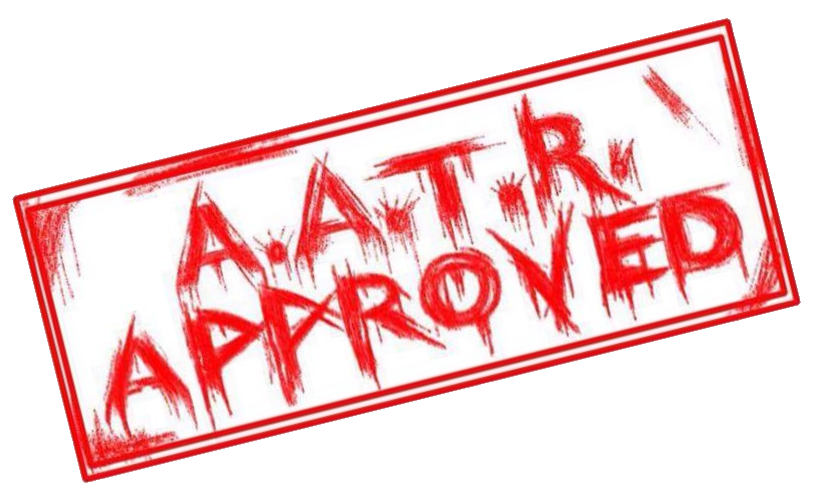 Track List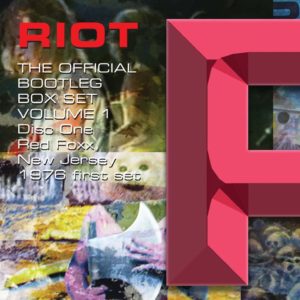 DISC ONE
RED FOXX, NEW JERSEY 1976 (FIRST SET) 
1. ANGEL 
2. TEENAGE LOVE AFFAIR 
3. DESPERATION 
4. ROCK CANDY 
5. SWEET FELICIA 
6. ROCK CITY 
7. SWEET JANE/FOX ON THE RUN/DEPARTMENT OF YOUTH (MEDLEY) 
8. COUNTING ON YOU 
9. TWENTY FLIGHT ROCK 
10. I GOT THE FIRE 
11. TEASER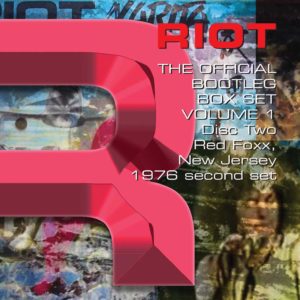 DISC TWO
RED FOXX, NEW JERSEY 1976 (SECOND SET) 
1. KEEP PLAYIN' THAT ROCK 'N' ROLL 
2. TEENAGE LOVE AFFAIR 
3. SWEET FELICIA 
4. GOOD ROCKIN' TONIGHT 
5. SHOOT SHOOT 
6. COUNTING ON YOU 
7. ANGEL 
8. ROCK CITY 
9. SWEET JANE/BE MY LOVER/FOX ON THE RUN/DEPARTMENT OF YOUTH/BASS SOLO/DRUM SOLO (MEDLEY) 
10. I GOT THE FIRE (EXCERPT)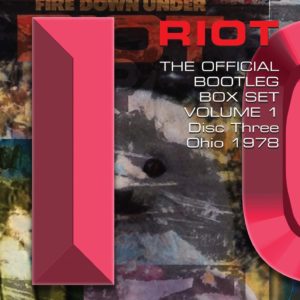 DISC THREE
THE AGORA BALLROOM, PAINESVILLE, OHIO 1978 
1. ANGEL 
2. OPEN FIRE 
3. WHITE ROCK 
4. 49ER 
5. KICK DOWN THE WALL 
6. OVERDRIVE 
7. ROCK CITY 
8. STARLINER 
9. SOLOS 
10. WARRIOR 
11. HIGHWAY STAR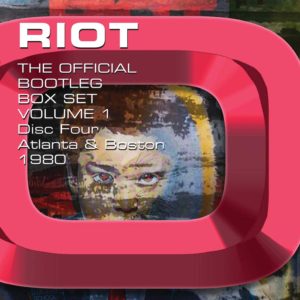 DISC FOUR
ATLANTA, GEORGIA 1980 
1. ANGEL (EXCERPT) 
2. WHITE ROCK 
3. WAITING FOR THE TAKING 
4. NARITA 
5. OVERDRIVE 
6. ROCK CITY 
7. ROAD RACIN' (EXCERPT)
BOSTON 20th SEPTEMBER 1980 
8. WAITING FOR THE TAKING 
9. OVERDRIVE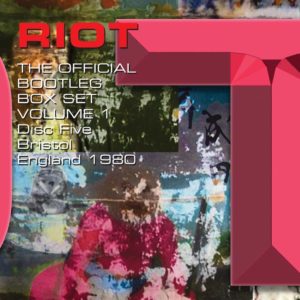 DISC FIVE
COLSTON HALL, BRISTOL 22nd APRIL 1980 
1. ANGEL 
2. DO IT UP 
3. ROAD RACIN' 
4. NARITA 
5. TOYKO ROSE 
6. WHITE ROCK 
7. OVERDRIVE 
8. ROCK CITY 
9. WARRIOR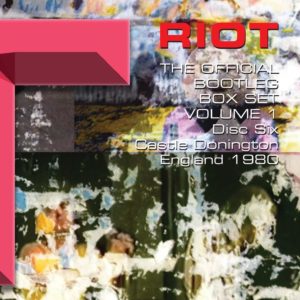 DISC SIX
MONSTERS OF ROCK, CASTLE DONINGTON 
16th AUGUST 1980 
1. ANGEL (EXCERPT) 
2. WHITE ROCK 
3. WAITING FOR THE TAKING 
4. OVERDRIVE 
5. ROCK CITY 
6. ROAD RACIN' 
7. WARRIOR
Label
HNE Recordings
Release Date
29th September 2017
For all things Riot click HERE and to purchase the box set click HERE