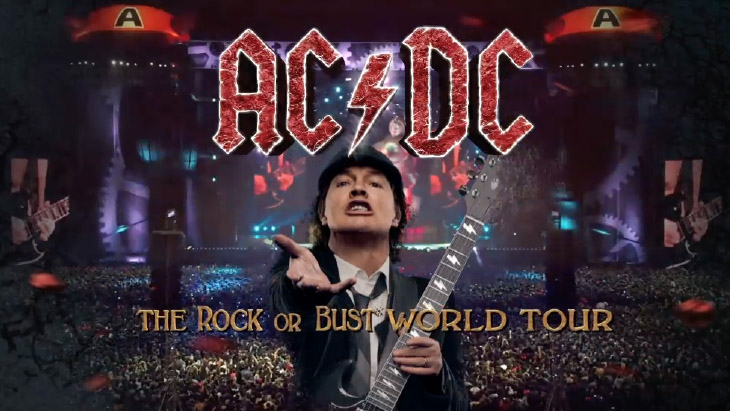 AC/DC – QSAC Stadium, Brisbane – 14/11/2015
27th November 2015
AC/DC. Is there any other band on the planet as synonymous with rock 'n' roll as these Australians? Everyone likes at least one AC/DC song, no matter how they feel about Van Halen and Bon Jovi, Metallica and Judas Priest, everyone like AC/DC to some degree. They have peddled their brand of fun loving music to drink beer to for over forty years, they have released sixteen albums and they have sold over 200 million units worldwide – they're doing alright for themselves, certainly. Despite the internal issues within the band of late – the tragic news that Malcom Young is battling dementia, and the shocking fall from grace of Phil Rudd – AC/DC powered on to release a brand new album last year, Rock Or Bust, and go on a sell-out world tour, enlisting the help of Angus and Malcom's nephew Stevie Young and ex-drummer Chris Slade to fill the massive shoes that have been left.
Due to venue deciding to close off the car parks so no one could park there at all (good going QSAC) I sadly ended up missing both support bands. By the time I got in, got a pint and made my way into the stadium it was almost time for AC/DC [9] to begin their set. And what a set it was. Opening with Rock Or Bust, they immediately got the party going, the dancing started and the beer flowing. Despite including a handful of the newer songs to be released peppered across the setlist, namely the title track, first single Play Ball and Baptism By Fire from Rock Or Bust, and Rock and Roll Train from 2008's Black Ice, tonight is very much a focus on the classics, the songs everyone is here to hear.
Packed to brim with rock and roll anthems known and loved the world over, AC/DC storm through the set with energy and enthusiasm rarely found in men a third of their ages. Angus Young, still dressed in the iconic schoolboy uniform, races around the stage while shredding away to fan favourites such as Hell's Bells, Back In Black and Thunderstruck. Brian Johnson spends the whole night dancing from one side of the crowd to the other, struggling at times to compete with the sheer volume of the crowd screaming the songs right back at him.
Something truly amazing for me was to hear my two all-time favourite AC/DC tracks live; Dirty Deeds Done Dirt Cheap and You Shook Me All Night Long. Well known tracks absolutely, but a little less obvious than Whole Lotta Rosie or T.N.T so it was a fantastic surprise to see them performed so well. They close their main set with a brilliant rendition of Let There Be Rock, complete with a twenty-minute guitar solo from Mr Angus Young – some may find a 20 minute solo somewhat self-indulgent and boring, but these people have never seen Angus Young run around the stage shedding his signature uniform and shredding his beautiful guitar while climbing up onto the podium in the crowd. Hugely entertaining and utterly jaw-dropping. After a few minute breather the band return to the stage for the encore, blasting through Highway To Hell and the compulsory For Those About To Rock, complete with a dozen cannons firing at the expected moments.
So, AC/DC. A group of sad old men clinging tight to the days of debauchery of their youth? Absolutely not. AC/DC are just as relevant now as they have ever been, tight as anything live and loving every second they are on that stage. I pray to every deity above and below that this is not the last time I will see AC/DC, but if the great Gods of Rock and Roll conspire against me then there is no better way for a band to go out, on top of their game with legions of adoring fans in their corner.
They came, they rocked, we saluted.