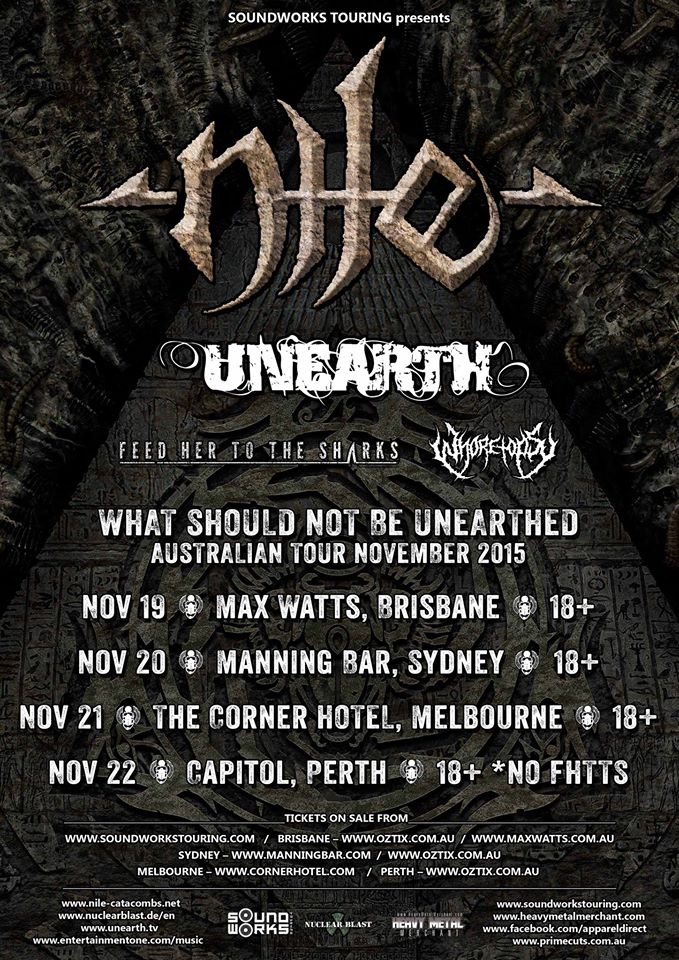 Nile/Unearth/Feed Her To The Sharks/Whoretopsy – Max Watt's, Brisbane – 19/11/15
27th November 2015
0
By
Fraser
Once again, I find myself at Max Watt's – the unhallowed ground I was blessed enough to see Behemoth in over a month ago. This time, however, it is American death metal titans Nile that will be assaulting the ear drums. Fresh from the release of their fantastic new album, What Should Not Be Unearthed, Nile are hitting Australia for a short run of dates to promote its release, and they've brought American NWOAHM heavyweights Unearth, and rising Australian bands Feed Her To The Sharks and Whoretopsy along for the ride. Having seen Max Watt's packed to bursting point for Behemoth, I was sadly really disappointed by the turn out – the venue has a capacity of 1200, and even at the night's busiest point it looked less than half full. But, undisturbed by this, each band continued on.
Opening the night's proceedings, Melbourne's Whoretopsy [8] deliver some very tongue-in-cheek, indescribably brutal death metal. Ten tonne heavy and with a whole lotta groove, a whole lotta blast beats and a whole lotta incredible riffing, they grace us with a very entertaining set: a personal favourite moment of mine was towards the end of Never Tear Us Apart – a song which tells the tale of a man who finds his wife cheating on him, and proceeds to dismember her and the man she was cheating with – where vocalist Storma screams "Why the fuck would you cheat on me? Is it 'cause I'm a male fucking nurse? Well guess who's the fucking surgeon now!" Solid, heavy, tongue in cheek death metal, definitely check them out live if you get the chance!
Following up are Feed Her To The Sharks [6], also from Melbourne. I was surprised to see them on the bill for this gig, as their brand of techno metalcore is a somewhat break in style from the rest of the nights bands. The set the played tonight was arguably stronger and tighter than when I saw them last month with Thy Art Is Murder, however they just didn't work with the rest of the line-up. I have nothing against metalcore, I really enjoy it on occasion, but that occasion is rarely at the same gig Nile are playing. I really do hope they got a better reception for the rest of the tour than they did in Brisbane, otherwise they were in for a really tough few shows. This is no fault of theirs, however, it was simply poor organisation from the tour promoter.
Main support Unearth [8] take to the stage after a quick changeover, and dear lord did they bring the party. I've tried to get into Unearth for years to no avail, but since seeing them I've had Watchers of Rule on repeat. Incredibly tight live, and clearly having so much fun, they stormed through a set packed with new hits and tried and tested fan favourites with a lot of humorous back and forth on stage. At one point, guitarist Ken Susi announces "Playing in Brisbane is very special to me… I had my first threesome on tour here!" That alone gives you an idea of the kind of atmosphere Unearth created. Despite a few technical issues towards the end of their set, their performance was absolutely stellar, and a very special mention goes out to drummer Nick Pierce, whose stick-work was blindingly good.
Finally, however, the time has come for Nile [9]. The curtain drops, and the set begins. A near flawless setlist, Nile have included songs from almost their entire discography, even going right back to The Howling of the Jinn from Amongst the Catacombs of Nephren-Ka. However, only a couple of songs into the show Karl Sanders' amp completely cut out, and it takes him a few moments to get everything back up and running again – Dallas Toller-Wade laughs this off giving the most solid explanation possible, "This is death metal, sometimes we break shit." Tearing through classics like Kafir!, Inevitable Degradation of Flesh and Black Seeds of Vengeance, and delivering new songs Call To Destruction, In the Name of Amun and Evil To Cast Out Evil, Nile show us exactly how death metal should be played.
Also, a testament to the skill and talent of this man, drummer/Terminator George Kollias played most of the set with his eyes closed… Listen to any Nile song ever and imagine playing it without looking. The man is a machine. However, all good things must end, and the show comes to a close – Nile are on the warpath, with blistering live shows and one of the best albums of their career just released, Horus only knows what's next for them.
How useful was this post?
Click on a thumb to rate it!
Average rating 0 / 5. Vote count: 0
No votes so far! Be the first to rate this post.
Related
About the author
This bearded wildman from North of the wall survives the harsh ever-present winter of Scotland on a healthy diet of thrash, death metal and beer.