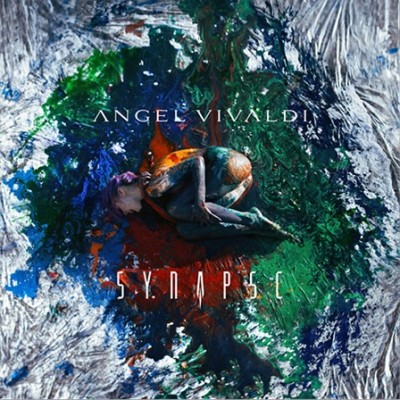 Angel Vivaldi Interview
20th September 2017
Guitar player extraordinaire Angel Vivaldi popped into AATR Towers for a quick chat ahead of his double header tour with Andy James.
What can the audience expect from the up and coming shows? A "shred off/guitar battle" between Andy & Yourself?
I feel that I have a lot of catching up to do with Europe, so I'm putting a lot of thought and effort into the setlist and flow. I will be debuting new material off of synapse for the first time ever, so I feel that is a very special milestone for us to share. I also have the amazing Mike Malyan behind on drums for this tour which is also going to also be a treat for people to see … many firsts.
If all goes according to plan, we'll likely perform out collab single "Wave of Synergy" together.

Do you have any pre-show rituals?
Nah, I usually just hang with fans before and after the show.

What's the most embarrassing moment you've had on stage?
This wasn't necessarily the most embarrassing moment but it certainly took me off guard. On my last US run with Gus G, we'd play a few songs together at the end of the night. Instead of simply introducing me back on stage, he and the guys invited me back along to the Blue Oyster bar theme song from Police Academy.  It was absolutely glorious.

When was the last time you were starstruck/or fanboyed over?
I dont get starstruck really, we're all just people!

Which venue/city are you looking forward to playing the most?
Prague immediately comes to mind, however we're going to be in so many stunning places it's impossible to say. If I had to choose one it would be Prague. I'm deeply moved by dark art, it really resonates with me.

Is there anything in particular you're looking forward to playing the most?
I know for many it will be the first time seeing me perform "Sea of Heartbreak" or "A Martian Winter," but I'm most looking forward to debuting the new material. I'm most looking forward to performing "Serotonin" on this upcoming tour. It's such a "feel-good" song and grooves super hard.

Who's idea was it to do a double headliner and how did you guys meet?
I first heard of him from fan comments a very long time ago. Id get a good number of requests to collab with Andy on something.

I reached out to Andy sometime in the Fall of 2016. We have a lot of mutual friends so I figured I'd reach out and see if we could make a tour happen since I was planning on doing a European run. He obliged and here we are!

What are your views on bands charging money for fans to actually meet them?
The industry is rapidly changing so naturally, artist have to get creative in order to continue fueling the machine for future albums, tours and other expenses. These types of events are very successful simply because the  fans want the opportunity to connect more intimately with their favorite artists. I think it's fantastic.

Who would you personally like to sit down and interview yourself? 
I'd love to interview Tori Amos. She's absolutely brilliant and I'm a great admirer of her work and energy. There's always something interesting and insightful to be said from her, would be an honor.

Obviously you have the tour coming up and of course you've both got new albums about, but what's next? Have you already started writing new material?
I'm planning another very, very exciting tour. Seeing the fans be so inspired about Andy and I 's recent collaborations I wanted to take it up a notch even further. After that I will be focusing on the rest of the video content for the new record.
Cheers Angel, I'll see you at one of the shows.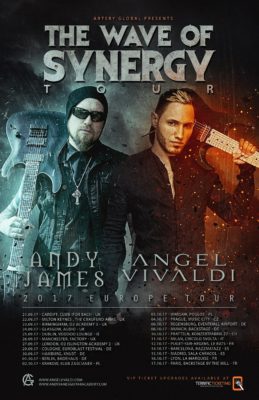 Check out the incredible Angel Vivaldi on tour with Andy James at one of these shows
21/09/2017 – Cardiff UK, Clwb Ifor Bach 
22/09/2017 – Milton Keynes UK, The Craufurd Arms 
23/09/2017 – Birmingham UK, O2 Academy 3 
24/09/2017 – Glasgow UK, Audio
25/09/2017 – Dublin IE, Voodoo Lounge
26/09/2017 – Manchester UK, Factory
27/09/2017 – London UK, O2 Islington Academy 2 
29/09/2017 – Cologne, DE – Euroblast Festival 
30/09/2017 – Hamburg DE, Knust
01/10/2017 – Berlin DE, Badehaus 
02/10/2017 – Krakow PL, Klub Zascianek 
03/10/2017 – Warsaw PL, Poglos
04/10/2017 – Prague CZ, Music City 
06/10/2017 – Regensburg DE, Eventhall Airport 
08/10/2017 – Munich DE, Backstage
10/10/2017 – Pratteln CH, Konzertfabrik Z7
11/10/2017 – Milan IT, Circolo Svolta 
12/10/2017 – Puget-Sur-Argens FR, Le Rats
14/10/2017 – Barcelona ES, Razzmatazz
15/10/2017 – Madrid ES, Sala Caracol 
16/10/2017 – Lyon FR, La Marquise 
17/10/2017 – Paris FR, Backstage By The Mill 
For all things Angel Vivaldi , click HERE