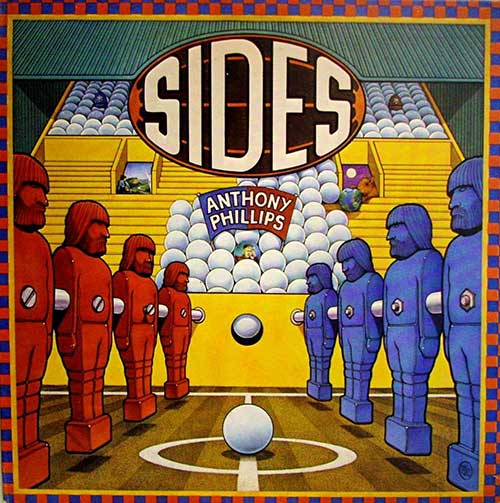 Anthony Philips- Sides – Deluxe CD Review
18th March 2016
Founding member of Genesis Anthony Philips re-issues his 4th solo album Sides as a 4 disc deluxe box set.
Anthony is supported by an able cast of musicians that included Mike Giles & Mel Collins (King Crimson), John G. Perry (Caravan, Quantum Jump) and John Hackett (a member of his brother Steve's band)

Originally released back in 1979, this brand new 2016 version contains 3 CDs & 1 DVD.
Disc 1 is a brand new 2016 stereo mix which does have some very subtle nuances, pans & splits compared to the original stereo remaster & the original vinyl.
Disc 2 is purely magical & is almost worth the purchase of this box set on its own. Featuring demos, mixes & single edits that are available for the 1st time on CD.
Disc 3 is the original stereo remaster & is included for completests.
Disc 4 is a DVD where you have the choice of Dolby Digital 5.1, DTS 5.1 (which is just mind boggling great) or a LPCM stereo mix. Combined with the demo disc is certainly worth the purchase.
The audio CDs are great, the remasters are lovingly done but its the 5.1 mix is where this box set excels. I ran the DTS version & by Jove it's astonishing.  Lights off, the odd candle flickering & the proginess of this album just transcends all time & space.
This collection is housed in a very nice clamshell box along with a poster but a gorgeous color booklet which contains a great essay by the legend Jonathon Dann & superb liner notes to accompany this set.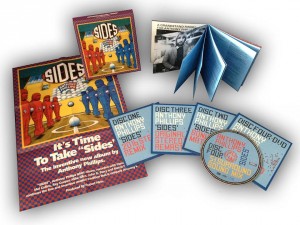 The fact that this has been done with Anthony Philips is just tremendous as it's so lovingly put together.
For fans of Genesis, Peter Gabriel, Camel, Progressive music in general.
Due for release via Esoteric Records 15th April 2016
Track Listing:
DISC ONE: CD: SIDES NEW 2016 STEREO MIX

1. UM & AARGH
2. I WANT YOUR LOVE
3. LUCY WILL
4. SIDE DOOR
5. HOLY DEADLOCK
6. SOUVENIR
7. SISTERS OF REMINDUM
8. BLEAK HOUSE
9. MAGDALEN
10. NIGHTMARE
DISC TWO: CD: SIDES DEMOS, OUT-TAKES AND EXTRAS

1. UM & AARGH (INSTRUMENTAL MIX)
2. I WANT YOUR LOVE (INSTRUMENTAL MIX)
3. SISTERS OF REMINDUM (ALTERNATIVE MIX)
4. LUCY WILL (ORIGINAL MIX)
5. MAGDALEN (INSTRUMENTAL MIX)
6. SIDE DOOR (ORIGINAL MIX)
7. UM & AARGH (7" SINGLE VERSION)
8. SOUVENIR (INSTRUMENTAL MIX)
9. BLEAK HOUSE (ALTERNATIVE MIX)
10. NIGHTMARE (ALTERNATIVE MIX)
11. CATCH YOU WHEN YOU FALL (INSTRUMENTAL MIX)
12. BEFORE THE NIGHT (DEMO)
DISC THREE: CD SIDES THE ORIGINAL STEREO MIX RE-MASTERED

1. UM & AARGH
2. I WANT YOUR LOVE
3. LUCY WILL
4. SIDE DOOR
5. HOLY DEADLOCK
6. SOUVENIR
7. SISTERS OF REMINDUM
8. BLEAK HOUSE
9. MAGDALEN
10. NIGHTMARE
DISC FOUR: DVD SIDES THE 2016 5.1 SURROUND SOUND MIX

1. UM & AARGH
2. I WANT YOUR LOVE
3. LUCY WILL
4. SIDE DOOR
5. HOLY DEADLOCK
6. SOUVENIR
7. SISTERS OF REMINDUM
8. BLEAK HOUSE
9. MAGDALEN
10. NIGHTMARE
Score 8.5/10