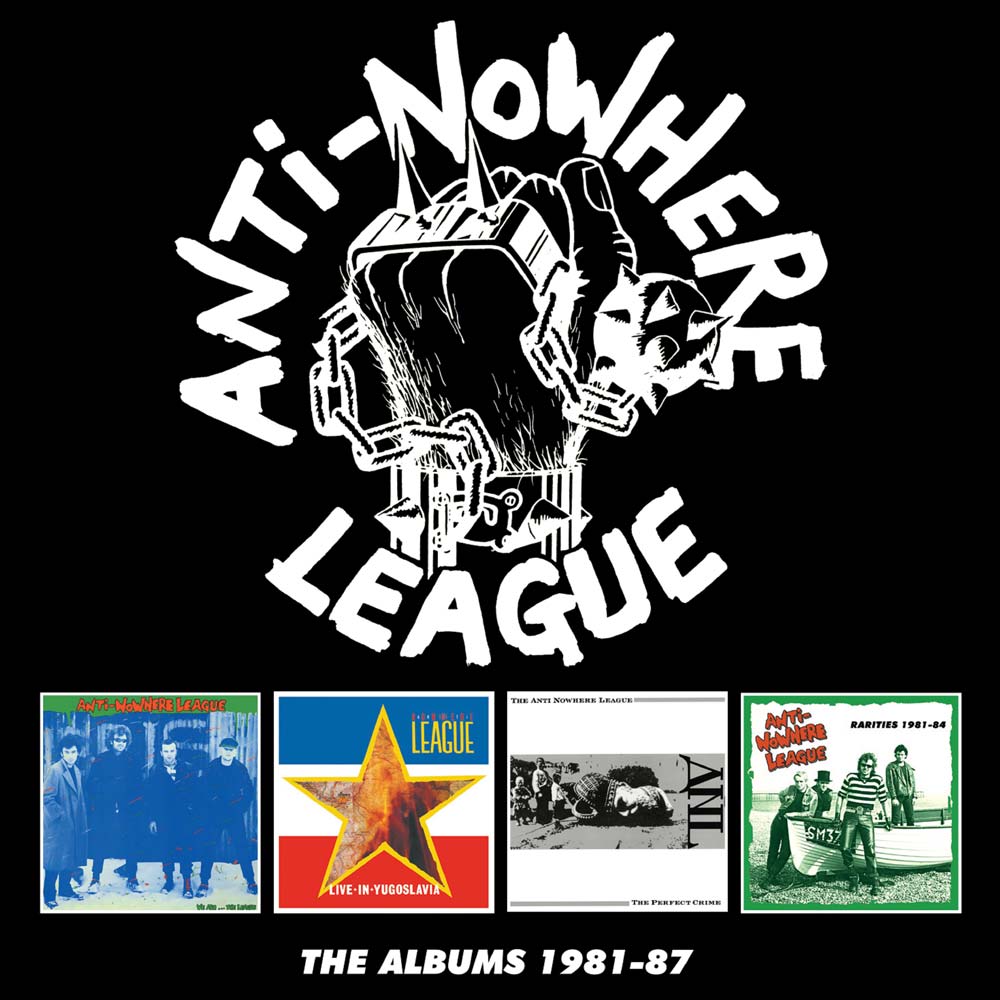 ANTI-NOWHERE LEAGUE: THE ALBUMS: 1981 – 1987, 4CD BOXSET
25th January 2018
0
By
John Deaux
4CDs, 56 tracks and the absolute dogs bollocks of 1980's british punk in the form of The Anti-Nowhere League. From such classic tracks as So What (which Metallica covered) , The Streets Of London and I Hate People, this box has the lot.
A combination of The Sex Pistols and The Clash, and just when everyone thought punk was dead along came with the league with their 'We Are…. The League and if you don't fuckin' like us you can stuff it up your arse.' attitude.
Their 1st 3 albums (We Are The League, Live in Yugoslavia and the rare Perfect Crime) are presented here in cardboard replica album sleeves along with a 4th disc of non album B-sides and demos. 
All the albums still sound incredibly fresh, relevant and as brutal as the day they were 1st released. Lyrically the League were always spot on with the world around them. Sadly the lyrics are still poignant (thanks to Brexit and austerity), it's a sad state of affairs that a band like this has lyrics that are still relevant and proof that the UK hasn't moved on in almost 40 years. Let The Country Feed You is a prime example.
There's also a lot of tracks that have their tongue firmly planted in cheek and about as subtle as a running elephant.
The booklet that accompanies this set is noteworthy on its own. Lots of memorabilia pictures along with some fairly decent liner notes.
An absolutely incredible box set and to have just the Anti-Nowhere Leagues 1st 3 albums in one handy package is just tremendous but to have the bonus of a 4th with a shit tonne of rarities makes this an awesome package.
I can't rate this product highly enough.
This is 56 tracks of pure class, mastery and a lot of expletive deletives that would even make The Macc Lads blush.
Score 10/10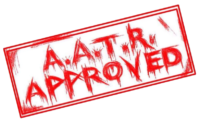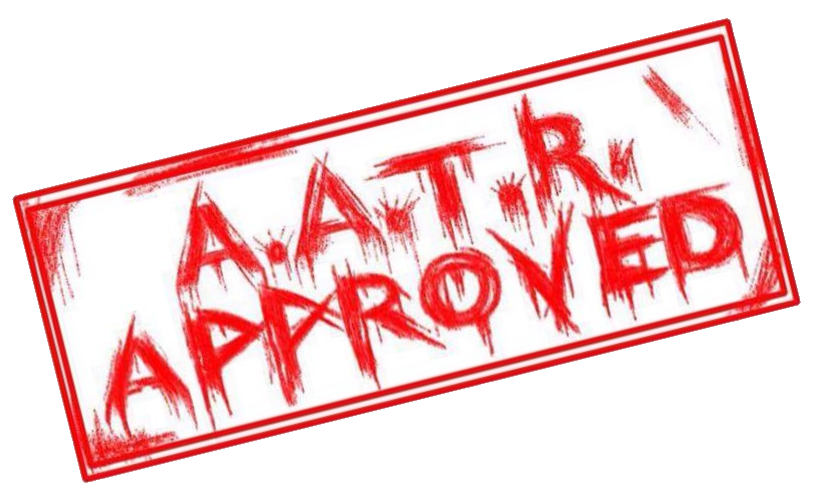 TRACK LIST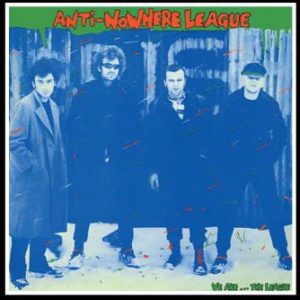 DISC ONE
WE ARE… THE LEAGUE
1. WE'RE THE LEAGUE
2. ANIMAL
3. WOMAN
4. CAN'T STAND ROCK N ROLL
5. (WE WILL NOT) REMEMBER YOU 
6. SNOWMAN
7. STREETS OF LONDON
8. I HATE…PEOPLE (REMIX)
9. 'RECK-A-NOWHERE
10.WORLD WAR III
11.NOWHERE MAN
12.LET'S BREAK THE LAW (REMIX)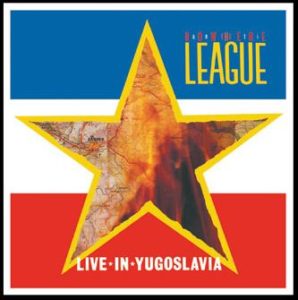 DISC TWO
LIVE IN YUGOSLAVIA
1. LET'S BREAK THE LAW
2. STREETS OF LONDON
3. LET THE COUNTRY FEED YOU 
4. WE WILL SURVIVE
5. I HATE… PEOPLE
6. SNOWMAN
7. FOR YOU
8. GOING DOWN
9. WOMAN
10. CAN'T STAND ROCK N ROLL 
11. SO WHAT
12. 'RECK A NOWHERE 
13. PAINT IT BLACK
14. WE'RE THE LEAGUE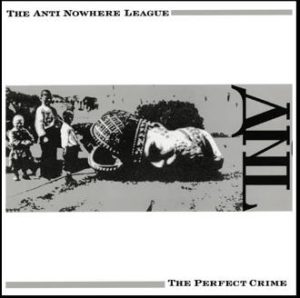 DISC THREE
THE PERFECT CRIME
1. CRIME
2. ATOMIC HARVEST
3. ON THE WATERFRONT
4. BRANDED
5. (I DON'T BELIEVE) THIS IS MY ENGLAND
6. JOHANNESBURG
7. THE SHINING
8. WORKING FOR THE COMPANY 
9. SYSTEM
10.THE CURTAIN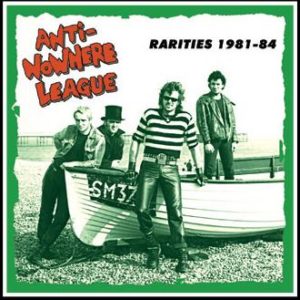 DISC FOUR
RARITIES 1981-84
1. SO WHAT
2. NODDY
3. I HATE…PEOPLE (SINGLE VERSION) 
4. LET'S BREAK THE LAW (SINGLE VERSION)
5. WOMAN (SINGLE VERSION) 
6. ROCKER
7. WORLD WAR III (FLEXI DISC VERSION)
8. ANIMAL (RE-RECORDED VERSION) 
9. FOR YOU
10. BALLAD OF J.J. DECAY 
11. WOMAN (ALTERNATIVE MIX) 
12. OUT ON THE WASTELAND 
13. WE WILL SURVIVE
14. QUEEN AND COUNTRY
15. THE RUSSIANS ARE COMING (DEMO)
16. BRANDED (DEMO)
17. GOING DOWN (DEMO) 
18. THOSE SUMMER DAYS (DEMO) 
19. WESTSIDE (DEMO)
20. ON THE WATERFRONT (DEMO)
Release Date
23rd Febuary 2018
Label 
Captain Oi
For all things League click HERE and to purchase the box click HERE
How useful was this post?
Click on a thumb to rate it!
Average rating 5 / 5. Vote count: 2
No votes so far! Be the first to rate this post.
Related