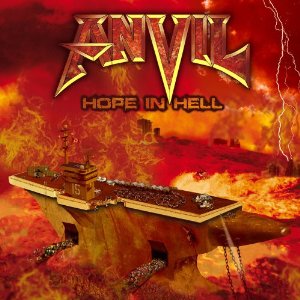 Anvil – Hope In Hell
7th July 2013
Band: Anvil
Album: Hope In Hell
Record Label: The End Records
Release Date: May 28th 2013
Reviewed By: Rich Dodgin
Track Listing:
1. Hope in Hell
2. Eat Your Words
3. Through with You
4. The Fight is Never Won
5. Pay the Toll
6. Flying
7. Call of Duty
8. Badass Rock 'n' Roll
9. Time Shows No Mercy
10. Mankind Machine
11. Shut the Fuck Up
For fans of: Hard Rock / Metal / Anvil
Standout Tracks: Hope in Hell / Pay The Toll
I'd never really heard of Anvil until the documentary film 'Anvil! The Story of Anvil' was released in 2008 and I discovered that these guys had been plugging away at it since 1981, despite getting little recognition for their efforts.  I was impressed with their never say die attitude and got myself a copy of their 2007 album 'This Is Thirteen' which, although far from groundbreaking, was a decent enough metal album.
I then saw them support Saxon when they played Edinburgh where the band were clearly enjoying themselves and did a great job of getting the crowd totally into it.  2011's 'Juggernaut of Justice' wasn't quite as good an album as the one before, but it had a few catchy tracks on it.
And now they've released their fifteenth studio album, 'Hope In Hell', their first one since the departure of bassist Glenn Gyorffy who had been with the band for the previous fourteen years.
So.  Is it any good?
Well, not really.  This is an album of cheesy generic hard rock / heavy metal.  It's nothing special and the band sound like they are stuck in the early 1980's.  This is a mid-paced plodder of album with a collection of tracks that are instantly forgettable.  Yes, there are some pretty good riffs hidden amongst the cheese, but they are few and far between.  But maybe that could all be forgiveable – afterall, not every album has to be groundbreaking – if only the lyrics weren't so cringeworthy…
From 'Flying' –
London to Paris
Then to Taipei
Down through the Philippines
All in one day
Never been to Turkey
Then down through Crete
Back home to Canada
To see our famous geese
From 'Badass Rock 'n' Roll' –
Badass rock 'n' roll
A window to your soul
Badass rock 'n' roll
Having fun is our goal
Bang your head
'Til your dead
I hate to say it, but I'm now wondering if one of the reasons Anvil never really made it into the big time is simply because – shock, horror – they're not actually that good.
It's a shame because I really wanted to like this album.  I have nothing for admiration for Lips and his determination to do what he loves.  And I'm pleased that the band is getting more attention than it was before the release of the 'Anvil! The Story of Anvil' documentary.  But on the basis of Hope In Hell I won't be buying their next album.
Score: 6 out of 10