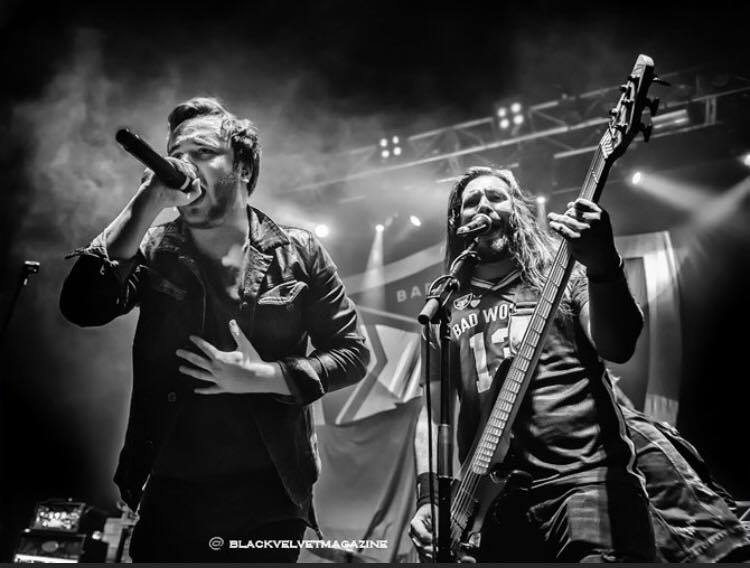 As Lions Vocalist Austin Dickinson Shows Off His Bird
13th January 2021
0
By
John Deaux
Hard Rock act As Lions are based in London and were formed back in 2015. Austin Dickinson grabbed the opportunity to talk about his parrot.

I have a parrot, a Black Headed Caique, called Merlin. My family have had her since 2002, and she recently graduated to living with my partner and I. She's a little rascal, thinks she's a dinosaur, will playfully attack any exposed fingers or toes with relished glee and is overall, bottled love and hilarity incarnate. We love her.
What is the weirdest thing Merlin has done?
I guess a better question would be "when isn't she weird"? Weird is so much better than bland. She had quite the transformation a few years back, the males and females of her breed are identical, we never got her DNA sexed because: who cares, but given her penchant for territorial behaviour, we felt she might be male. 13 years later, she lays an egg. Shut us right up.
What is the best trick your pet can do?
Crap and scream at the same time. Taken me years to master, but she makes it look effortless.
This past year has been pretty manic, so you've no-doubt, like the rest of us, spent a lot of time at home. How has Merlin helped being at home for you? Have she been comforting, or has she just been driving you nuts?
She's absolutely helped. What I love about parrots is the unique personalities they develop. They're deeply curious, intelligent, funny individuals, so lockdown has been pretty easy for her. There's always a corner of a room that's unexplored, or new potential for adventure to be found in otherwise mundane things. She's given us many hours of goofball joy.
Have you always been an animal lover?
Definitely, we've had cats and hamsters, no dogs unfortunately, but animals have always been a constant for our family.
Are you one of those people that puts your pet into costumes? 
Fuck no. Aside from how much it would bug her, one glance at her beak should spell it out clear enough. That thing hurts
So Merlin likes it when you practise at home or has your pet had any influence on your music? Does she seem to prefer any particular genre of music more than another?
She loves Ghost and Slipknot. Full on head banging if they're involved. There's a really obscure metal band called Hate Beak, they've got an African Grey Parrot as the lead singer, but she wasn't into it. I don't think she found the lyrics relatable.
Who looks after Merlin whilst you're away on tour/holiday?
Usually a family member, after 20+ years, we have yet to put her in a "boarding home" while we're away, which I am very pleased about. She's a homebody, that's for sure.
Speaking of practising, any new music in the pipeline? IF so when is it due and what can your audience expect?
There is new music, there is no guest vocals from Merlin unfortunately, but never say never. Keep your eyes on ours socials @aslionsband or mine @austin_aslions for updates!
Have you anything you'd like to say to your fans/followers?
Don't shop! ADOPT!

Thanks Austin, this has been so much fun to do.
.
How useful was this post?
Click on a thumb to rate it!
Average rating 3.3 / 5. Vote count: 3
No votes so far! Be the first to rate this post.
Related