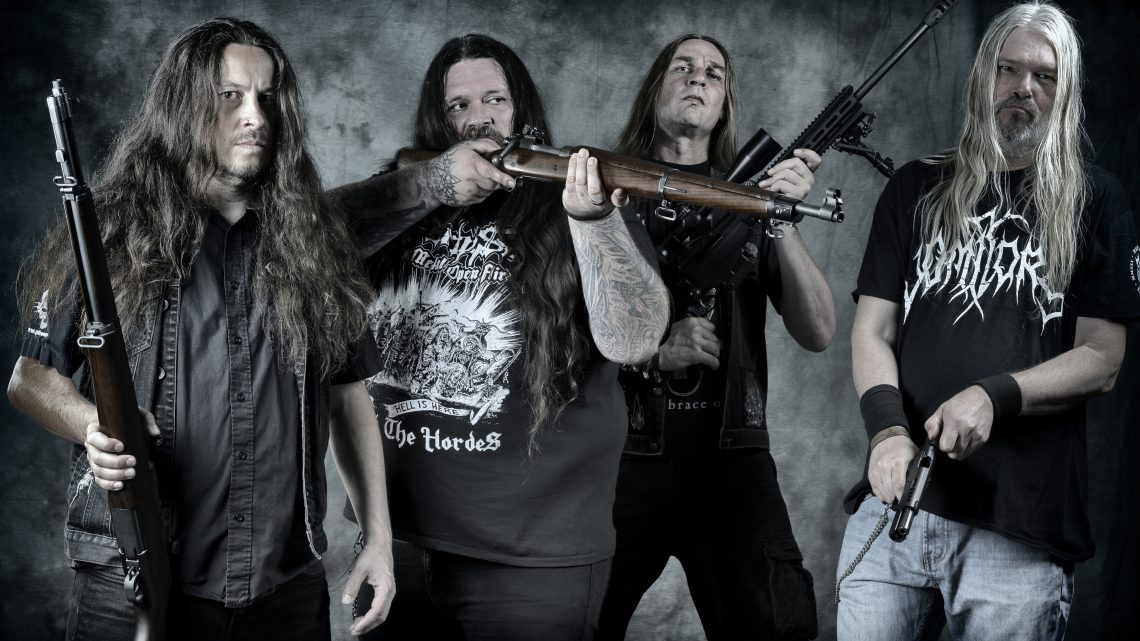 ASPHYX – Necroceros – Review
16th January 2021
0
By
Jimmy Long
In a world of so many variants and takes on death metal and death doom metal, it's gratifying to have the warhorse that is Asphyx back. I don't remember Asphyx ever releasing anything duff but since the return of Van Drunen back with 2009's aptly titled "Death ….The Brutal Way" Asphyx have been a reliable general leading the charge of no fucks given death metal. 
Honest to Lemmy, I remember there was a time where you couldn't walk around in the world of death metal without slipping over sheet music or laptop wires helping create note by note recordings. I mean, that's great and all and I do appreciate some great technical death metal such as Nile but personally life is complicated enough and majority of the time I just want to have someone trying to exorcise some demons from themselves rather than encourage me to do maths equations. 
Apologies for the little "oK dOoMeR" rant but sometimes it's just nice to have a simple riff steak to get your teeth into. From the get go of album opener The Sole Cure Is Death, the chainsaw of riffing of Paul Baayens is let loose and nobody is safe. Seriously, he's wielding that thing like such a maniac we might as well call him Leatherface and Stefan Hüskens' drums are pounding just as intense the victims heartbeat with the thundering bass of Alwin Zuur's flowing freely like the blood on the walls. Then that magical moment hits when Van Drunen just bellows down your lugholes with his trademark molten lead howl. Just to point out – this is literally a mere 13 seconds in. Further along, the boot of doom kicks in………your head. Repeatedly. Unashamedly. 
Tracks like Mount Skull and Knights Templar Stand could well be the themes that never were for the siege of Castle Greyskull – heftier than a boulder and sharper than a chasm of spikes. The subtle melodic shades found on these 2 tracks make them absolute gems and just serve as proof that catchy riffs will always decapitate the "watch what my fingers can do" riffs.
The beauty of the beast that is Asphyx, is that just anything goes in terms of song themes – there's not many bands that could switch so seemlessly from a song title such as the Autopsy esque Botox Implosion to the more war torn The Nameless Elite or the medieval marauding of Knights Templar Stand to the world ending Necroceros. There's just a buffet of metal here, whether it's in the form of grenades or gauntlets – you're gonna chow down. The thing is – you aren't going to argue or belittle it because quite frankly – you don't have the right when being offered such skull crushing songs (and let's face it – who the hell has the guts to try and take on Martin Van Drunen, especially when it comes to song titles). Asphyx do some serious damage with Necrocerous as an album and nobody is safe, nor should they be because "This is true death metal ya bastards".
However, Necroceros should not be viewed as just another 2D death metal template – it' so much more than that. The song writing here is really epic in proportions – trust me when you get to Three Years of Famine, you'll get it. This is an album that is certainly going for brutality, as you would no less expect from the Dutch destroyers but the flow of this album is meticulous, you don't want to miss anything and this is truly an album that you'll want to keep going back to. I mean seriously man, this thing is really memorable.
The time has been used incredibly well by the lads here during 2020 and shows that there really is no excuse for bands to lay down their arms in these dark times and bitch about missing gigs, etc when there are endless riffs that could be written here ready to unleash hell when we can all get back into the studios (if like me you don't have one).
I swear, I don't know how guitarist Paul Baayens manages to come up with this much stuff but when he moves house I think the people of Netherlands should be declaring that riff writing room as a heritage site. For being a member in Asphyx, walking into a room where he writes these riffs must be like that scene in Terminator 2 where Sarah Connor visits her friend Enrique Salceda and he reveals the hidden stockpile of munitions because they're deadly and effective enough to stop a horde of wannabes from writing some filler. On Necrocerous, he really didn't give two hoots about rationing the deadliest and most bitter sweet riffs.
I have to give major props here on the mixing and mastering by Sebastien Levermann here too as it captures everything – bass included which is an absolute must for me. Killer dirty bass tone captured whilst holding down the low end easily, vocals dripping and snarling, drums pounding mercilessly and as tight as submarine hatch whilst the guitars cut throats unapologetically. Kudos where it's due and the artwork by the ever loyal Axel Hermann sits proudly amongst his other trophy kills presented to Asphyx, possibly one of my favourites yet for the general doominess surrounding it.  
As Lemmy is my witness, I could honestly write a page dedicated to each song on here because Necrocerous is that marvellous. 
– Brutal death metal? Check. 
– Doom metal? Lots on offer. 
– Ridiculously epic riffs that make you wanna hold the severed  head of your vanquished foe atop a mountain as the clouds hammer down raining blood? Fuck yes.
Buy this album or in the words of Asphyx – Yield or Die.
Score 10/10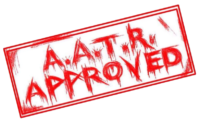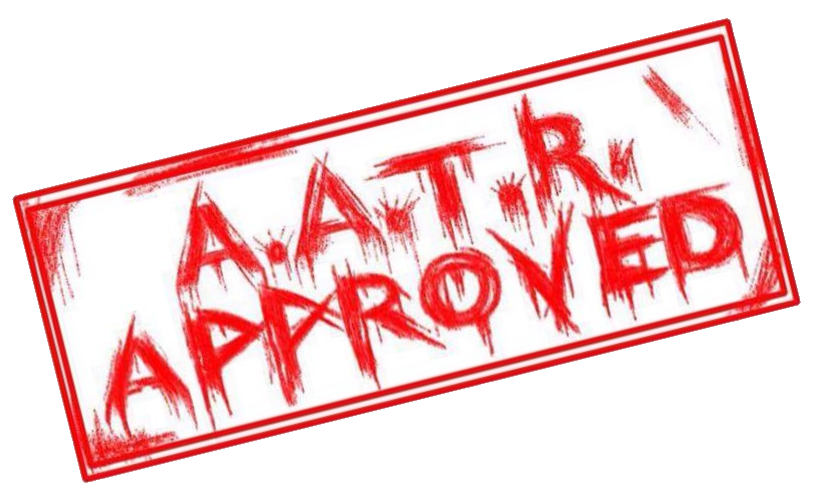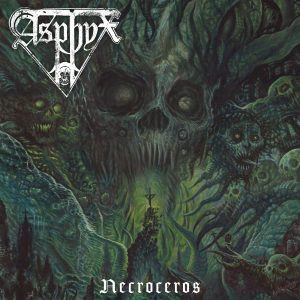 Track List: 
The Sole Cure is Death
Molten Black Earth
Mount Skull
Knights Templar Stand
Three Years of Famine
Botox Implosion
In Blazing Oceans
The Nameless Elite
Yield or Die
How useful was this post?
Click on a thumb to rate it!
Average rating 3 / 5. Vote count: 346
No votes so far! Be the first to rate this post.
Related