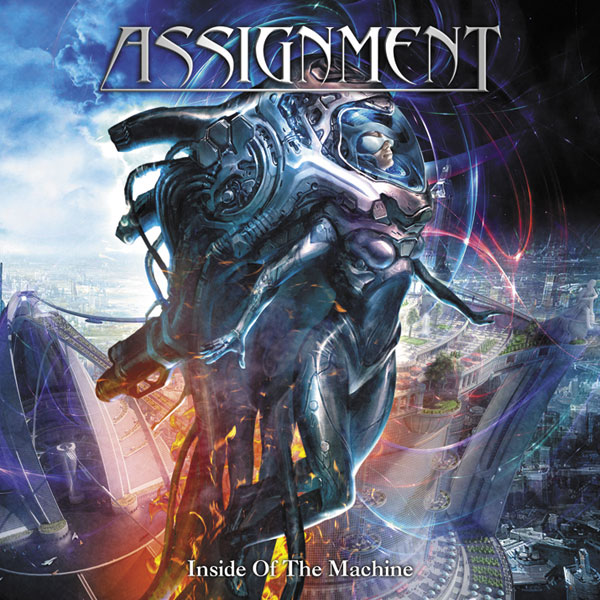 ASSIGNMENT New Song 'Ending Love' Available For Streaming
26th August 2013
"Ending Love", a brand new song featuring Michael Bormann & Robin Beck on lead vocals, from German prog metallers ASSIGNMENT is available for viewing. The track comes off the band's third album, "Inside Of The Machine", which will be released on October 11th via Mausoleum Records. The new song can be seen below.
The stunning artwork conceived by Belgium-based graphic artist Didier Scohier (Asia, Dokken, Ian Gillan, Uriah Heep, Code Of Silence, Max Pie). The cover art is available below along with the tracklist:
ASSIGNMENT are: Goran Panic (guitars), Gert Sprick (keyboards), Heiko Maag (bass), & Sven Pollkötter (drums).
The new album is a conceptual masterpiece including ROBIN BECK, MICHAEL BORMANN (ex-Jaded Heart, Bonfire), MATS LEVEN (ex-Malmsteen, Addagio), & CARSTEN KAISER (ex-Angel Dust) on vocals.
Already combining various influences like Queensryche & Fates Warning, but also adding segments in the styles of Ayreon or early Pain of Salvation, the band is hoping to secure a permanent record deal in the near future. Fans can expect hard-edged riffs, catchy hooks, & unexpected turnovers in more than 70 minutes running time; special guest appereance of Bernie Versailles (Redemption) on lead guitar.
ASSIGNMENT stands for music without boundaries, as our musical influences are spread over the whole Rock & Metal genre. From Death Metal to Progressive Rock but having always the focus on the melodies and arrangements.
Tracklisting:
1. Upload The System
2. The Intrusion
3. I Am The Machine
4. Resistance
5. Love Between Heaven & Hell
6. Betrayal
7. Messiah's Fall
8. Ending Love
9. Another Sacrifice
10. Electric City
11. Walk Alone
12. Eternal Silence
13. Bug In The System
14. End Of The Machine