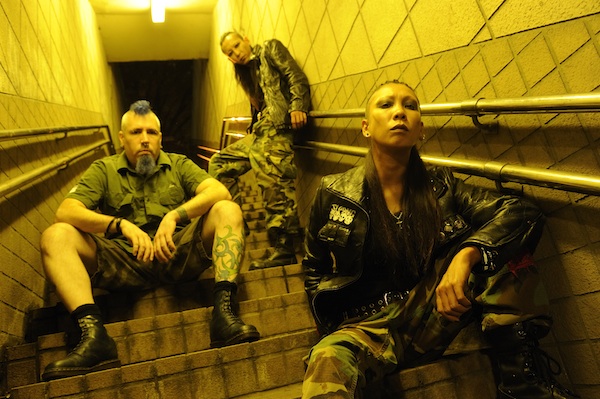 Baal – Shurado
22nd February 2014
Baal are an industrial band from Japan, this is their debut album entitled 'Shurado' – the politest way I can describe is this……its different but I just don't get it.
The band comprise of Alan (Drum),  MIKITO (Guitar&Programing) and U-tarou (Vocal) and asound is "Cybernetic Heavy Industrial Rock, transcending industrial, electro and modern heavy rock styles".  At first I was thinking Fear Factory sounding or as a minimum a resemblance early 'Spineshank' or 'Static-X' also sprung to mind. Alas no, wipe the aforementioned bands out of your head because Baal are precisely fuck all like them.
Opening up with what can only be described as an air raid siren surrounded by nice meaty riffs (don't have your earphones in too loud….trust me) things are going good, vocals are not the best but at this point I can live with them but as the album moves on you are very quickly bored of the songs sounding remarkably similar and you find yourself getting more and more pissed off with U-Tarou's vocals sounding the same on every single song. She is literally shouting down the microphone, there is no singing, no death metal style growls, no black metal style screams just pure heartfelt hatred coming out of.  The first time I listened to it I was at breaking point by track 4 and nearly threw my mp3 player at some poor fuckers head on the bus! Luckily I managed to keep my mp3 player in my hands and put something else on.
Roll forward a few hours and I am listening to it again, I managed to get past track 4! The only stand out track on the album for me is track 7 'Awake' – this is more dark and atmospheric than the others and you get a different vocal style from U-Tarou in places. This could have been a really good album, the riffs are excellent, the drums are great and most of the computer sampling works. It just needs tweaking so that the songs and the vocals dont sound the same on every song. If Baal work on that then they could well be a band to watch out for in the future but as it currently stands I will probably only listen to Awake again.
A disappointing start, this could have been the start of something good.
Score: 3 out of 10
[box_dark]
ALBUM INFO
Track List:
01. Purge
02. 畜生道 -Brush Aside Your Way-
03. Dead Sector
04. Outrage
05. Evil Collector
06. 東京 Schizoid
07. Awake
08. The Iron Age
09. Inhuman Dimension
10. 邪道 Genocide
Record Label
Metropolis
Release Date
11th Feb 2014
Stand Out Tracks
Awake
[/box_dark]