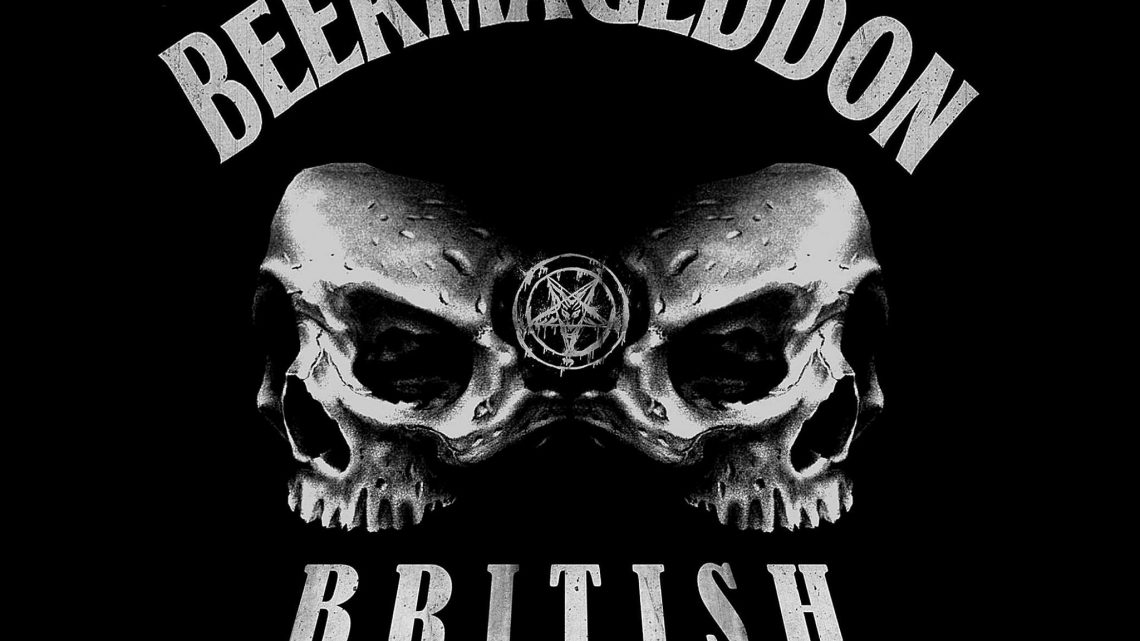 BEERMAGEDDON 2022 CELEBRATING A DECADE OF DECADENCE
12th May 2022
Who would have thought when we rolled up to the Black Horse in Derby back in 2012 Beermageddon would become the leviathan it has evolved into, over the years we have grown together, made new friends, and sadly lost much loved members of our family, but one thing has remained constant, the sheer quality of the bands who have graced our hallowed stage.
For our 10th Anniversary, our 10th festival, we have invited some of those bands back to celebrate with us. Maybe the hardest festival we have ever had to book being so spoilt for choice, but now we can reveal the full lineup for this years Beermageddon!
SUNDAY NIGHT HEADLINERS!
ALL THE THRASH AS BEERMAGEDDON WELCOMES BACK!!
ACID REIGN!
Our Sunday Night Headliners closed last years festival in so much style they had to be invited back to close our 10th Anniversary… ACID REIGN!
Following our 2021 festival, it became clear due to the pandemic some people could not make the event and missed Acid Reign, after many messages to get them back we listened and here they are!!
Those who missed Acid Reign last year get their chance to see them live, those who were there know just what a blistering end to the festival it will be!!
SATURDAY NIGHT HEADLINERS!
A TRIUMPHANT RETURN FOR…
RANNOCH!
No strangers to Beermageddon, having played in 2014, returning as Friday Night Headline in 2015, and then again in 2018 as main support, there had to be a headline slot at the 10th Anniversary for… RANNOCH
With a new album (Reflections Upon Darkness) released over Lockdown in 2020, and the third album nearing completion, expect a Progressive Death Metal journey with lots of new material alongside old favourites!
Firm favourites with the Beermageddon Faithful, whether this is your first time of seeing Rannoch or your fourth Geddon installment, you will be in for a treat!!
FRIDAY NIGHT HEADLINERS!
AFTER STORMING BEERMAGEDDON IN 2021, A RETURN FOR…
ASHEN CROWN!
Following our traditional Survivors Poll we are inviting back the top THREE bands from 2021 to appear on the Friday night Party Night, in a close-fought race taking the headline slot we have… ASHEN CROWN
A storming set at last years event cemented Ashen Crown as huge festival favourites, and one of our favourite sets over the years. A heady mix of brutality and extreme metal ensures an unrelenting aural assault that is sure to get heads banging AGAIN!!
With the promise of a full headline set Ashen Crown close the Friday Night in style! !!
ALSO JOINING THE FRIDAY FUN!!!
SORCERESS OF SIN!
After stepping up to the plate at the last minute in 2021, and after winning over the fans at Beermageddon we welcome back… SORCERESS OF SIN!
The band went above and beyond to bring us an exceptional set of melodic power last year, and did the festival proud with such an energetic performance!
Sorceress of Sin were another band who had a strong showing in the Survivors Poll and thoroughly deserve their return slot bringing the party to the Friday Night! !!
AND YET ANOTHER 2021 FAVOURITE!
A RETURN FOR…
MELTED MESSIAH!
Yet another band who made a huge impact in 2021, and another band leading in the Survivors Poll, a welcome return for… MELTED MESSIAH!
Featuring founder member Mark Golder on Guitar and Vocals and Jon Holt on drums. This duo from the magical kingdom of Fife sure pump out a huge sound, as we found out first hand when they took to the stage at the festival last year!
Having formed in 2012, Melted Messiah will be celebrating their 10th Anniversary alongside the festival celebrations, so it is a quite fitting return for the band this year!
Celebrations all round when Melted Messiah return to Beermageddon 2022!
COMPLETING THE FRIDAY LINEUP!!
A HAT TRICK FOR…
WIRED THC!
As far as our beer addled brains can remember, never has a band appeared at three events in a row but this year it happens with… WIRED THC!
Having made their Beermageddon debut in 2019, and being voted to return as Headliners for 2021, Wired make it THREE ON THE BOUNCE, as they return as special guests, and take the main support slot on the Friday party night!
The perfect balance of Thrash and Hardcore has proven popular with the Geddonites, so who better to set the record of THREE FOR THREE at Beermageddon than Wired THC!!
KICKING OFF ON THE SATURDAY AFTERNOON!
AND BRINGING THE BRUTALITY!
BLOODYARD!
Appearing back in 2017, and regular faces in the crowd every year, making a triumphant return to open up the Saturday afternoon we welcome back… BLOODYARD
Bringing the groove and a heady mix of death, black and doom, Bloodyard shake you awake on the Saturday afternoon, blowing away any cobwebs lingering from the night before, the perfect start to the day…
Well known, and well loved by all the Geddonites, it will be a roaring welcome as Bloodyard return to the stage at Beermageddon 2022!!
BRINGING THE BLACK BACK!
TO BEERMAGEDDON!!
AGRONA!
Having seen the band numerous times before they first appeared on the hallowed stage of Beermageddon back in 2018 it was well overdue to see a return for… AGRONA
Having formed in 2014, and being named for the Celtic Goddess of carnage and slaughter Cardiff born Agrona bring us Welsh Black Metal at it's purest… The loneliness of isolation through Covid in black metal perfection!
Once again a blackened storm will descend upon Beermageddon, that storm is called Agrona!!
THE BLACK METAL IS UNRELENTING!
BEERMAGEDDON WELCOMES BACK!!
STAHLSARG!
Being no strangers to the Beermageddon stage having played the festival in 2014 and 2017 we had to welcome back the beautiful black metal from our friends… STAHLSARG
Their name literally translates to "steel coffin" and with song themes realting to history and battles, there is a hint towards the raw desolation their music brings to the crowd, their music a marriage of black metal tinged with brutality, a marriage made in hell!
The onslaught will be unrelenting as once again Stahlsarg destroy the stage at Beermageddon 2022!!
EXTREME METAL!
AND A MILD DISTURBANCE!!
RAISED BY OWLS!
If there's one thing we love at Beermageddon, it's having fun, and if it's fun you want clear the stage for… RAISED BY OWLS
Having first appeared at the festival in 2019, the Extreme Metal purveyors of Party Grind, Raised By Owls, have their tongue firmly in cheek as they pay homage to bands such as Behemoth, Carcass, Napalm Death, and The Black Dahlia Murder with their own brand of warped comedy!
Raised By Owls return to cause a mild disturbance with their gently twisted sense of humour at Beermageddon 2022!!
YOU WANT THRASH?
YOU GOT THRASH!!!
GODSLAVE!
Another band who are no strangers to Beermageddon having played on both 2014 and 2017, Beermageddon welcomes back German Thrash Titans… GODSLAVE
Regular visitors and firm favourites here in the UK, Teutonic Thrashers Godslave supply a high octane face ripping live show that has always been sublime at Beermageddon leaving festival crowds begging for more.
Our only International band for 2022 we couldan't have asked for more than a return of Godslave to Beermageddon!!
AND THE FUN CONTINUES
THE UTTER INSANITY OF…
FOOTPRINTS IN THE CUSTARD!
The band we first booked in a Portaloo, they popped their Beermageddon cherry in 2017, and by popular demand returned to headline in 2018, now in 2022 we welcome back the madness of… FOOTPRINTS IN THE CUSTARD
With band interests ranging from (but not limited to) Drinking. Dancing. And Falling over. How could we not bring Footprints back to Beermageddon!
Once again expect absolute mayhem as Footprints In The Custard bring their orgy back to Beermageddon 2022!!
IT WOULDN'T BE BEERMAGEDDON!
WITHOUT THE PUNK
CUTTIN' EDGE!
Yet another band who made a big impact in 2021, and returning with their raw aggression Beermageddon welcomes back… CUTTIN' EDGE
Opening the Sunday afternoon festivities make sure you are wearing your bouncing trousers as the punk clears any hangovers and will get the festival back to full swing.
Once again the Cuttin' Edge of PUNK leaps onto the stage at Beermageddon!!
FROM 2012 – 2022 (WITH A PITSTOP IN 2018)!
MELODIC DOOM!
TWILIGHT'S EMBRACE!
It was very important to us at Beermageddon to have a band who appeared at that very first festival in 2012 and we could think of no finer band to come back than… TWILIGHT'S EMBRACE
Having first appeared in 2012, Twilight's Embrace returned to the festival in 2018 after a band hiatus and now join us again in 2022 with their glorious dark and melodic mix of doom and death metal.
One of the founding bands of Beermageddon make their return when Twilight's Embrace take the stage at Beermageddon 2022!!
ATMOSPHERIC BLACK METAL
A WELCOME RETURN FOR…!
RUADH!
Over the years there have been many magical moments and many bands taking the stage at Beermageddon for their first ever show, to welcome back one such band we see a return for… RUADH
Drawing on the rich history of Scotland, the culture and mythology, in 2019 Ruadh was the solo project of Tom Perret, who following the release of the debut album "sovereign" put together the live lineup for an exclusive appearance, and debut show at Beermageddon Festival that very year.
Three years and two more stunning albums later Ruadh return to the hallowed grounds of Bromsgrove and the Beermageddon stage!!
Expect a set of atmospheric black metal perfection, as once again Ruadh return to Beermageddon!!
GROOVE LADEN BRUTALITY
BEERMAGEDDON ONCE AGAIN WELCOMES
I SAW THE WORLD BURN!
Having torn Bromsgrove a new one back in 2018 it's a warm welcome back for… I SAW THE WORLD BURN
A brutal, riff laden, thrash groove machine that knows no boundaries I Saw The World Burn stormed the Beermageddon stage with their energy, passion and aggression just four years ago, and now return in all their brutal glory for our 10th Anniversary Edition with a brand new EP under their belt and a set that will tear faces!
You will not want to miss I Saw The World Burn as they return to burn up the stage at Beermageddon 2022!!
EXTREME, BRUTAL AND MELODIC
A WELCOME RETURN FOR…
KILL ALL THE GENTLEMEN!
Another band who made their Beermageddon debut back in 2019 and are making a triumphant return to Beermageddon 2022 we welcome back… KILL ALL THE GENTLEMEN
Three years ago we witnessed a mixture of Extreme and melodic heavy metal presented with both juggernaut intensity and orchestral harmony, now with a brand new album under their belt Kill All The Gentlemen are back!!!
We expect a mix from the new album alongside older favourites and once again Beermageddon brings you Kill All The Gentlemen!!
MORE PUNK?
WHY THE HELL NOT!!!
FACE UP!
The return of yet another Beermageddon fan favourite as we welcome back midlands punksters… FACE UP!
No strangers to the big festival stages after making their first appearance at Beermageddon back in 2018 Face Up! are another band who returned to headline the following year after topping the Survivors Poll and their Beermageddon pedigree was cast in stone they made the stage their own and they return to that stage as main support on the Sunday night!
Once again the room will be bouncing as Beermageddon invites you to FACE UP! or FUCK OFF!!
We cannot wait for the moment, when once again Face Up! take to the Beermageddon stage!
FRIDAY NIGHT
FANCY DRESS THEME
THE WILD WEST!
The Friday Theme for 2022 will be the The Wild West!
Cowboys and Cowgirls aplenty at the Geddon Corral!!
One lucky Gunslinger will walk away with a pair of tickets to Beermageddon 2023 as the winner of the Fancy Dress, so dust off your dusters and mount up for Beermageddon 2022!
BEERMAGEDDON
26th, 27th, 28th, August 2022
TICKETS £45
FREE CAMPING – FREE PARKING
WWW.BEERMAGEDDON.CO.UK