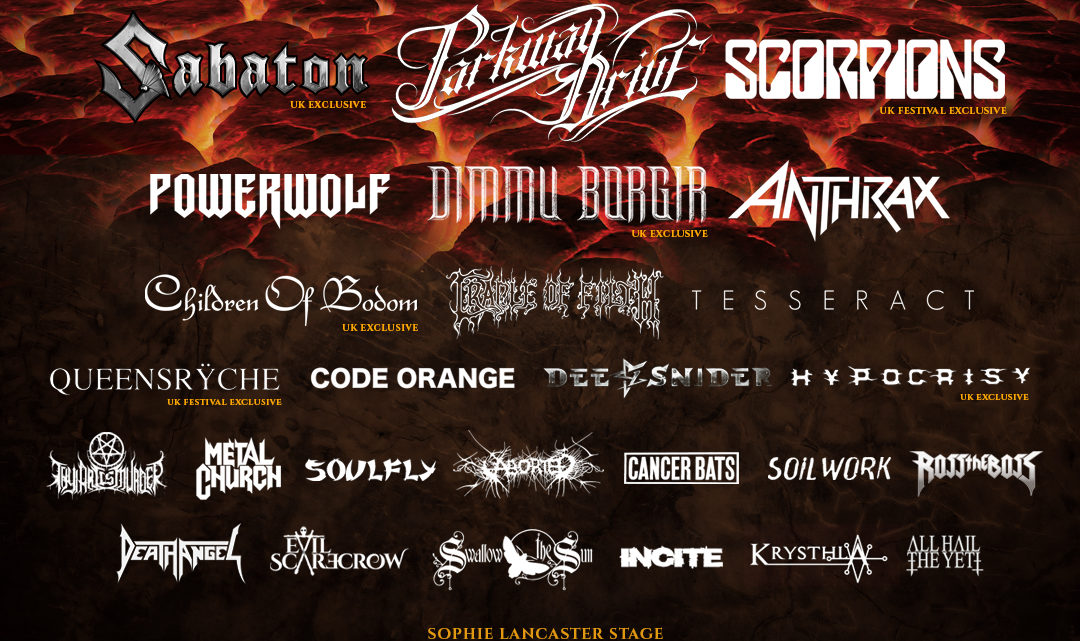 Bloodstock Open Air Festival- Friday 9th August (Catton Hall, UK)
22nd August 2019
0
By
Dan Peeke
Ominously, this year's Bloodstock was given a pretty rough weather forecast: loads of rain, loads of wind. Within a few minutes of putting our tent up, the forecast was absolutely spot on. When we jumped into the tent for shelter and tried to close the zip, it broke straight off. Normally they say opening an umbrella indoors causes bad luck, but by this point we had very little left to lose, so we sat in the tent under an umbrella as it slowly filled up like a cold, unwanted bath. While Soulfly were tearing up the Ronnie James Dio stage, we were using a Costa cup to scoop water out of our home for the next three nights.
Eventually, we made it to the muddy main area in time for Children Of Bodom. Arguably the most poppy death metal band in history, their set is made up of singalong tunes and bouncy keyboard melodies. 'Angels Don't Kill' is arguably the highlight, but the seamless transition from recent single 'The Road' from their new album Hexed into the heavy classic 'Hate Me' proves the consistency of their releases. Alexi's voice remains just as powerful today as it did back in 2003 when Hate Crew Deathroll dropped.
Over on the Sophie Lancaster stage, Karybdis provided a death metal masterclass, with lead vocalist Rich O'Donnell showing off a wide range of vocal acrobatics. The New Blood stage was also providing a varied lineup, with Marw's atmospheric black metal attracting an impressive crowd as Children Of Bodom wrapped up.
In general, controversial bookings normally end up going down quite well. TesseracT's complex progressive metal just doesn't land. Obviously, the virtuosity and tightness of the band is impressive, but Daniel Tompkins' vocal is lackluster and rarely matches the polyrhythmic music behind it. On top of that, his stage presence is just quite annoying. There's nothing better than a passionate live show, but Tompkins' dancing and prancing borders on arrogant.
After that, we really needed something to turn things around. Having been one of the only bands on the lineup I'd never actually listened to, I had no idea what to expect from Powerwolf. What they provided was the best set of the weekend. Decked out in full corpse paint, with an incredibly cool stage set up behind them, the band smash through their dark power metal with ease. 'Fire And Forgive', 'Blessed And Possessed' and 'We Drink Your Blood' get huge responses from the massive crowd, but the band also avoid taking themselves too seriously with tracks like 'Demons Are A Girls Best Friend'. Lead vocalist Atilla Dorn and keyboard player Falk Maria Schlegel command the most stage presence (the latter spending more time hopping around the stage than actually playing keyboard) while remaining humble and genuinely just seeming really, really nice. Bloody brilliant.
Raging Speedhorn bridge the gap between Powerwolf and Sabaton, bringing a sludgy show to contrast the polished power metal of the main stage's back-to-back cheese-fest. Sabaton themselves deliver a huge set full of the incredibly catchy war-based tunes they're known for, with a tank, sandbags and cannons covering their stage. One of the weirdest things about Sabaton is that so many of their songs not only sound similar, but also employ basically the same melody. I guess it's a winning formula, but it's a strange one. 'Great War', 'Carolus Rex' and 'Primo Victoria' are particularly
massive when combined with such bold lighting and huge audience, while 'To Hell And Back' draws Bloodstock 2019's first headliner to an immensely successful close. Honestly, I think Powerwolf would have made even better headliners, but Sabaton still got the job done well.
Grand Magus close Friday nights Sophie stage with the crunchy heavy metal they're been dropping for over 20 years. The last time I saw them was 2011, and 8 years later they're still capable of an equally powerful live show.
Our tent was still pretty damp when we got back, but we managed to fix the zip. That was pretty good.
How useful was this post?
Click on a thumb to rate it!
Average rating 5 / 5. Vote count: 3
No votes so far! Be the first to rate this post.
Related
About the author
I like classic rock like Led Zeppelin and Pink Floyd and Hendrix, Metal like Metallica and Slipknot, into more extreme stuff like Cannibal Corpse and Anaal Nathrakh. Other than rock, I love Bob Marley, blues legends like BB King, Rock n Roll like Chuck Berry, Jazz, Country and Bluegrass. I also like a bit of Elton John and Eminem every now and then (Sorry!). But overall my favourite bands are System of a Down, Five Finger Death Punch, Rush, Children of Bodom, Led Zeppelin, Pink Floyd and Anaal Nathrakh.