BREAKING BANDS FESTIVAL The Award Winning Independent Festival Launches Full Line-Up For Year 6!
28th December 2019
New to Breaking Bands Festival? Here's a summary…
Breaking Bands Festival is one of the UKs best independent festivals boasting 5 years of promoting unsigned and underground music for artists in rock, punk, metal and more.
Heading into their 6th year after 5 successful sold out events and 3 capacity increases, the organisers have again added more value to their 4 day family friendly festival.
Each year the festival has grown along with their support from music fans across the country. The organisers describe it as a community festival for all the family adding that there are all sorts of activities alongside the live music. 2020 has been announced as a viking themed event encouraging attendees and bands to dress up in the atire with a chance to win prizes.
Alongside the 38 performing artists at the 6th year event will be an illusionist, drum school, guitar school with special guests, a fun music quiz, book corner with guest readings, rock disco and axe throwing with professional teachers.
The festival opens Thursday evening with a rock and roll disco along with a music quiz to get the party started early. Live music starts Friday evening kicking off with Birmingham based Secrets of Mariana and ending the night with headliners Haerken which will no doubt end with inflateable sword fighting as they have been accusomed too in the past!
Saturday and Sunday will be 3 stages of music with acoustic stages in the early part of the day, then the Roulette Media Stage starting followed by the main stage later in the day. At no time will there be any band clashes over the weekend which is something the music fans have voiced their opinions on each year and are very pleased to hear.
Saturday night headliners on the main stage will be Midnite City, a band that has been rising through the ranks of the underground and looking set to be one of the big breakthrough bands of 2020. Sub-headlining will be Australia's kick ass rockers Massive who will be starting their European tour at the festival.
Sunday night has the traditional returning band voted for by the fans to be headliners with 2020 being Collateral whose performance in 2019 blew the crowds away and were voted unanomously to return. Another tradition of Breaking Bands Festival is the special guest band who will close the event. Each year the organisers invite a band they feel is close to the scene but has made big impacts over the years. Previous guests include Breed 77, Iron Maiden's Blaze Bayley, Acid Reign, ACDC Drummer Chris Slade with his Timeline and in 2019 Absolva. For 2020, they have gone for something very special. Irish Celtic punk band NECK who have been in the business ny-on 20 years will be coming to the festival for the first time and promise to close with a bang.
All in all, Breaking Bands Festival is for all the family with kids as young as 2 years of age to grandparents in their 90's rocking up every year to enjoy a family community together for the weekend.
Camping and parking is free of charge, even for camper vans. No costs for postage or booking fee on tickets. Kids tickets are £15 for the full weekend and adult tickets are £50 with day tickets at just £20 a day. For more details go to http://www.breakingbandsfestival.com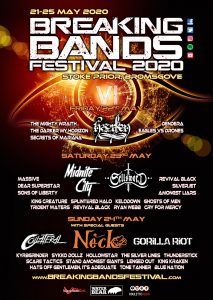 Full line-up alphabetically is:
Amongst Liars
Blue Nation
Collateral
Cry for Mercy
DEAR SUPERSTAR! Official Page
Dendera
Eagles Vs Drones
Ghosts Of Men
Gorilla Riot
Hærken
Hats Off Gentlemen It's Adequate
Hollowstar
KeloDown
KING CREATURE
King Kraken
Kyrbgrinder
Lenged Out
Massive
Midnite City
NECK LondonIrish PsychoCeilídh
Revival Black
Ryan Webb
Scare Tactics (UK based Metal)
Secrets of Mariana
Sellsword
Silverjet
Sons of Liberty UK
Splintered Halo
Stand Amongst Giants
Psycho Dollz
The Darker my Horizon
The Mighty Wraith
The Silver Lines
Thunderstick
Tone Tanner – musician
Trident Waters
We look forward to hearing from you soon and hope to see you at Breaking Bands Festival 2020 between Thursday 21st and Sunday 24th May 2020.