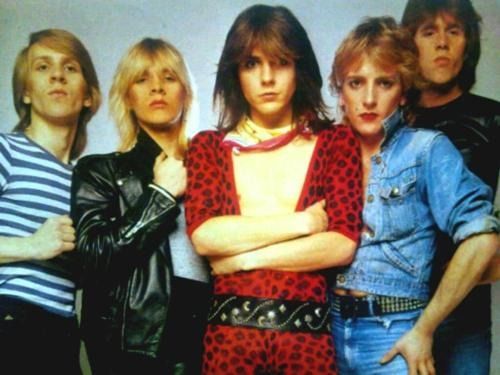 Girl: Wasted Youth, 6CD Expanded Box Set
6th January 2020
Girl are a much overlooked band that features the unmistakable talents of vocalist Phil Lewis (L.A. Guns) and Phil Collen who went on to Def Leppard.
Wasted Youth was their 2nd studio album. Although it was a fairly decent follow up to their debut Sheer Greed, it just didn't match up commercially to Sheer Greeds success.
This new version of Wasted Youth is massive. Not only has the main album been preserved along with the 1997 compilation Killing Time. There's 4 albums (yes, you read that correct) of live material spanning the 2 years the band were together (1980 – 1982)
Even tho Killing Time is a compilation album released after the band was non existent. It features left over tracks, which if I'm honest, tracks that would've been better served as actual album tracks.
There's ridiculously great cover versions of Nutbush City Limits (Tina Turner) and The Kinks You Really Got Me. The 4 live albums that were recorded between 1980 and 1982 are immense. Of course with any live show you do get repeated tracks, however their are subtle difference. Better guitar solos, Lewis' vocal performance and just generally, the different feel from the band.
Wasted Youth, although it's a harder sounding album to Sheer Greed this set makes up for it with the inclusion of the live material and the leftover compilation Killing Time.

Phil Collen along with Girls bass player Simon Laffy recently teamed up with Sex Pistols drummer Paul Cook to form Man Raze. Who are what can only be described as a band who are as far away from the NWOBHM style that Girl are associated with.
Sadly, there is no booklet with liner notes etc, although there is a poster which has the lyrics for the tracks printed on the back of it. 
Is this set worth getting? Quite simply YES merely for the live material and the compilation album. It's not just for Def Leppard or L.A. Guns collectors, this is for fans of Iron Maiden and the NWOBHM. \

Score 7.5/10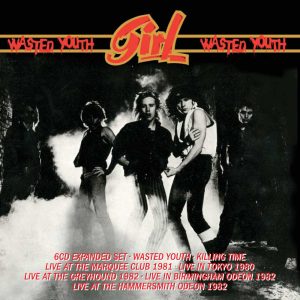 TRACK LIST
DISC ONE
WASTED YOUTH
1. THRU' THE TWILITE
2. OLD DOGS
3 ICE IN THE BLOOD
4. WASTED YOUTH
5. STANDARD ROMANCE
6. NICE 'N' NASTY
7. MCKITTY'S BACK
8. 19
9. OVERNIGHT ANGELS
10. SWEET KIDS
DISC TWO
KILLING TIME
1. JULIET
2. NUTBUSH CITY LIMITS
3. MAD FOR IT
4. WHITE PROPHET
5. GREEN LIGHT
6. THIS TOWN
7. AEROPLANE FOOD
8. MAKE IT MEDICAL
9. NOTHING BUT THE NIGHT
10. BIG NIGHT OUT
11. I GOT LOVE
12. LUCKY
13. KILLING TIME
14. NAUGHTY BOY
15. KING RAT
16. MOGAL
17. LOVE IS A GAME
18. BLACK MAX
19. THE SOUND OF CARS
20. YOU REALLY GOT ME
DISC THREE
LIVE AT THE MARQUEE CLUB, 1981
1. ICE IN THE BLOOD
2. ICEY BLUE
3. MAD FOR IT
4. OVERNIGHT ANGELS
5. OLD DOGS
6. BIG NIGHT
7. SWEET KIDS
8. WASTED YOUTH
9. NICE 'N' NASTY
10. MY NUMBER
11. STANDARD ROMANCE
12. THRU' THE TWILITE
DISC FOUR
LIVE IN TOKYO 1980
1. WASTED YOUTH
2. HEARTBREAK AMERICA
3. NICE 'N' NASTY
4. BLACK MACK'S
5. LITTLE MISS ANN
6. WHITE PROPHET
7. OLD DOGS
8. PASSING CLOUDS
9. STRAWBERRIES
10. DOCTOR DOCTOR
11. LOVELY LORRAINE
12. MY NUMBER
13. 19
14. HOLLYWOOD TEASE
15. BORN TO BE WILD
16. OVERNIGHT ANGELS
DISC FIVE
LIVE AT THE GREYHOUND 1982
1. BIG NIGHT OUT
2. OVERNIGHT ANGELS
3. ICE IN THE BLOOD
4. MY NUMBER
5. NAUGHTY BOY
6. LITTLE MISS ANN
7. STANDARD ROMANCE
8. WASTED YOUTH
9. THE SOUND OF CARS
10. KILLING TIME
11. ICEY BLUE
12. 19
13. NUTBUSH CITY LIMITS
14. HOLLYWOOD TEASE
DISC SIX
LIVE AT THE BIRMINGHAM ODEON 1982
1. BIG NIGHT
2. OVERNIGHT ANGELS
3. MY NUMBER
4. STANDARD ROMANCE
LIVE AT THE HAMMERSMITH ODEON 1982
5. WASTED YOUTH
6. SWEET KIDS
7. THE SOUND OF CARS
8. KILLING TIME
9 DOCTOR DOCTOR
10. NUTBUSH CITY LIMITS
LIVE AT THE BIRMINGHAM ODEON 1982
11. NUTBUSH CITY LIMITS
12. KILLING TIME
BONUS TRACKS
13. MADAME KARONE (DEMO)
14. MAKE IT MEDICAL (DEMO)
Release Date
31st January 2020
Label
HNE Records
To purchase this massive collection, click HERE