A Call to Arms…All hail Hammerfest X: The 10th Anniversary!
25th April 2017
Take heed Metal Maniacs for the Tenth Anniversary of Hammerfest doth approach apace: the strongest hammer and metal action since Wayland and Thor started swinging their mighty mallets. And like the forge gods, we're crafting something loud, special and VERY Metal for this momentous, decade-celebrating event, to be held between 15th – 18th March, 2018.
Standing at Camp HRH, Pwllheli, North Wales, amidst the Snowden landscape, we Hammerfest housecarls summon once more the great and ancient tribes of Metal from far and wide! Come, brave hearts: set sail or march once more to Camp HRH, for adventure, music loud enough to wake the giants of Jotunheim, action, energy, and shenanigans – HF style!
HF's heralds are also proud to announce many a great act joining the HF X ranks, from around the world, making HF X a truly international celebration:
HF headliners are Brazilian heavy metal icons Sepultura. Metalsucks.net voted Sepultura  #13 in their 25 Best Metal Bands of All Time poll (i.e. EVER!).
Helllyeah are an American supergroup with a distinctive blend of groove, alternative and nu-metal, who've charted in the Billboard Top 10, attracted a dedicated following, and earned their standing as a serious supergroup.
Aptly-named for Hammerfest,  Gloryhammer are a Scots-Swiss high fantasy power metal power band  founded by keyboard player Christopher Bowes (vocalist of pirate metal band Alestorm). Each band member represents a character in the story concept and appears on-stage in epic armour and costumes.
Other great bands announced include:
Raging Speedhorn
Conan
Blaze Bayley
Mael Morda
Blood Red Throne
Grimner
Cypecore
Red Rum
Triaxis
Ohhms
Ballsdeep
Asomvel
Belligerence
Deadly Circus Fire
Dead Label
Codex Alimentarius
Critical Solution
Obzidian
Fallen Arise
Footprints in the Custard
Vice
Callus
Ex People
And that's not all: there's another 25 to come, including one headliner!
This cycle will also feature various genre stages under the banners of HRH Doom, HRH Stoner, HRH Metal, HRH Thrash and introducing HRH Black.
So get on board for another adventure to Hammerfest: Bigger, better, with more mates into metal than you can ever dream of!
N.B. Last year's event sold out a full 11 months in advance, so we went on sale earlier than ever: Royalty went in minutes and we're now under 34 rooms left for the weekend. This year's bookings will go faster than a bard hightailing it to the mead tent, so book early. Call Rebecca on 0207 193 9564
Hammerfest X will take place between 15th – 18th March 2018 for this 3-day, multi-brand affair.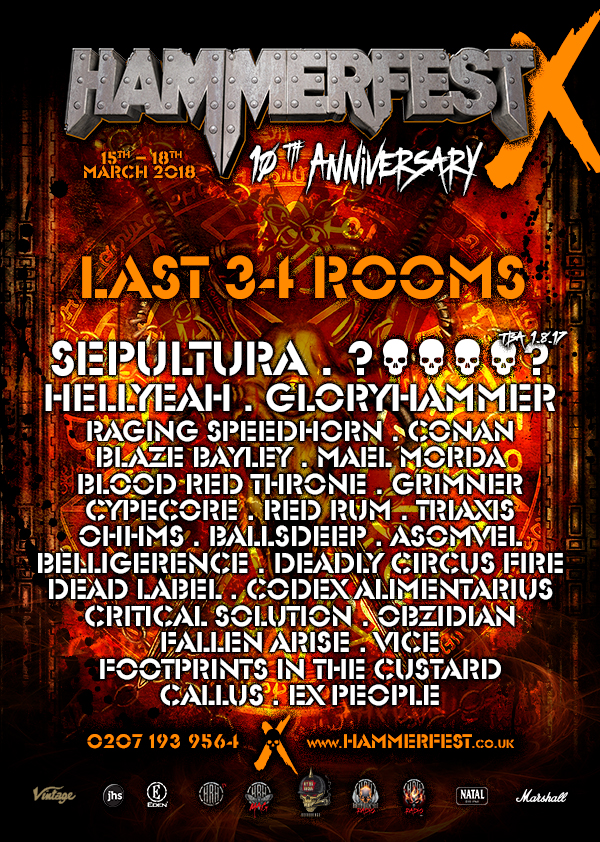 Let battle commence!