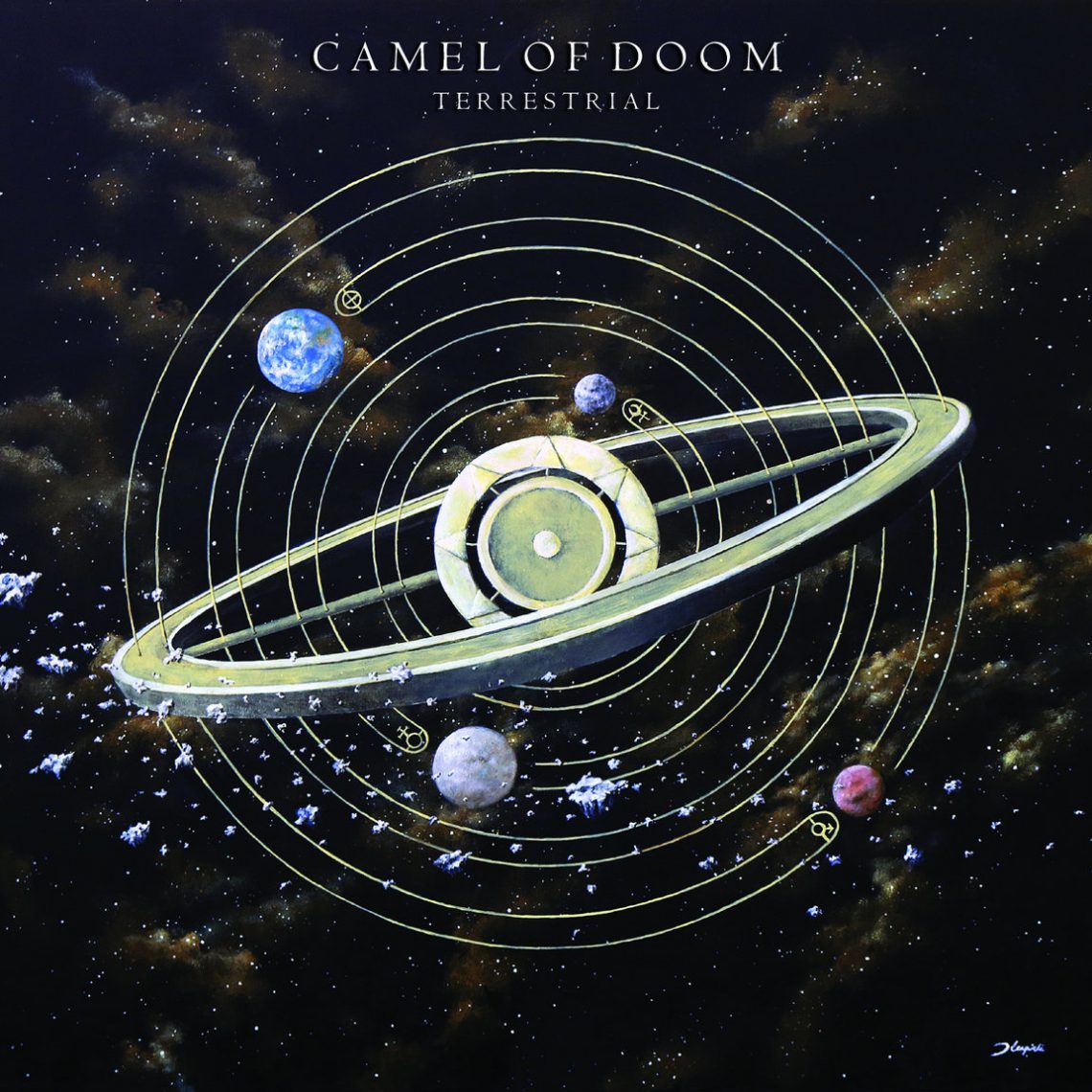 Camel of Doom – Terrestrial – Album Review
25th March 2016
0
By
John Deaux
Camel of Doom have been around a while, they were formed in 2000 in northern England, so as a fellow northerner I feel both embarrassed and upset that this is the first time I've clapped ears on their stuff. If you're a doom/stoner/experimental metal fan, you seriously need to listen up. Terrestrial is an awakening, so I'll just have to get straight into this.
The opening track Cycles (The Anguish of Anger) is an immediate kick in the teeth. It's beautifully heavy, brutally symphonic and gives us an initiation to Kris Clayton's vocal styles. For me, his sound is not entirely unlike the work of Maurizio Iacono (of Ex Deo and Kataklysm persuasion), and this is no bad thing. His crushing and passionate yell works gorgeously alongside the bass line, and honestly the whole thing is pretty damned special.
There's so much layering, so many things to tune into here, but it's all amazingly balanced. The first track is a long one, but I think it has to be. It's a way of being able to show off that golden combo of unmitigated riffage and majestic synth. There's no chance of you falling off the cliff with this stuff though, so don't be thinking you can sit back and read to this shit. Your attention WILL be suspended, and held aloft. Don't get comfy.
Moving down the tracklist, Pyroclastic Flow feels exactly like it's title. Like molten rock, to the face. It's got a strong tempo that dips and peaks. When we get our 'Doomiest' moments, it's pretty magnificent. The vocals become lower, slower, grittier. It's just all very well fucking done. If you don't 'get' Doom metal. Listen to Terrestrial. I think you soon will.
You know when you think about space? That low rumbling hum that you hear in the back of your head when you think about how small we are as an existence? Camel of Doom have somehow managed to create that hum and make it part of the track named Nine Eternities. It's only just over a minute long, but I think it serves to put this whole album into context. The theme, the ideas. You'll get me when you hear it.
The longest track on the album is just under 15 minutes long. So it's kind of the equivalent of a Lord of the Rings movie. You know it's going to take some investment, but it's so, so worth it in the end. Sleeper Must Awaken brings a fresh vocal and a new pace. It's very 'matter of fact' to begin, a little jaunty, with some long, whining guitar and more lyrics than the other tracks combined I think. It's layered with some great synth effects too and actually has an air of excitement about it. Like "Oh shit, where are we going with this song?" … and where do we go? I don't want to spoil it for you, but it's heavy. No, it's massive. And moving. That's the most important thing I need to point out. This track, and indeed the whole Terrestrial album is beautifully moving.
Score: 9 out of 10
ALBUM INFO

Record Label

Solitude Productions
Release Date

8th Feb 2016
Track List
01. Cycles (The Anguish of Anger)
02. A Circle Has No End
03. Pyroclastic Flow
04. Singularity
05. Nine Eternities
06. Euphoric Slumber
07. Sleeper Must Awaken
08. Extending Life, Expanding Consciousness
How useful was this post?
Click on a thumb to rate it!
Average rating 0 / 5. Vote count: 0
No votes so far! Be the first to rate this post.
Related
About the author
Some say Yank My Doodle, It's A Dandy! is a biographical movie based on John. Some have even said that his favorite artist is Chesney Hawke! All we really know is he sleeps inside out and his hair tastes like candy floss.