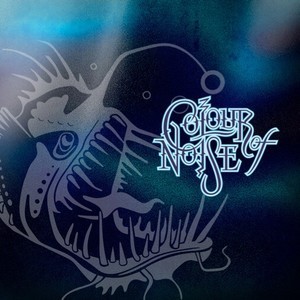 Colour Of Noise – HRH IX 2015
18th November 2015
Colour Of Noise are a relatively new band but they're already causing a bit of a buzz in the industry aswell as the rock & metal scene.
This set at HRH IX was a bit of a celebration as the album had just dropped digitally to all those who had pledged via their incredibly succesful Pledge Music Campaign.
Featuring Matt Mitchell (vocals) from Furyon & Pride, Bruce Dickinson (guitar) from Little Angels & b.l.o.w & Randy Nixon (Drums) from The Jeevas or Magic Bullet Band alongside Dan Electro (guitar) & Ben Daniel on bass.
Their set at HRH was not only short & sweet but the most fun I had watching a band all weekend.
They managed to play the entire album in all it's glory & so much heavier than the studio versions as that's what they call for live.
Bruce had the biggest grin on his face whilst Matt was jumping around & pulling off as many Mick Jagger moves as he could.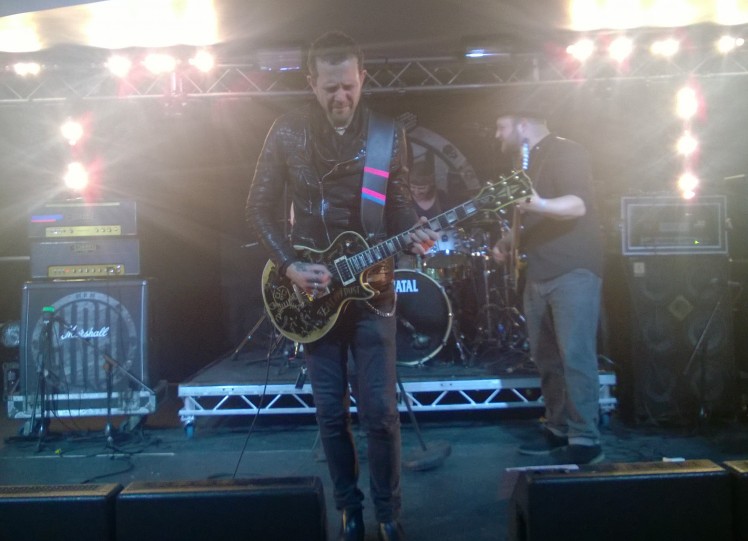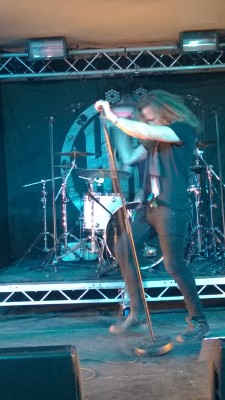 Randy hammered away at the kit like a possessed carpenter. An amazing drummer to watch, technically brilliant but with flair.
Ben & Dan had a great groove to them & look incredibly settled just to sit back, play & generally rock out with each other.
Although the band have only really been in existence for less than a year they are all so comfortable with each other its stunning to watch.
From the opener You Only Call Me right the way through to the party track Great Day for Rock n Roll the energy this band gives off is incredible.
The single Head On sounded like the canines proverbial dangly bits.
It's a testament to how good an album is when it's only been out a few days before you play a major show that the audience sings choruses back to you & by jove did the crowd sing especially during Drive It LikeYou Stole It & Rock Bottom
Matt is one hell of a frontman & from what I garnered from other HRH goers he was one of the finest frontmen of the weekend.
Bruce is a mighty fine guitarist in his own right & has never sounded so good live. Totally understated playing yet fits the song structure perfectly.
Ben, Dan & Randy are the perfect back bone for this type of music.
What I did notice about this band was the lack of obvious ques which actually made a nice change to not see. Occasionally at shows I'll spot the odd hand gesture or head nod etc to que a band member in or help with timing etc, but there was none of that which proved to me that this band has spent a lot of time in rehearsals pounding out all the little timing issues that can occur during a live show.
It was a great 2nd stage show & I'm pretty sure it won't be long before we see them on the main stage at a major festival.
This is a band to keep your eye on as they are going to be like a fine wine & just get better & better as time goes on.
If you didn't pledge & want a copy of the album it will be available from the usual good & bad retailers very shortly.
Colour Of Noise will also be on tour with The Dead Daisies later this year around the UK & tickets can be purchased here
If you're a fan of laid back classic rock, treat yourself, loved one or both of you to tickets for one of these shows.
5th December 2015 : Wolverhampton – Slade Rooms (with The Dead Daisies)
6th December 2015 : Nottingham – Rescue Rooms (with The Dead Daisies)
7th December 2015 : Sunderland – The Point (with The Dead Daisies)
8th December 2015 : Glasgow – Cathouse (with The Dead Daisies)
9th December 2015 : Newcastle – Academy 2 (with The Dead Daisies)
10th December 2015 : Manchester -Academy 3 (with The Dead Daisies)
11th December 2015 : London – The Garage (with The Dead Daisies)
Set List:-
You only Call me
Medicine Man
Can you hear me
Head on
Can't take it with you
Heavy Temptation
Drive it like you stole it
Rock Bottom
Great day for Rock n Roll
Score 9/10