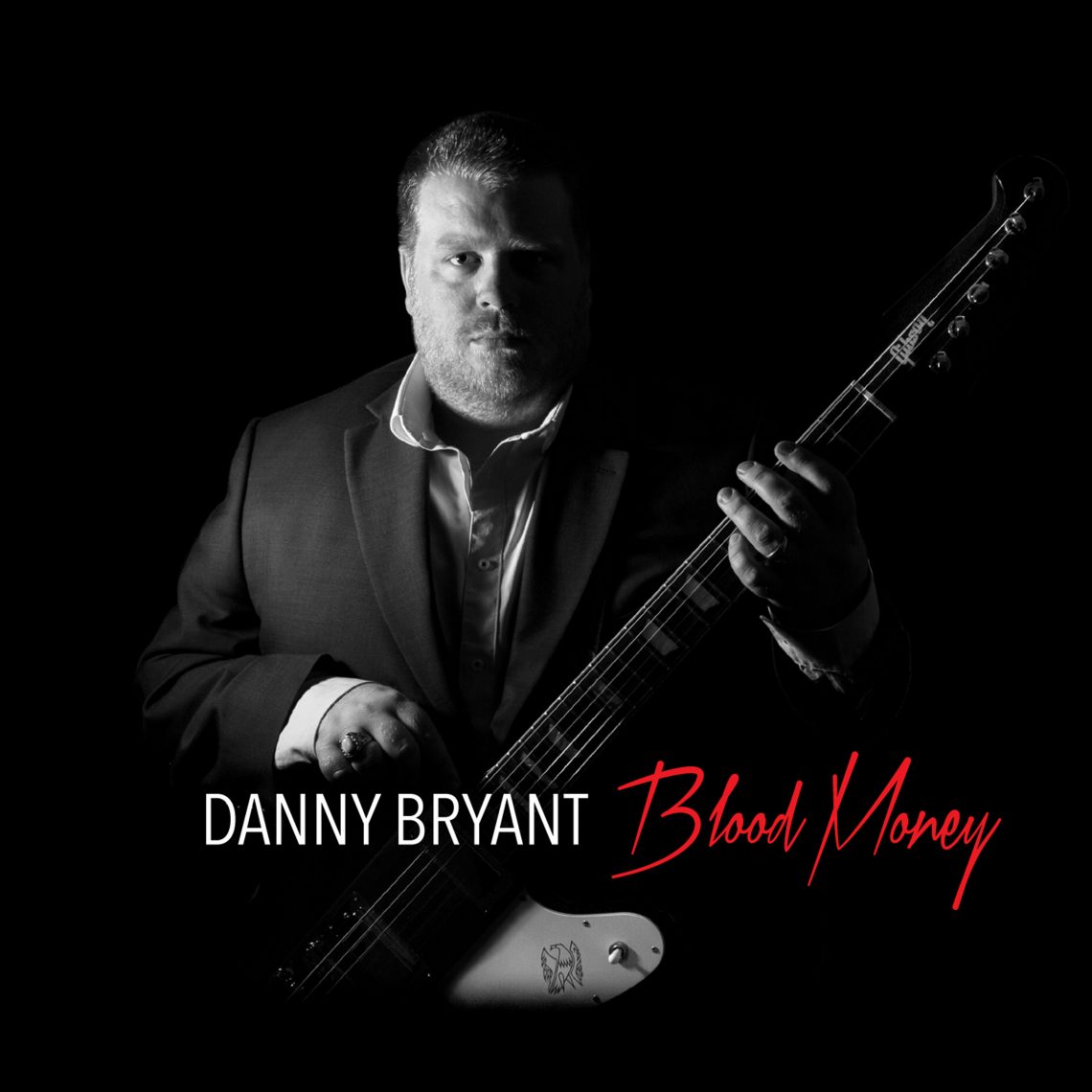 DANNY BRYANT – BLOOD MONEY – CD REVIEW & 2016 Tour Dates
29th November 2015
Danny Bryants latest opus is due for release January 29th through Jazzhaus Records & features the talents of blues legend Walter Trout & ex Whitesnake guitarist Bernie Marsden.
This is Bryants 3rd album & it really does follow in the tradition of his previous Temperature Rising & Hurricane albums.
Opening track Blood Money, which happens to be the 1st single off the album, features Walter Trout & is truly exciting & shows how much Bryant really has matured.

Danny's guitar playing has certainly reached new levels. The solos on this album ooze with emotion.
Slow Suicide is one track that pours forth from the sound system & floods your oral senses with pure unadulterated passion. A slow blues ballad that deserves to be listened to in a candle lit room. It's just a magical track.
In complete contrast is Sugar Sweet that has a groove that ZZ Top would be proud of. A full on rock boogie that you can't help but bounce around to.
Fools Game is my personal favourite on the album & has a Rocky Mountain Way into familiarity to it that I absolutely love before the more rock aspect of Danny comes shining through. It sent shivers down my spine & is one of those tracks that you can't help but feel more than hear.
Bernie Marsden appears on the track Just Won't Burn with Marsden playing his famous 1959 Les Paul which has a remarkable tone & is distinctly Bernie & has amazing piano orchestration before the trademark sound of that 1959 Les Paul rings out.
The closer Sara Jayne is a beautiful ballad. Although a ballad is an odd choice for a closing track it's very fitting end to an album that has so much blues on it, that it couldn't get much more blue.
Vocally Bryant is so strong & sounds completely natural.
The whole album has a real natural feel to it.
This is the album Danny has wanted to make for the last 15 years & this could well be his masterpiece moment & it is a feeling more than a listening experience.
For fans of Albert Collins, Gary Moore, Ian Moore, Buddy Guy, Leslie West, Walter Trout & Joe Walsh

Danny Byrant will also be on tour through out February of 2016. Make sure you get your tickets now., as when this album drops they'll sell out fairly quickly


FEBRUARY 2016 UK TOUR
with special guests Red Butler
The Robin 2, Bilston
Wednesday 10th February 2016
Tickets: £14.00/£16.00 / Box Office: 01902 401211
Doors: 7:30pm Stage: 8:00pm
Venue: www.therobin.co.uk
Tickets: http://bit.ly/1GDhpa5
20-28 Mount Pleasant, Bilston, Wolverhampton, WV14 7LJ
The Old Fire Station, Carlisle
Thursday 11th February 2016
Tickets: £14.00/£16.00 / Box Office: 0844 844 2920
Doors: 7:30pm Stage: 8:00pm
Venue: http://oldfirestation.carlisle.city
Tickets: http://bit.ly/1P0TZNh
The Old Fire Station, Warwick Street, Carlisle, Cumbria, CA3 8QW
The Voodoo Rooms, Edinburgh
Friday 12th February 2016
Tickets: £14.00/£16.00 / Box Office: 084444 77 1000
Doors: 7:15pm / Stage: 8:00pm
Venue: www.thevoodoorooms.com
Tickets: http://bit.ly/1GDhURz
19a West Register Street, Edinburgh, Lothians, EH2 2AA
The Meeting Room, Elland
Saturday 13th February 2016
Tickets: £13.00/£15.00 / Box Office: 01422 370 333
Doors: 7:15pm / Stage: 8:00pm
Venue: www.themeetingroomelland.co.uk
Tickets: http://bit.ly/2079GYv
Marshall Hall Mills, Elland Lane, Westbury St, Elland, HX5 9DU
The Engine Shed, Lincoln
Sunday 14th February 2016
Tickets: £11.00/£13.00 / Box Office: 01472 349222
Doors: 7:00pm / Stage: 7:45pm
Venue: www.engineshed.co.uk
Tickets: http://bit.ly/1PPIkl2
University of Lincoln, Brayford Pool, Lincoln, LN6 7TS
The Leopard, Doncaster
Thursday 18th February 2016
Tickets: £11.00/£13.00 / Box Office: 01472 349 222
Doors: 7:00pm / Stage: 7:45pm
Venue: www.leopard-doncaster.co.uk
Tickets: http://bit.ly/1R8QqUs
2 West Street, Doncaster, DN1 3AA
The Rescue Rooms, Nottingham
Thursday 19th February 2016
Tickets: £13.00/£15.00 / Box Office: 0845 413 4444
Doors: 7:00pm / Stage: 7:30pm
Venue: www.rescuerooms.com
Tickets: http://bit.ly/1MeOO7g
25 Goldsmith Street, Nottingham NG1 5LB
Raven Hall, Corby
Friday 20th February 2016
Tickets: £13.00/£15.00 / Box Office: 01536 202313
Doors: 7:00pm / Stage: 7:45pm
Venue: www.cornmarketblues.co.uk
Tickets: http://bit.ly/1P0UQh1
63 Rockingham Rd, Corby NN17 1AG
Tithe Barn, Bishop's Cleeve
Sunday 21st February 2016
Tickets: £14.00/£16.00 / Box Office: 0333 666 3366
Doors: 7:45pm / Stage: 8pm
Venue: www.cleeveconcerts.com
Tickets: http://bit.ly/1R8RlnS
Cheltenham Road, Bishops Cleeve, GL52 8LU
Public Halls, Harpenden
Thursday 25th February 2016
Tickets: £13.00/£15.00 / Box Office: 01472 349222
Doors: 7:45pm / Stage: 8pm
Venue: www.harpendenpublichalls.co.uk
Tickets: http://bit.ly/1WdwZR9
Southdown Rd, Harpenden AL5 1PD, United Kingdom
Old Clee Club, Grimsby
Friday 26th February 2016
Tickets: £11.00/£13.00 / Box Office: 01472 349222
Doors: 7:45pm / Stage: 8pm
Tickets: http://bit.ly/1WdKCu3
Clee Crescent, Grimsby, South Humberside, DN32 8LS

The Waterfront, Norwich
Saturday 27th February 2016
Tickets: £12.00/£14.00 / Box Office: 01603 508050
Doors: 7:30pm Stage: 8:00pm
Tickets: http://bit.ly/1PNWzIb
139-141 King St, Norwich, Norfolk, NR1 1QH
Leo's, Gravesend
Sunday 28th February 2016
Tickets: £12.00/£14.00 / Box Office: 01474 566127
Doors: 7:00pm Stage: 8:00pm
Tickets: http://bit.ly/1NvRbGc
Crete Hall Rd, Gravesend DA11 9AA, United Kingdom