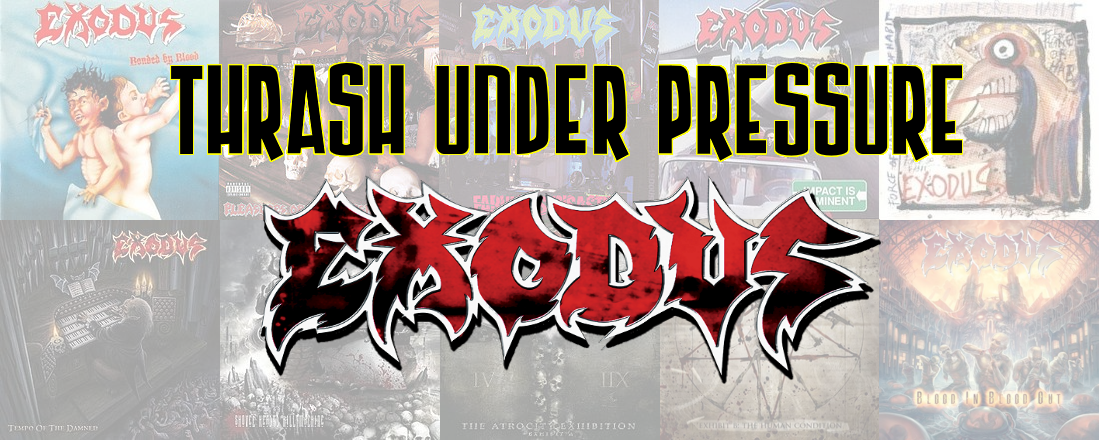 Thrash Under Pressure: Exodus
28th November 2015
Why there was only ever a "Big 4" is baffling.
There are numerous bands which are more than good enough to stand alongside their more successful peers who inexplicably never quite reached the same dizzy heights.
Exodus are a prime example of this.
The band are widely-credited, along with Metallica, of pioneering the Bay Area thrash scene. Indeed, Metallica's Kirk Hammett was a member of Exodus before jumping ship to the band who would become the biggest in the world.
Exodus have a whopping ten studio albums under their collective belts, but like many other bands, the different phases of their career make them appear like two completely different acts.
The albums recorded with Steve "Zetro" Souza on vocals represent a much better version of Exodus than those featuring Rob Dukes. In fact, an All About The Rock colleague reinforced this quite well: "Rob Dukes did to Exodus what Blaze Bayley did to Iron Maiden." Fairly damning stuff.
Shovel Headed Kill Machine was the first album Dukes sang on. The guitars were the heaviest they've ever sounded on an Exodus album, but something seemed to be missing. It's still thrash, but it's un-Exodus thrash.
By the time they'd moved on to the Exhibit A and Exhibit B albums – which sound like items of evidence that could be used in a courtroom battle against the band's abandonment of the thrash ethos – it was thrash, but not as we knew it. There are songs that pass the 9 and even 10 minute marks on these albums, which is beyond ridiculous. It's a shame because there are some potential gems among the rough, if only they were halved in length.
Debut album Bonded by Blood was re-recorded in its entirety for some strange reason. A legitimately good record, but did it need to be remade? It's a kind of tribute to original vocalist Paul Baloff who sang on the first one, but sadly died before the remake. It benefits from better production, but would have been better left alone.
Their banjo version of the title track which appears as a bonus track on Exhibit A (amusingly called Bonded by Banjos) is one of the most bizarre tracks a thrash band has ever recorded, perhaps only rivalled by Nuclear Assault's Long Haired Asshole.
Souza returned for 2014's Blood In, Blood Out and finally, an album that again sounds like proper Exodus was produced. It's as if the last ten years never happened.
"Proper Exodus" really applies to four releases – Tempo of the Damned is best forgotten, even though it's a total riff-fest in places. The band's reliance on comedically-named songs such as Shroud of Urine and Scar Spangled Banner seems to be more fun-poking than well thought-out social commentary.
Pleasures of the Flesh was sort of their Ride the Lightning and set the bar reasonably high for future releases. Brain Dead is still one of the best examples of a perfect thrash song you'll ever find.
By the time they got to Force of Habit they were running out of steam a little. The bizarre Elvis Costello and Rolling Stones covers threatened to ruin the show and it was only rescued by the truly amazing Feeding Time at the Zoo.
For the true masterpieces, it's a score draw between Fabulous Disaster and Impact is Imminent.
Both albums are jammed to the rafters with pure thrash classics, there are breathtaking solos all over the shop and they both have iconic title tracks.
Impact is Imminent wins on penalties, if only for the awesome Thrash Under Pressure, from where this column took its name.
Whether Exodus have another classic in them remains to be seen, with long-time axeman Gary Holt now being far too busy growing a huge beard and joining Slayer. No man has the capabilities of starring in two such legendary bands simultaneously, surely?
Put them on your playlist: Thrash Under Pressure, Fabulous Disaster