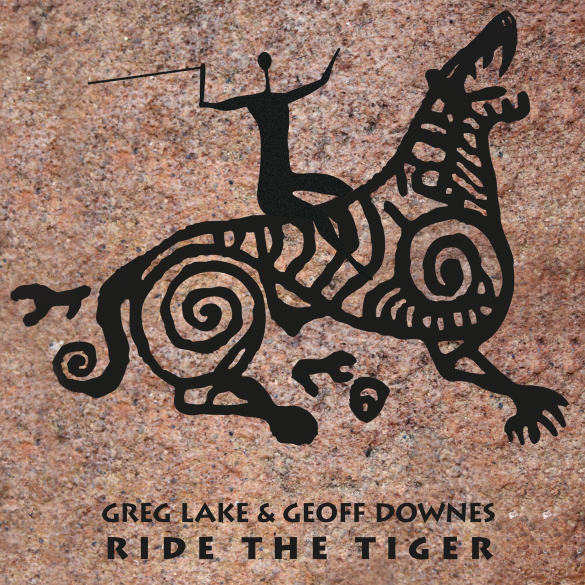 Greg Lake & Geoff Downes – Ride The Tiger CD Review
29th November 2015
"To be honest I thought that these recordings had simply disappeared off the radar until one of my management team, Daniel Earnshaw, reminded me of their existence. My initial reaction was not entirely positive as I generally view many of these re-releases to be a bit tiresome, however, upon hearing these recordings again I immediately identified their value, both in terms of song writing and of musicianship and production. Geoff, of course, is a masterful musician with an instinctive ability to maximise the potential of any song both as a player and as an arranger. His contribution to these recordings is clear for all to see and for me it was a real pleasure to reflect upon our friendship together both personally and as musicians." says Greg Lake
Greg Lake is the co-founder of King Crimson and Emerson, Lake and Palmer (ELP), and wrote the hit "Lucky Man" and co-wrote "I Believe In Father Christmas".
Geoff Downes is the keyboardist in Tthe Buggles, Asia and Yes, and co-wrote the hits "Video Killed The Radio Star" and "Heat of the Moment".
The pair are joined by Michael Giles (who also co-founded King Crimson) & provides the drums & the percussion.
"Ride the Tiger" contains 6 songs which the duo wrote together – 1 went on to become an Asia song and 2 became ELP songs.
4 of these tracks have been released on compilations before, but, this is the FIRST TIME they have been collected together.
There is also 2 previously unreleased tracks & an alternate mix of 'Love Under Fire' which is great not only for fans but completest also.
The only downside is the running time. Just 32 minutes & it makes me wonder if there is anything left from these sessions that is yet to be discovered.
But to hear how 'Affairs Of The Heart' originally sounded before being turned into the ELP classic, or how 'Love Under Fire' sounded before it turned up on an Asia album is something quite magical.
Originally produced by Downes & Lake back in '89/'90, it's the re-mastering done by Alberto Callegari at Elfo Recording Studios in Italy that has really made this product shine & made it sound as relevant now as it would've been before it was hidden away from the record buying public of that time.
There are no real standout tracks on this album, as they're all equally as good as each other. It's just a really good easy-going record that is perfect for a night in by an open fire, bottle/bottles of wine & snuggled up with a loved one to reminisce together.
Geoff Downes has this to say about the album "One of the privileges of my career has been the opportunity to embrace a number of bespoke projects with some of the world's greatest musicians. Greg Lake, of course was at the forefront of the progressive revolution, lead vocalist and bassist with both King Crimson and ELP, bands which literally changed the world, pushing boundaries of excellence and creativity, creating a brand new musical genre from London which would soon captivate the planet. This collection of songs represents a particularly creative period in my life. I'm delighted that Greg and I have rekindled our friendship, and worked together again in order to share this collection with you."
I'm keeping my fingers crossed that this is not the last we hear of these guys writing & recording together.
For fans of ELP, King Crimson, Focus, Asia & Prog Rock in general, or even just looking for something that little bit different.
Track Listing:

1. MONEY TALKS
2. LOVE UNDER FIRE
3. AFFAIRS OF THE HEART
4. STREET WARS
5. CHECK IT OUT
6. BLUE LIGHT
7. LOVE UNDER FIRE (ALTERNATE MIX)
Score 8/10