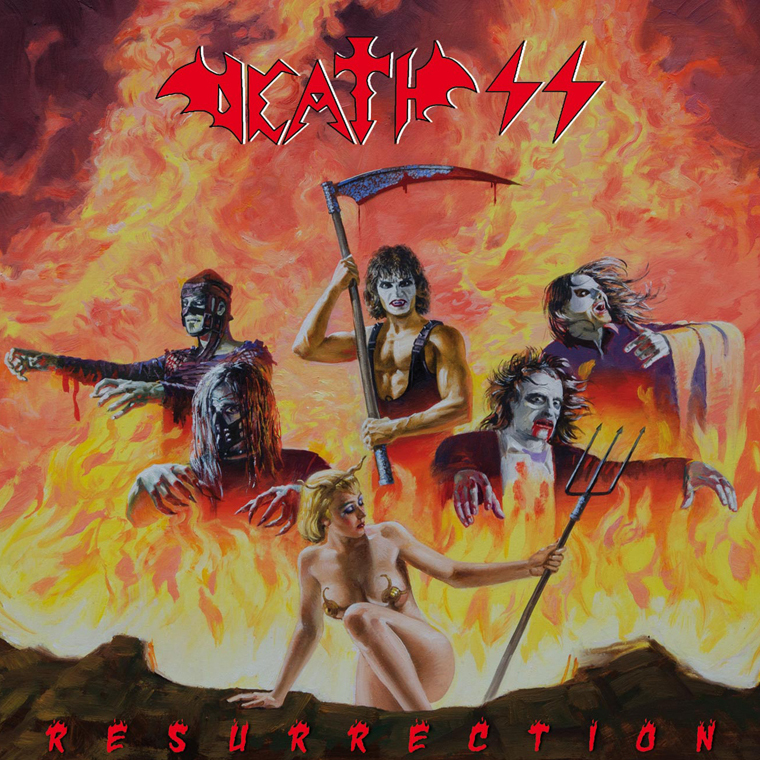 DEATH SS – Resurrection
13th September 2013
Up next for my minions is Italian metal band DEATH SS with their 8th album. Now before anyone complains the SS stands for founder and vocalist initials Steve Sylvester and nothing to do with the Nazi Germany organisation SS (Schutzstaffel)…I remember listening to DEATH SS album "Black Mass" which was a horror metal album which was like mixing Alice Cooper, W.A.S.P., Mercyful Fate, Accept, Rage and a few others and was very enjoyable…So when I saw that we had the latest DEATH SS album to review I thought I might as well give it a listen…!!!
So on I pop the album onto my iPod sit back on the tram on a wet Manchester morning and press play. When the first song 'Revived' started I had to whip my iPod out if my pocket and check that I had the right album or if Hogan (one of the founders of AATR) was playing a joke. This was no heavy/speed metal I remember DEATH SS playing…What is it I hear you shout? Well it's like Rob Zombie, Marilyn Manson (Antichrist Superstar era) and the (God awful) Deathstars got together and wanted to make an album! The sound is electro goth industrial beats and synth keyboards accompanying the guitars and rhythm section. Steve Sylvester voice is still as raspy and recognisable as I remember it being. However the songs are worse than the mighty Danzig foray into industrial music on "Danzig 5: Blackacidevil", at least it was Danzig attempt at trying to be modern at the time.
The album then continues in this vein but being the all seeing and forgiving "old one" that I am I listened to the album in its entirety, all 60 minutes of it, three times so that I could give you my minions a fair analogue! Well it doesn't get better with more listens, I've wasted 3 hours of my life on this album that I will never be able to claim back. To be fair the back end of the album hints more to the earlier DEATH SS sound and mixes the synth work with the traditional DEATH SS sound. The songs being "Santa Muerte", "The Devils Graal" & "Bad Luck". Although "Santa Muerte" does try to hang onto the Rob Zombie and Marilyn Manson electro beats and industrial goth synth work a little to much.
This album is like taking a trip back to 1995/96 when industrial goth tinged nu metal exploded on the scene with Marilyn Manson, Mushroomhead, Static X etc. however it's a time most people don't want to go back to!!! However if your disappointed with Marilyn Manson releases after Antichrist Superstar (they are awful) then you might find something of interest in "Resurrection" or if you think Rob Zombie is a genius (which you need to get help if you do) then you will probably like this album.
Anyone wanting some good metal, I wouldn't look here. If you want to be tortured then get this album and play the song "Eaters" over and over again (it is an abomination of a song), maybe am painting the album in a harsh light and if the songs were more like "The Darkest Night" or "Star in Sight" then this album wouldn't be as bad as them songs nearly get the mix right and are like Billy Idol in the "Cyberpunk" era but heavier. Alas though the album isn't and is just a mess of electro beats and metal/rock that sound like a poor mans imitation of Marilyn Manson at his best. If you want some industrial goth tinged metal then check out THE KOVENANT "Animatronic" album as that gets the mix right and the industrial parts enhance the metal and not swamp it out (Also include the legendary Hellhammer on drums and Nagash on vocals!)
Score:  4.5 out of 10
[box_dark]
Band: DEATH SS
Album: Resurrection
Record Label: Scarlet Records
Release Date:  (America) – 6th June  (Europe) – 30th July
Band Website: http://www.deathss.com/
Songs to Download: "The Darkest Night", "The Devils Graal" & "Bad Luck"
Track List:
1… Revived
2… The Crimson Shrine
3… The Darkest Night
4… Dionysus
5… Eaters
6… Star In Sight
7… Ogre's Lullaby
8… Santa Muerte
9… The Devils Graal
10… The Song of Adoration
11… Precognition
12… Bad Luck
[/box_dark]