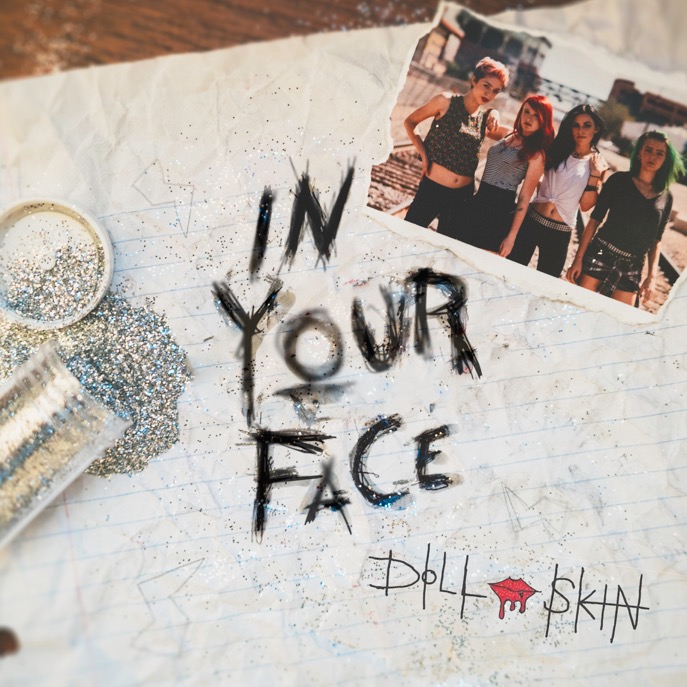 Doll Skin – In Your Face – CD Review
7th December 2015
To get the seal of approval & to be produced by Dave Ellefson of Megadeth must mean that these girls have something a little bit special.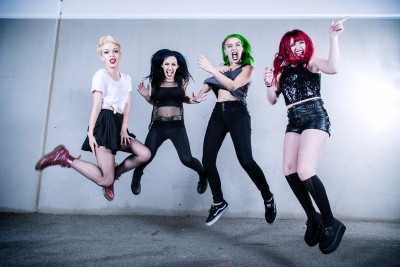 These girls certainly have something a little bit different.
David Ellefson said: "The first time I saw DOLL SKIN perform was last year at a talent contest my son asked me to attend. I was totally blown away by their energy and great songs and that prompted me to take them into the studio this past summer to produce the "In Your Face" EP. They are young and fresh but are not a novelty teenage act. They are totally absorbed in old school punk roots, while writing forward thinking songs. I was a fan from day one! I knew there was something really special there. Through working with them as a producer, it became even more apparent what these girls were capable of. I'm really excited to be working with them, and able to unleash them on the world, through Megaforce, no less."
They are definitely not a novelty act. The songs are fantastic both lyrically & sonically. It's hard to imagine that their average age is just 17 & have only been together for 2 years.
Considering they weren't even born during the peak of The Runaways, Girlschool, Rock Godess etc these girls have got their feet firmly planted in that vein & style.
Although not as raucous as the afore-mentioned bands these girls are superb. The ballad Blind shows off their softer side & the extent that they can actually play & to prove that point they've included Weatherman as a live track which is an absolute monster & is my favorite track because you can hear what these girls are like live & proves that they can play & have fun.
The first track on this e.p is the single Family Of Strangers

Which does set up what to kind of expect from the record.
What you don't expect from this album is the level of raw talent these girls have that can only get better over time.
Sydney Dolezal sure can wail & sounds really mature & natural. One of the best new female vocalists I have heard all year.
Nicole Richs bass is prominent in the mix along side Alex Snowdens guitar as they're the driving force of this 4 pieces sound.
Meghan Herrings drums bounce along nicely especially during Wring Me Out & perfectly compliments the wah solo.
Let's Be Honest is a proper punk tune that you won't be able to stop yourself having a bit of a pogo to, but not whilst driving as it wont end well.
So Much Nothing is an odd track. Staccato verse vocal arrangement against a syncopated backdrop is fantastic & reminds me of early PiL which is no bad thing.
All in all this is a superb e.p & it's great fun which is exactly what you want from a band like this.
It's meaty, beaty, big & bouncy. Great 1st effort & cannot wait for a full album.
Track Listing:
1. Family Of Strangers
2. Wring Me Out
3. Let's Be Honest
4. Blind
5. So Much Nothing
6. Weatherman (Live)
Produced by David Ellefson (MEGADETH)
Mixed by Ryan Greene (NOFX, CHEAP TRICK, LITA FORD)
Release Date: December 18, 2015 via EMP Label Group/Cargo Records
Band Members:
Sydney Dolezal (15) – Vocals
Alex Snowden – Guitars
Nicole Rich – Bass
Meghan Herring – Drums
http://www.dollskinband.com/
http://www.facebook.com/dollskinband
Score: 8/10