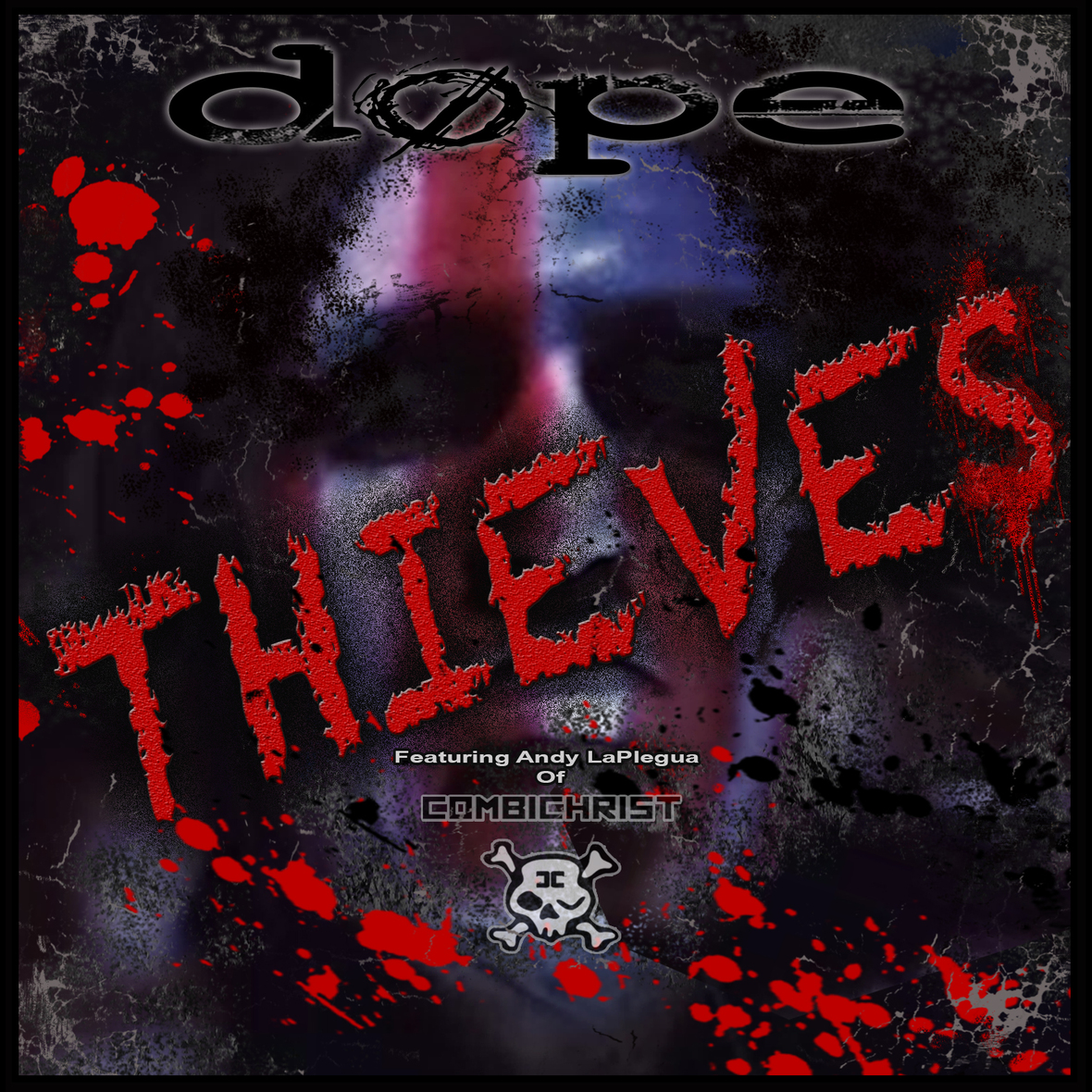 DOPE Teases 'Blood Money Part 2'
8th March 2017
Dope is hinting at their upcoming album Blood Money Part 2 by releasing a brand new video for their cover of Ministry's Industrial / Metal classic "Thieves" featuring Andy Leplegua of Combichrist.
The two bands are currently co-headlining the Black Craft Whisky sponsored Blood Lust Death Tour.
"To celebrate the release of Thieves, we are inviting our fans to rob us"
Says Edsel Dope.
For the next 48 hours, fans can save 50% off of select general admission and VIP meet & greets at www.EnterTheVault.com and "Thieves" can be downloaded for free HERE.
The pointed, yet hilarious, video takes shots at a number of leaders throughout our history, and ultimately climaxes with a ridiculous parody of Donald Trump grabbing Hillary Clinton by the pussy, followed by the two having sex while chugging wine and eating a well done steak..
"Like many people, I wasn't pro Hillary, nor was I pro Trump". Says Edsel. "I'm pro America and all of the politicians appear to be crooked in one way or another… As a result., we had a good time throwing all of them under the bus in this video."
Dope's Blood Money Part 1 was released In October 2016, where it debuted at number 27 on the Bilboard top 200 album chart..
The release date for the highly anticipated follow up Blood Money Part 2 has yet to be announced, but this new track is a sign that it might be coming sooner rather than later…
"I'm not a fan of cover songs" says Andy. "When Edsel reached out to me about doing 'Thieves' together I was really skeptical – but in the end I think we do the mighty Ministry justice… and I'm sure Uncle Al will love the video!" – Andy Leplegua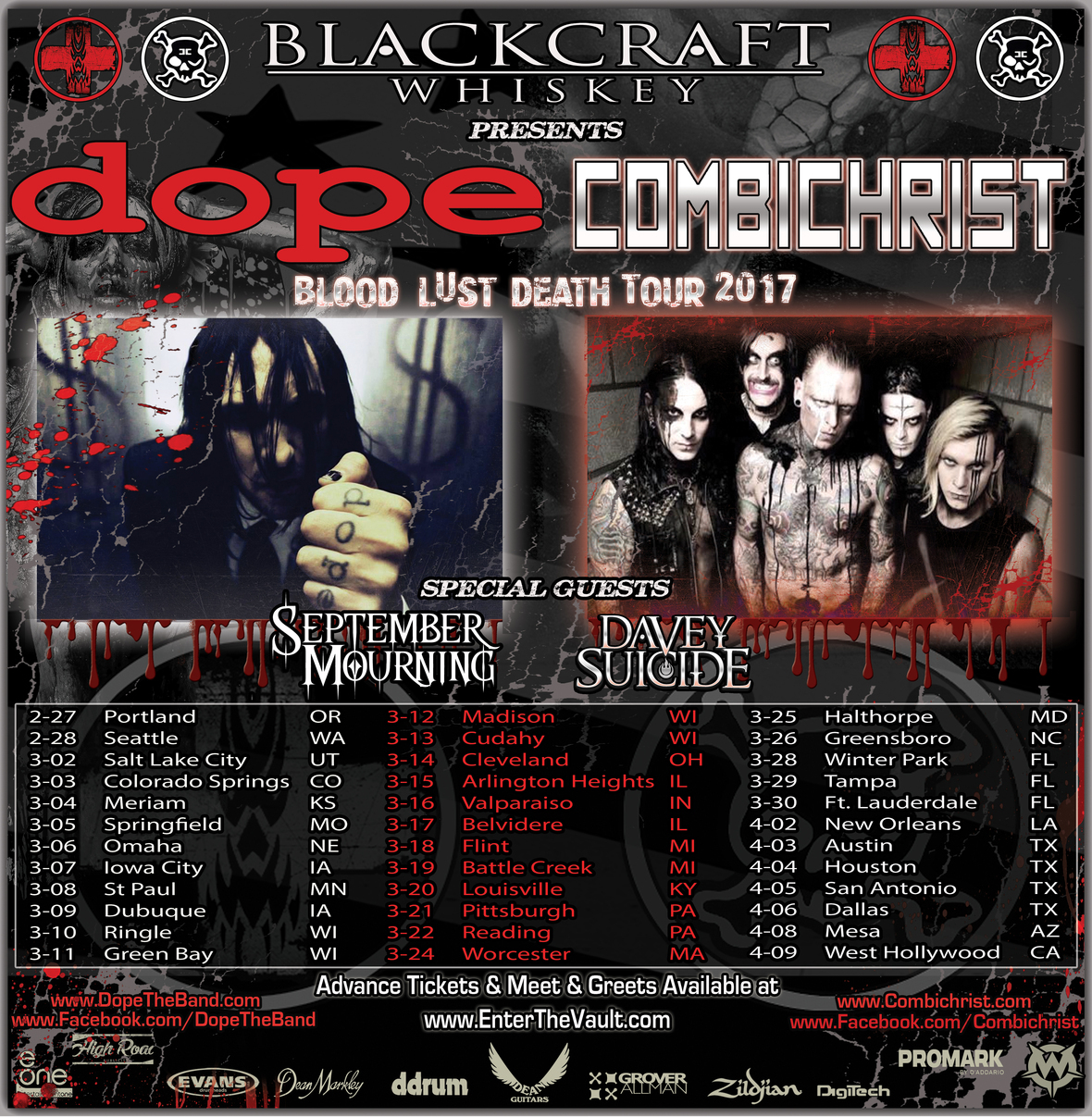 Blood, Lust, Death Tour 2017 Show Dates:
03/08 @ Amsterdam Bar & Hall – St Paul, MN
03/09 @ Courtside – Dubuque, IA
03/10 @ Q&Z Expo Center – Ringle, WI
03/11 @ The Sandlot – Green Bay, WI
03/12 @ The Annex – Madison, WI
03/13 @ The Metal Grill – Cudahy, WI
03/14 @ The Agora – Cleveland, OH
03/15 @ HOME Bar – Arlington Heights, IL
03/16 @ Big Shots – Valparaiso, IN
03/17 @ The Apollo Theatre – Belvedere, IL
03/18 @ The Machine Shop – Flint, MI
03/19 @ The Music Factory – Battle Creek, MI
03/20 @ Trixie's Ent. Complex – Louisville, KY
03/21 @ Diesel – Pittsburgh, PA
03/22 @ Reverb – Reading, PA
03/23 @ Highline Ballroom – New York, NY
03/24 @ Palladium – Worcester, MA
03/25 @ Fish Head Cantina – Halethorpe, MD
03/26 @ Arizona Pete's -Greensboro, NC
03/28 @ The Haven – Winter Park, FL
03/29 @ The Orpheum – Tampa, FL
03/30 @ O'Malley's Sports Bar – Fort Lauderdale, FL
04/01 @ Masquerade – Atlanta, GA
04/02 @ Southport Music Hall – New Orleans, LA
04/03 @ Grizzly Hall – Austin, TX
04/04 @ Scout Bar – Houston, TX
04/05 @ Fitzgerald's – San Antonio, TX
04/06 @ Trees – Dallas, TX
04/07 @ The Launch Pad – Albuquerque, NM
04/08 @ Club Red – Mesa, AZ
04/09 @ The Regent Theater – Los Angeles, CA
How useful was this post?
Click on a thumb to rate it!
Average rating / 5. Vote count: